Bagnaia suspects he fell after stepping on a visor protector
The Italian tries to find an explanation: "I didn't do anything different from the previous laps. I think I stepped on something that caused me to crash. Maybe a tear-off."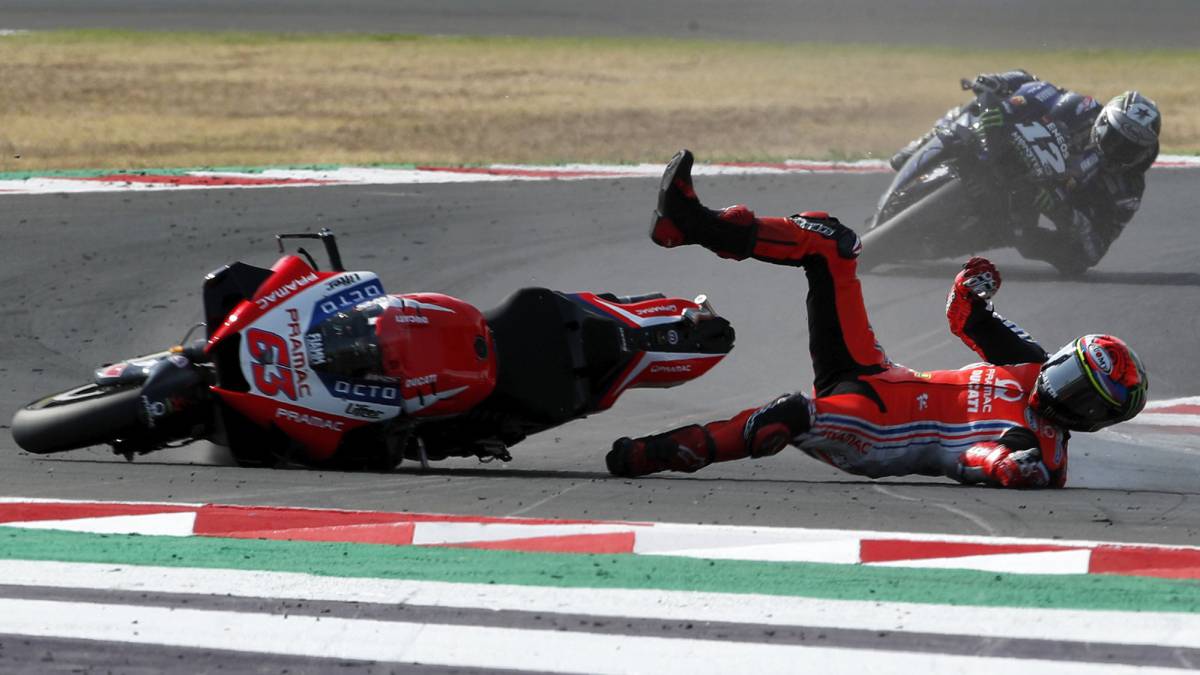 The question will always remain as to whether Maverick Viñales would have won the Emilia Romgana GP without the fall of Francesco Bagnaia when he was leading, seven laps from the end, with the Yamaha chasing him a second behind, a difference that had become a second and a half in favor of the Italian. The worst thing for the one in the Pramac Ducati is that he had no explanation for the crash.
-What can you say?
-Luck is not on our side this year. In Jerez my engine broke down when I was close to getting the first podium; in Brno I made a stupid mistake, I fell and missed three races that should have been good for us; And now this fall when I was a leader What bothers me the most is that I fell when I was managing the race. If I had at least pushed myself to the ground, I would have accepted it, but it's inexplicable that way. We have looked at the telemetry and I did not do anything different from the previous laps. Same speed, same braking point, same pressure on the lever, same line of drawing… I think I stepped on something that caused me to fall. Maybe it was a tear-off (visor protector) that was on the track or some dirty part of the asphalt. Normally, the front tire sends you a series of warnings before losing it completely, but in my case it didn't warn me before. I directly lost it. Losing a race like this not only upsets me, it also makes me very angry.
-Did you feel the pressure from Maverick?
-I was not feeling the pressure of Maverick Viñales, because when he cut me a few tenths, I could push a little more and kept him at a safe distance. I had already done races like this in Moto2 and I was not going to the limit far from it. I don't think Viñales would have anticipated me, but what worries me the most is not having an explanation for why I fell.
-What have you learned?
-Should have a broom and sweep the track before starting the race. (Laughs) I feel very good with the Ducati. I hadn't been riding so comfortable since I won the Moto2 title. Dominating a MotoGP race is a wonderful feeling, that's why it's a shame not to have gotten anything positive.
-Are there favorable races coming?
-Unlike Misano, Barcelona is a favorable track for the Ducati and I will arrive after two weekends in which I have taken important steps with this bike. Today (yesterday) for example, I have managed to be fast from the first laps, something that I did not achieve last weekend.
-Do you have an explanation for the result of Dovizioso?
-When you can't ride the Ducati with your style, you suffer more. I am happy with my feeling with the bike and with the tires. But it is true that the level of equality in MotoGP is very high and with a few tenths you lose per lap you are far behind.
Photos from as.com