Azarenka's fairy tale can with Serena
Vika returns to a Grand Slam final seven years later. Serena Williams' ninth failed attempt trying to match Margaret Court's 24 grand.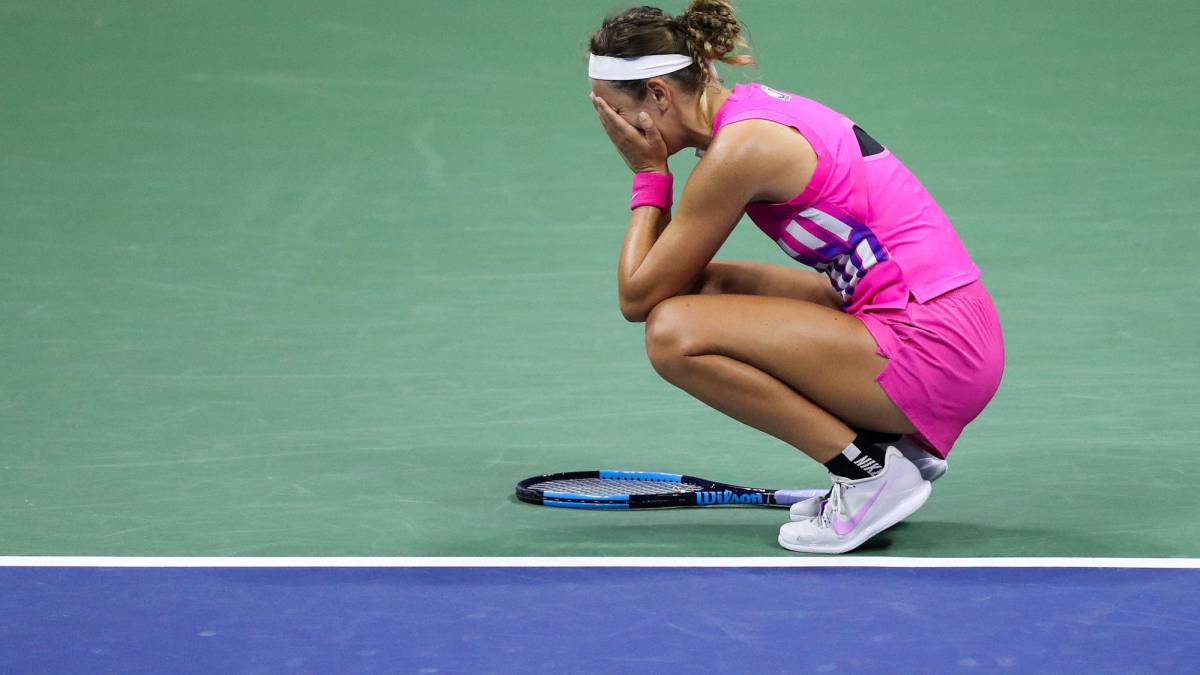 There are 2,562 days between September 7, 2013 and September 12, 2020. On the first date, Victoria Azarenka played the final of the US Open, being defeated by Serena Williams. In the second, which is this Saturday, 'Vika', at 31 years old, will play the final of a Grand Slam again. Seven years later, with a maternity hospital in 2016 and with many bumps in the road when she returned to the slopes, the Belarusian is once again opting to win a major. To do this, Azarenka had to resist and beat a devastated Serena Williams 1-6, 6-3 and 6-3 in almost two hours of the game. The meeting was also historic: two mothers faced each other in the semifinals of a Grand Slam for the first time in history.
Azarenka, who is playing her best tennis in recent years, reached the semi-finals 0-10 against Serena Williams in the Grand Slam, including two losses in the US Open final. The American came from playing three games in a row that went until the third set, in which she was seen to suffer physically. And this happened again. Serena came out to the match at the highest level, as she had not yet been in the tournament, and closed the first set quickly, seeking to finish the match as soon as possible. But before that happened came his physical slump, which ended up resulting in collapse. Azarenka improved from the middle of the second set, and playing smart and ambitious tennis she ended up drowning a Serena Williams who signs her ninth failed attempt (including one final at Wimbledon and two at the US Open) to reach the record 24 Grand Slam. won by the legendary Margaret Court. About to turn 39, the opportunities are running out for the winner of 23 greats.
The story of Azarenka is one of those that moves so much in sport and of which I would not miss seeing an audiovisual production in the future. Winner of the Australian Open in 2012 and 2013, and a finalist in those years at the US Open, she was number one in the world rankings for 51 weeks. After a few years falling down the rankings due to repeated physical problems, Vika announced in 2016 that she would give birth to her first child, Leo, which kept her off the slopes until the middle of the following year. "I felt it was a blessing but I still had my own dreams and my own career. I knew I would play again, but my initial thought was 'Oh my God, I'm not going to play tennis again,'" he said a year ago about what the birth of her son meant for her.
Half a year after giving birth, in the summer of 2017, the Belarusian divorced her husband, breaking out a legal battle for the custody of their child. Such was the distressing situation that Azarenka was forced to resign from many tournaments, since leaving California could mean the loss of guardianship over little Leo. What little she played, Vika did it between physical and personal problems, with her head elsewhere. She exploded in the press conference following her loss in the first round of the 2019 Australian Open, to which she was returning for the first time after her motherhood. "I've been through a lot of difficult things in my life, sometimes I wonder why. I think it's going to make me stronger, I want to believe that and I'm going to work hard for it. I need a little time and patience, also a little help ", said through tears a completely shattered Azarenka.
And Vika was not wrong. She still needed a little more time and patience, since 2019 was a bad year for her, which continued to be crushed by injuries. Now, Azarenka herself has admitted that rumors circulating late last year were true that the Belarusian was seriously contemplating her retirement after announcing that she would not play in Australia for personal reasons. "I have thought about (retiring) several times. In January I did not know if I would play. I decided to try it one last time," he said a few weeks ago. Without winning a match since August 13, 2019, Azarenka came to the last Western & Southern Open (Cincinnati tournament) admitting to having changed her mindset and enjoying life more. And the time and patience he asked for was no longer necessary. She won the tournament by giving up a single set (she did not play the final due to Osaka's withdrawal), and in the current US Open, players such as Sabalenka, Muchova, Mertens and Serena Williams have been charged to return to the final of a Grand Slam seven years later. After going more than a year without a win, now Azarenka has eleven consecutive victories and no losses since returning from the competition.
"I hope I can inspire women to fulfill their dreams, being a mother is the most important thing in my life but I also want to achieve my dreams. That is what I want to convey, that women can achieve whatever they set their mind to," said Azarenka Minutes after her match against Serena. The Japanese Naomi Osaka -who won her match against the surprising Jennifer Brady- awaits in the final, in the reissue of what was to be the final of the Western & Southern Open, but that could not be given due to the abandonment of the Japanese before of the encounter for discomfort in his left thigh. Both players, unbeaten since the return of tennis (not counting the withdrawal of Osaka), will fight on Saturday for their third Grand Slam. The fairy tale of Azarenka in New York (where she is spending her days in a rented house and not in a hotel, with her mother and her son), which almost never happened if she retires, continues to have new pages , and what better chapter would there be for this story than a victory at the US Open.
Photos from as.com