An 11 from Chelsea that did not work
'The Sun' has prepared an initial line-up marked by misfortune in its 'blue' stage. Verón, Shevchenko, Drinkwater or Bakayoko complete the team.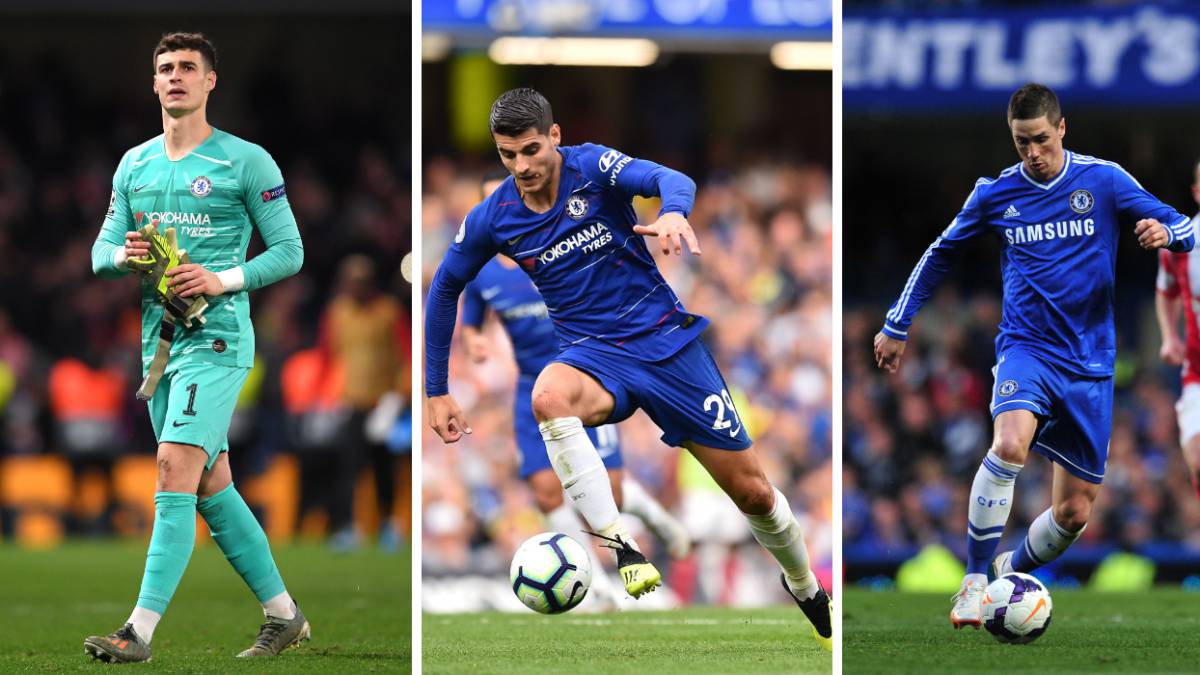 Chelsea, mainly since Roman Abramovich's landing in London, has been characterized by sparing no expense when looking for reinforcements. One need only take a look at the recent market where, despite the general austerity marked by the pandemic, Ziyech, Werner, Chilwell or Havertz have reached Stamford Bridge. He who risks does not win. However, risking does not always go hand in hand with victory, as shown by several signings made by the 'blue' organization that have failed to succeed in the London team. Big names like Verón or Shevchenko appear in a team made by 'The Sun' and created in connection with the dubious performances of Kepa, the world's most expensive goalkeeper. Morata and Torres complete the list of Spaniards.
Goalkeeper: Kepa Arrizabalaga
The Spanish goalkeeper has received numerous criticisms, enhanced by his last performance against Liverpool and that would have accelerated the arrival of Edouard Mendy, Rennes goalkeeper who is expected to be presented in the near future. Having been worth 80 million euros in 2018 has done Kepa a disservice and he has failed to justify the high amount. disbursed. However, despite the fact that everything points to a loss of ownership, he is still 25 years old and can try to reverse the situation.
Cuadrado leads the defense
Juan Cuadrado arrived at Stamford Bridge in 2015 in exchange for 31 million euros, after marveling at Fiorentina and occupying the right side of the eleven. It did not take long for him to return to Serie A on loan, to Juventus, specifically, after failing to adapt to the Premier League. 15 games is his background at Chelsea. He ended up signing permanently for Vecchia Signora in 2017 (€ 20 M) .
Papy Djilobodji and Tal Ben-Haim make up the center of defense. The first, international with Senegal, was also signed in 2015, in exchange for € 3 million, from Nantes and his background was even less than that of the Colombian. A League One match in the six months it lasted in London, before going on loan to Werder Bremen. The Israeli, for his part, was endorsed by his solidity at Bolton and the love of José Mourinho, coach of the time. The presence of Terry and Carvalho closed the doors and ended, yes, transferred to Manchester City. The left back is familiar to the Spanish parish, Abdul Rahman Baba. Chelsea paid 20 million euros to Augsburg for his signing in 2015 to launch him into a barrage of transfers. The last, in Mallorca last season.
Bakayoko, Drinkwater and Verón
The midfield is made up of players who seemed sure bets. They seemed. Bakayoko arrived in 2017 from Monaco, which amazed Europe in exchange for € 40 million. They are trying to close his march to Milan, since Lampard does not have him. Two million less, 38, disbursed by Danny Drinkwater, also in 2017, but little has been seen of the player who led, along with Kanté, the engine room of champion Leicester. After his assignments to Burnley and Aston Villa, a destination is sought for him. While the latter is a football classic from the beginning of the century. Verón became the most expensive player of the moment when he signed for United in 2001 (€ 42.6m). Chelsea would take over his services two years later in half (€ 21.5 million). 14 games and one goal was all his baggage before returning to Argentina in 2006, to 'his' Estudiantes.
Morata, Torres and Shevchenko
And if the carat is the center of the field, the forward is no less so, with two Spanish attackers as part of the trident. Chelsea paid 66 million to Real Madrid to take over Morata in 2017 after leading Zidane's famous 'unit B'. 72 games and 24 goals later, Atleti would comply with Simeone's request and remove him from Stamford Bridge in January 2019 (assigned with a purchase option of € 56 million). Almost 60 million cost the next protagonist, Fernando Torres. El Niño had just triumphed at Liverpool and Atlético, but in London his decline began little by little (45 goals in 172 games as 'blue'). The list is closed by Andriy Shevchenko who, after delighting the Milan fans for years, arrived in England in 2006 in exchange for € 44 million. He did not fit in the Premier, as shown by his 22 goals in 77 games with the elastic 'blue'.
Photos from as.com