Alonso: "I like running too much to quit"
Amazon Prime premieres the documentary 'Fernando', about the career and life of the Asturian driver, especially since his retirement from F1 in 2018.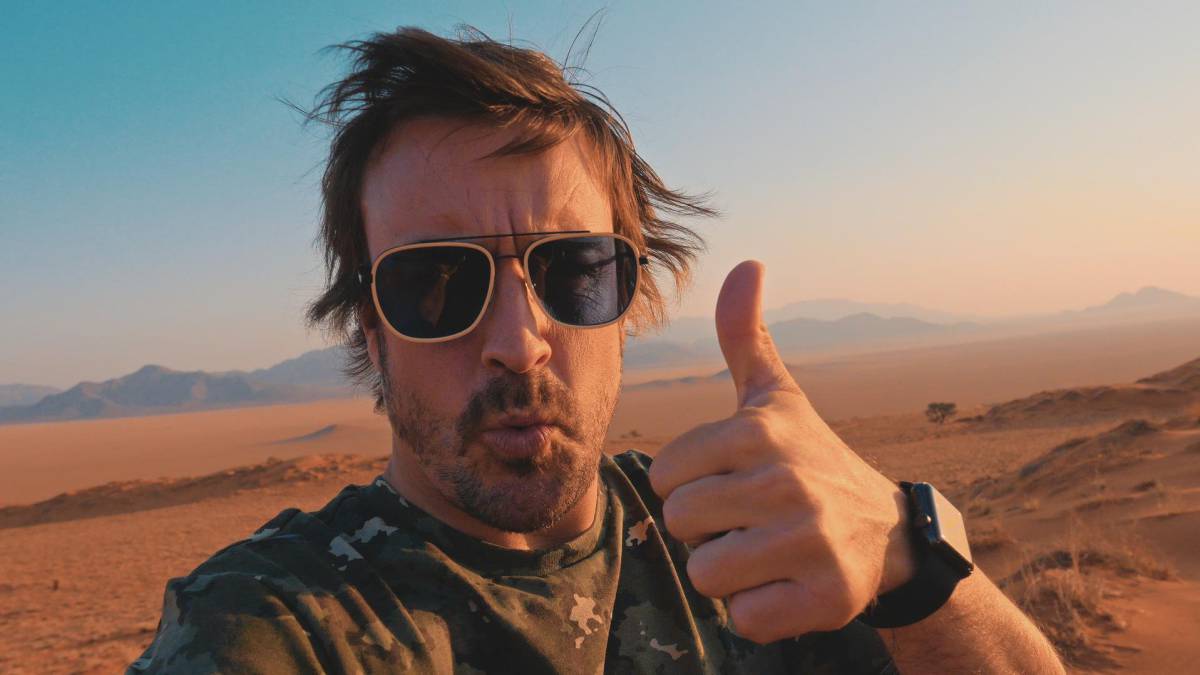 "When I retired from F1, my friends told me: 'Well, Fer, what I have to do now is do whatever you want', and I looked at them like ... what I want to do is run, I'm not going to stop." With this declaration of intent begins 'Fernando', the Amazon documentary about the life and career of Fernando Alonso, focused especially on the last two years of the Asturian, in which he has left F1 to compete in other categories such as the WEC, the Dakar or the IndyCar Indianapolis 500. His partner, Linda Morselli; friends from childhood or from the motor world such as Carlos Sainz and Marc Gené; and family members, such as the pilot's sister, shape a documentary that shows the most intimate and unknown part of the two-time F1 world champion.
Every story has a first chapter and that of Alonso begins almost 40 years ago in the town of Oviedo, when a boy of just five years was flying on a kart made by his father and to which his sister had ignored. "My father made a go-kart for my sister, but she didn't like it and she adapted it so that I could race. Today it is unthinkable how things were done. They rode 600-700 meter circuits with heaps of straw in the streets and running, "says the Renault. "To have that base, the pure engine, without any comfort. A family prepared two sandwiches, poured gasoline, spent the day and went home. It was very good for me to come from a humble family to take advantage of the things that came later. "
Y is that racing has always been part of Fernando's life, forging a tremendously competitive character, which his own sister echoes: "Compete in everything. Every day when we went downstairs, we did it to see who came down first. I always won because I was five years older ". A personality that Alonso himself recognizes: "I am a very competitive person, the only thing that matters to me in life is winning. With my friends, I am very competitive in everything. Sometimes they look at me as if I was charging the moment when we play something, but I don't understand life without competition. "
The capricious passage of time has wanted to bring together a boy, Carlos Sainz Jr., with his idol, Fernando Alonso. The documentary shows the impressions of both in the Bahrain test that they shared together in the Mclaren box in 2019 and the close relationship between the man from Oviedo and his father. "I was always a friend of his father, you can see that his son wanted to follow the path of the circuits like me. I met Carlos Sr. when he was 14 years old. I had won the Karting World Championship, he won the Rally Championship and I got into his car as a co-driver in an exhibition in Oviedo ", says Alonso. Sainz, who also participates in the documentary, tells of the close relationship that unites them: "I remember that day. He told me he was going to kill himself, it was his first time with a Rally car. He is a person who wins in the short distance and has always been willing to help my son. I have a very special relationship with him. "
Amazon delves into the life of Alonso, a life that does not seem to be close to leaving the circuits. "I like running too much to quit. Nor do I know what is behind the withdrawal. I don't want to leave that door closed because I think I'm not ready to leave it. The day will come when I go to a paddock and they look at me in a strange way, as happens with old riders, who already see them differently because young people push and don't know their history. I'm sure that day will come in the future and I don't think it's pleasant for them to look at me like that, so I will surely try not to walk around the paddock a lot at that time, "says the two-time champion.
Finally, the documentary refers to all the endurance events that the Asturian has won in the last two years, among which are the three most important in the world: the 24 Hours of Daytona, the 24 Hours of Le Mans and the 1,000 miles from Sebring. Alonso reflects on this and assures that "he has exceeded any previous expectations". He also talks about the camaraderie that exists in the Resistance, in which, unlike F1, you have to "tell everything to your partner and have a good relationship for the benefit of the team." To finish with the 6 hours of Spa in 2019 under the snow and rain, which qualifies as the "mentally hardest race of his life": "When your rival has had a problem and you take 1 or 2 laps, everything changes . It's hard to drive at 60% and that sometimes makes you feel more tense. You are afraid of making a mistake. I have never driven in such difficult conditions. At one point in the race, I saw ice build up under the windshield. If you make a small mistake, the race is over. If you touched the grass a bit, you would slide and go outside. "
Photos from as.com