A very long beard and a crown without an owner: Harden plays his project against the King
Houston is playing the project against the best Lakers of the last decade. LeBron seeks to overthrow Harden and move towards regaining his crown.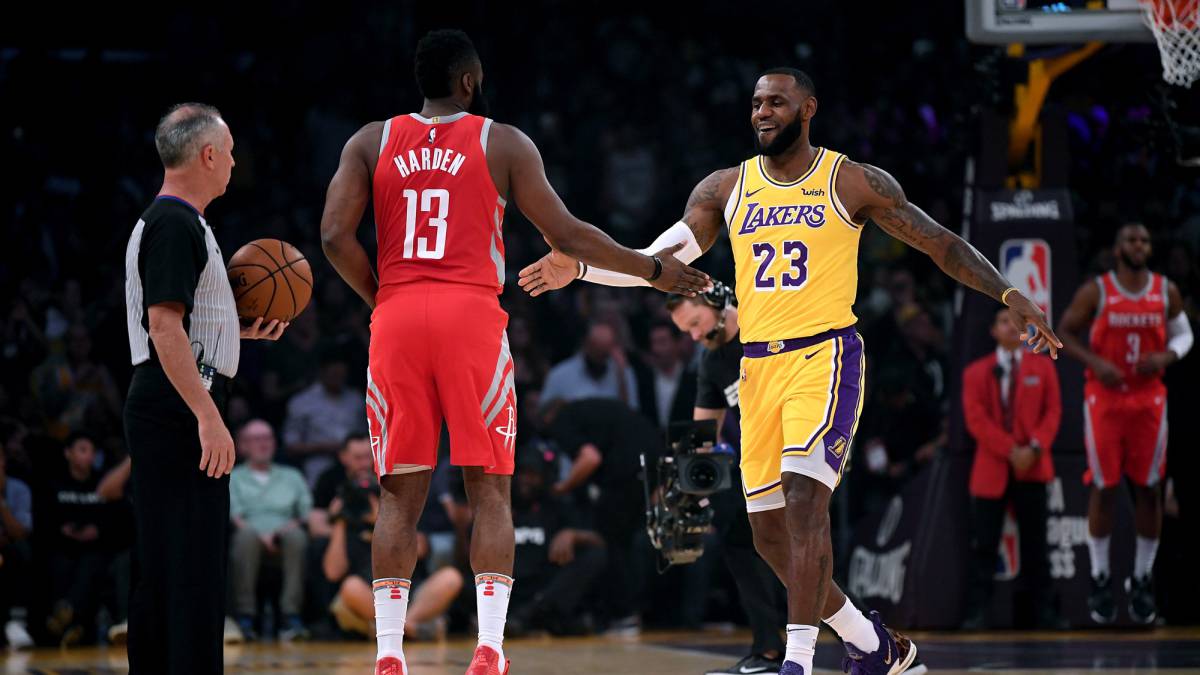 Paul George's Pacers, Budenholzer's Hawks, Lowry's and DeRozan's Raptors ... are just some of the corpses that LeBron has left on his way to an Olympus that is getting closer and closer and that he can definitively reach and unequivocal with a ring, the fourth in his career, that catapults him, who knows, to the top. You can't get to where he is without leaving a trail of victims and countless haters who have given in to the evidence and left behind that ill-fated The Decision to surrender to one of the most impressive stories in NBA history. One that started in Ohio, passed through Florida, achieved total vindication, leaving the city of Oakland silent and headed to Los Angeles, the cradle of modern basketball, to pursue the legacy of the most glamorous franchise ever and achieve what would be its definitive place in an NBA that does not wait for anyone and that has belonged to a man who wants to conquer it again. Maybe for the last time.
In front, James Harden and the Rockets before what may be the final eliminatory of the project. They have tiptoed through a first round in which they were in water up to their necks and head back home, but survived Chris Paul's unfinished vendetta to reach the conference semifinals for the fourth time in a row. A round that they passed two first years ago, when they had the golden opportunity against the immeasurable and dimensionless Warriors, worse they fell prey to their own style, immovable for a creator like Mike D'Antoni and lacking a plan b that neither the coach nor the Rockets have never had. 27 consecutive triples failed in that seventh game in a series that falls between the semifinals of 2017 against the Spurs (4-2) and those of last year, also against the Warriors (4-2). Two heats in which they were at all times but left with one hand in front and the other behind, unable to carry out their gimmicky style and failing at key moments and clutch time.
Eight years after La Barba came to Texas as a scapegoat for the Thunder's loss in the 2012 Finals (to LeBron, whoops), the project falters thanks to accounts that escape Daryl Morey's math, which he has been overwhelmed by egos and personalities and has failed in his attempt to win over the Warriors playing as the Warriors. Neither defense expert Jeff Bzdelik nor the continuous scoring explosion of a Harden who was MVP in D'Antoni's first year on the bench has allowed the Rockets to be the best team at the time they needed to be. Everything that escapes Morey's control is what has gone wrong, including the cryptic messages from his expressionless coach, the arguments between Harden and a Paul whom he assured that he would not transfer and then transfer him and the arrival of a Westbrook who has found a hole in the system but continues to take on a lot of the ball, especially at times when it should be for Harden.
Now comes the moment of truth, definitive for some Rockets who have gone from McHale to D'Antoni and from Harden to more Harden to find themselves at a key moment, sententious for a D'Antoni that has a foot and a half outside the franchise (a priori) and revealing for Morey, who will have to make the decision that his Thunder counterpart, Sam Presti, made last year: reorganize the project, end the cult of personality developed in a franchise that ended up happening to him invoice the same and redirect the ship towards a promising future with the extra prize of a Chris Paul (and his huge contract) that they could not get rid of but that has been one of the surprises of the season. The one that let escape, as many have recalled, a Harden who is now at the side of a radically different teammate and infinitely more one-dimensional than his now rival, who continues to do what he wants at 35 years old and in his 15th season in the League.
The ultra small ball and the shadow of LeBron
Harden and Westbrook already crossed paths with LeBron in the aforementioned Finals of 2012, with a protagonism of Durant that was far above them and that remains today, by career and individual talent. That dissolved big three has taken the cake in terms of personality, criticized too much during the last decade for questionable behaviors, excessively vertical hyper-leadership and decisions that will accompany them for life (the latter belongs to Durant), with betrayals (to Westbrook and to Oklahoma) included. Gone are those times, and the man who won his first ring at that time is now looking for the fourth, in a fight against time and history in which he wants to leave a new victim along the way. And he will do so by being the maximum representation of an increasingly distant past, more structural than temporary, and maintaining the style of play that he has always had but without giving up a triple to which he has also yielded (he has shot 6.3 this year, more than ever in his career) .
A his eternal (and eternal) figure will have to face the dynamic duo, with a revolutionary style in the forms and boring in the background, with an absolutely shameless use of the triple and with offensive defects, including that of a Harden who stayed in 17 1-for-9 shots from the outside in Game 7 against the Thunder. In that same duel, Covington, claimed in February by some Lakers who had nothing to offer for him, scored 6 triples, giving a break to some Rockets where Westbrook will have, we will see, minute restriction and Tucker and Gordon will be essential to contain LeBron and (along with Covington) a Davis who takes a lot of inches out of them and comes from averaging 29.8 points, 9.4 rebounds and 4.2 assists in the first round, with 57.3% in field goals and 38, 9% in triples. His level will be key to hurting the Texas interior game, sacrificed with Capela in February to support the idea of a D'Antoni who sought to extreme an extreme in which there was already a way of playing basketball that causes some rejection in the average fan and that has not given the feeling of being a path to a championship. Not towards a Finals, if we get.
The Rockets' biggest problem will be containing a LeBron who appears to be 25 years old and not 35 and who does not see any sign of being close to a retirement that will be delayed until he wants. He has three straight games above 30 points, made 36 + 10 + 10 to eliminate the Blazers and has averaged 27.4 + 10.2 + 10.2 in the first round. Words are unnecessary for a player that Houston assumes that he is going to continue producing, being able to aspire only to mitigate damage and focus on the Los Angeles backcourt, which some presume will suffer excessively but which left Lillard in 41% in field goals in the inaugural series with 24 points per game, after the point guard reached an average of 49% with 35 points per night in the last 26 duel of regular seson. Caruso will have work ahead and will gain prominence in the absence of a longed-for Bradley, while Caldwell-Pope and Danny Green will have to work hard on both sides of the court, pressing on defense and scoring those 3s that are the biggest gap in the scheme of a Frank Vogel who was a victim of LeBron with Paul George's Pacers and is now trying to return the crown to the King amid shy critics who maintain that he is not a playoff coach.
Little more to add. All or nothing for the Rockets and almost also for the Lakers, who cannot afford to lose to anyone other than the Clippers (almost by destination, the season is headed for that series) and who will have to reorganize with a leader On the way to 36 years old and with an uncertain future and a season, the next, that nobody knows when it will start. Harden seeks redemption, Westbrook vindication and D'Antoni watches life pass before his eyes and will continue with his mask on and his arms crossed while he waits for a miracle that has neither happened in the past nor is expected now. But of course, you never know. Some will say that there will always be a first time for everything and others that LeBron's shadow is too long for a beard that looks too short in comparison. The triples, Davis, the management of the clutch time and the second unit (Howard can be important still waiting for the appearances of Smith and Waiters) the advantages in a series without field advantage, will be essential in a semifinals to which, by the way , Rondo returns. Something that we do not know if it is good or bad for the Lakers. We'll see.
Photos from as.com