A genius of Mbappé gives victory to France in Sweden
The PSG striker made up a great play in a rough game for Deschamps' men, who only fired once on goal and generated little danger.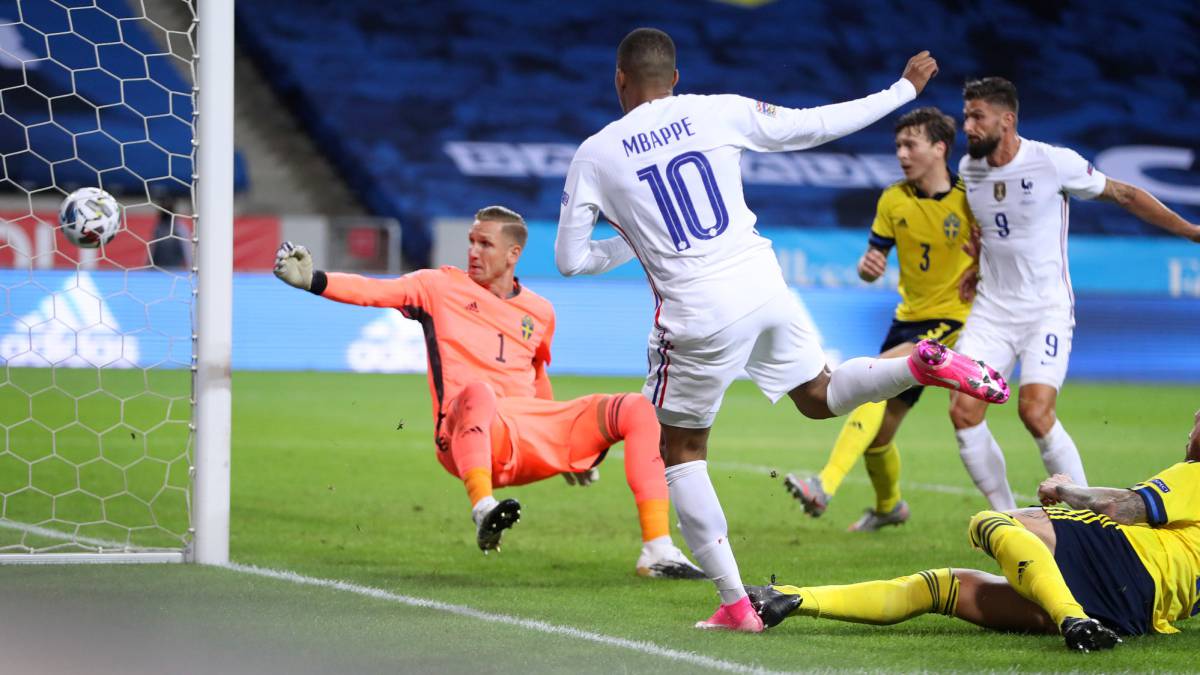 Life is the same for the French national team. The Deschamps-coached team beat Sweden by the minimum thanks to a genius from Mbappé on their Nations League debut in a match in which Griezmann missed a maximum penalty in the last minute.
The eleven of France threw several surprises. The first of them, Deschamps's three-center system, barely used in his eight years as coach and which had as novelties the debut of Dayot Upamecano and the return of Rabiot to eleven after more than two years of absence in the calls.
The French team, as usual with Deschamps, is a flat, slow, predictable and horizontal team with the ball. The three-center system did not work during the first half against Sweden and not only that, but the team led by Jan Andersson took the initiative during the 45 minutes.
The inactivity was quite noticeable in both teams, since the initial rhythm was slow, leisurely and without taking any risk on the part of any of the 22 players on the pitch. There were some timid attacks from France, but all ended with a side center without a finisher. The French team suffered a lot to reach the goal of Olsen, who was a spectator until Mbappé's opening goal.
Before the PSG player's goal, Sweden was able to take the lead. The first big chance for the locals came through a strong shot from Ekdal in the front of the area that touched the post, while in the second, Lloris made the intervention of the night after repelling a one on one against Forsberg, that was slow in definition. Two minutes after the Swedish chance, Mbappé, in a great maneuver, beat Olsen with his left leg.
The second part was a carbon copy of the first. This time, the French team slept the rhythm of the game with long-lasting possessions and Sweden was gradually noticing the physical effort of the first half. Griezmann was 0-2 in the 75th, but his shot up front went high and Sweden was able to equalize in the 89th, but Lloris reappeared from a good shot from Forsberg, before Griezmann missed a penalty in the last minute caused by Martial.
Photos from as.com