Zarco: "I think the sanction of the maneuver with Pol is fair"
"I was warned about the Long Lap Penalty and luckily I did not lose positions. I'm sorry for Pol, but I think I deserve this podium today," says Johann.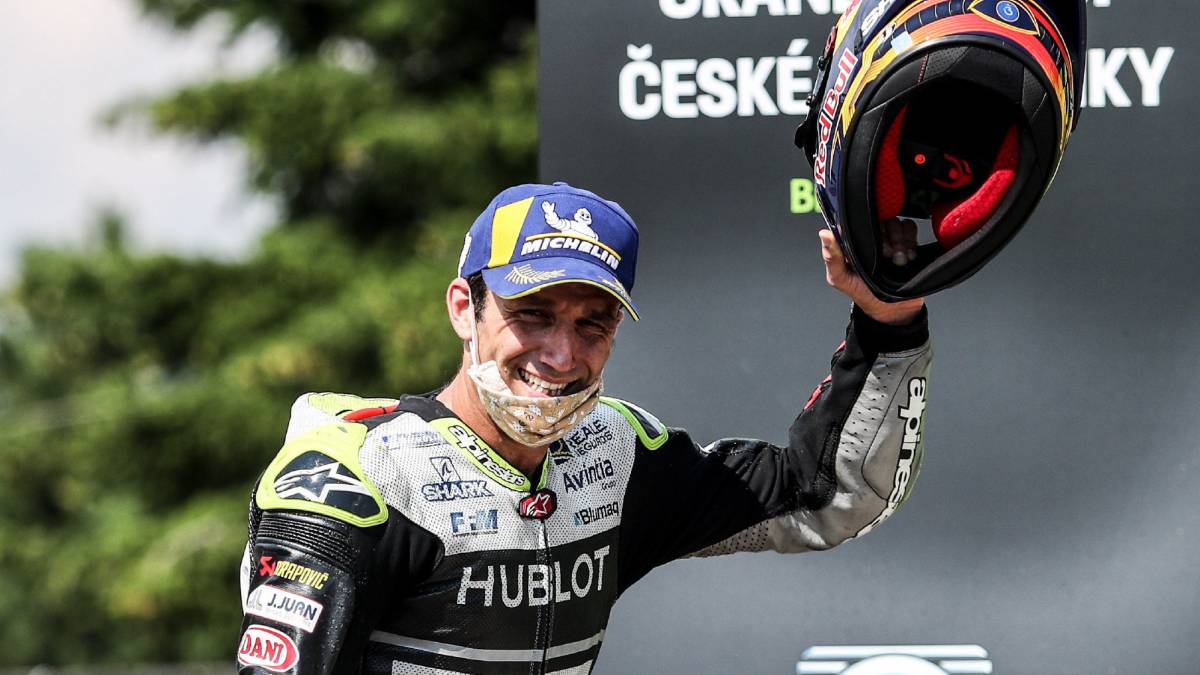 Perfect weekend for Johann Zarco of the Czech Republic GP: his first pole with the Ducati satellite and his first podium. And he was honest when it came to talking about the maneuver that put Pol to the ground.
The race: "The objective was to have a good start and be in front. I wanted to lead at the beginning and look for the break, but I didn't make a good start. I thought I could follow Franco but I had to fight a lot of drivers, so it was a difficult start. After a few laps I no longer felt that advantage of the first laps. "
The fight with Pol: "Sometimes he went long, he made mistakes. And on that corner, he was going very fast and we had that contact and I didn't know if he had crashed. I was worried because I knew that I could be penalized. I overtook Fabio, but I had the penalty which was a shame. I thought I would lose positions, but when nobody beat me doing the Long Lap Penalty, I focused on hunting Franco because I wanted to secure the podium. I knew Rins was coming very strong in the last laps, but I closed all the gaps at the end. "
Penalty: "I think it's a fair sanction. But he went long and I was already in the corner with more speed. I thought he would see me, but we had contact. In racing there is not always so much room to overtake. Pol always brakes very hard, that's why he went long in the corner and I am more about having corner speed. I imagined they would penalize me, but since they took time to tell me, I thought that in the end they would not penalize me. Then they told me about the Long Lap Penalty and luckily I didn't lose positions. I'm sorry for Pol, but I think I deserve this podium today. When I saw the notice of the penalty I was not fighting with anyone, but I was focused on hunting Franco. I thought about doing it as quickly as possible. I didn't think about delaying it or anything. I was surprised that everyone has said that I have drawn it perfectly. I expected to lose positions and it is true that nobody beat me. It's the first time I've done that line and I felt comfortable. Maybe it is because of my experience with the Ducati Multistrada with which I usually move on the street. "
Binder's victory with KTM: "I am very happy for Brad's victory and also for KTM, because they are doing what I could not do. Brad came in with an open mind and they are getting good results. If he didn't crash in Jerez he could have been on the podium. I feel very happy for him, and also for myself, because I feel very good at Ducati and they give me a lot of love. We are now in the right place. "
Do you regret leaving KTM ?: "Brad is doing the job that I was not able to do last year. I'm happy for him and for KTM. I don't regret anything, nor do I think I had to be more patient. I had a lot of difficulties and I needed to take that step to feel more in line with the mentality. It seemed to me that I was being paid to do nothing and I had to be honest with myself. It was a big step for me, but when I got to Ducati I had different feelings, like when I was in Moto2. For KTM it is perfect to have Brad. "
The 2019 Ducati: "I don't know why all Ducati cars have had difficulties except me. I was very fast on one lap and I got pole on Saturday, but I knew I would suffer today. It was very useful to start from pole because I was in the front and with the fastest riders. I don't want to think why I went fast and the rest didn't. I think of myself, I earn points for Ducati and I am very happy for the team. This result has come earlier than expected. "
Goodbye to doubts about your team last year: "I had doubts with the team last year because I had difficulties and did not want to have more. The team was not having a lot of results and it was private, so I had a lot of budget limitations when it came to getting parts. It is now a satellite structure and takes good care of the team with Ducati mechanics and technicians. Now I am happy to be able to offer the team these good results. "
Photos from as.com