Unai Simón's big day: to La Roja and renew without a clause
He signed until 2025 and has made Arrizabalaga forget in San Mamés. He follows the pattern established by Muniain and has established himself as a franchise player along with Williams.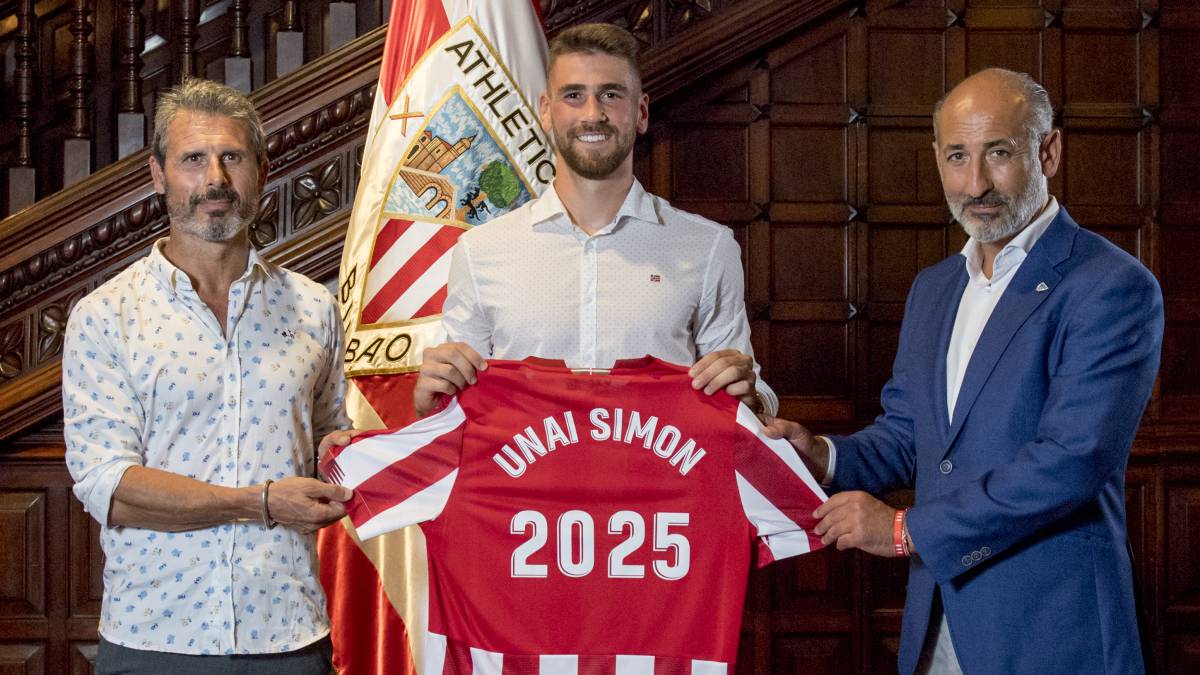 Arguably the most important day in Unai Simón's career. Even more so than when he was confirmed as a starter at the goal that Iribar defended one day. Hours after being cited for the first time by the National Team, he has confirmed his renewal with Athletic for two more years, until 2025. The Alava goal, one of the most important players this season in San Mamés along with Raúl García, has eliminated the rescission clause of the contract in the heading this afternoon in Ibaigane (until today it had an armor of 50 million, sealed in April of last year). The trend of Muniain, De Marcos, Balenziaga and Ibai continues in this way, although due to its projection and quality it is the only one of them that had a wide market. Unai is now one of the most important emerging goalkeepers in LaLiga and after his time in the Under-21 he was beginning to be known in Europe.
At his 23rd birthday, the news reaches Simón at a very special moment. Today marks two years of his debut as a lion (under Eduardo Berizzo on August 20, 2018 in a match against Leganés). In Bilbao no one remembers Arrizabalaga and the deletion of the clause removes any excess of doubt about whether one day Simón would follow in Kepa's footsteps. The Murgia goalkeeper finished in third position last season in the Zamora Trophy after Courtois and Oblak. He will appear before the media at a telematic press conference that will take place tomorrow.
His undisputed ownership has caused Herrerín to be relegated to the bench and to ask to leave Bilbao but an offer for him has not yet arrived and he remains on hold. "I've been here since I was 14 years old, since I signed for Athletic for the first time in the cadets, and being there until 2025 is an illusion, I am very proud and happy for the trust the club has placed in me. It is a good day because it coincides with the debut a couple of years ago around the same time and has joined the call of Luis Enrique. It has been a beautiful day ".
President Aitor Elizegi was radiant: "We started the 2020-21 project by propping up something very important for the club and the team, such as the three clubs, with a reference. Some days are very important for a player and others for a club. It is a very important step that gives the reason to the call of Luis Enrique and also to the commitment, to his teammates and to the work and effort of Lezama. It is a great day for the Athletic goal and enormous for the effort of this club. two parties at the table and from minute one the hand given made it clear that Athletic's goal and Unai Simón wanted to be united for many seasons; it is a message for everyone to be able to work on this renewal with this great goalkeeper ".
The sports director, Rafa Alkorta, explained that it is "a day for everyone to be happy." He highlighted that "Unai Simón's commitment to Athletic is outstanding, it has cost us nothing to reach an agreement, he is a boy who is growing a lot with us and wants to continue doing so, it is great news for everyone, we have a goalkeeper top in Europe for many years. " The ex-central revealed that the negotiations have been simple because both parties were clear about the goal, "we knew he wanted to continue with us, coincidentally today is international and is a double reason for happiness" .
Photos from as.com