Tour de France 2020: stages, profiles and route
Check here the 21 stages that make up the 2020 Tour de France route (from August 29 to September 20), the altimetry and the road book.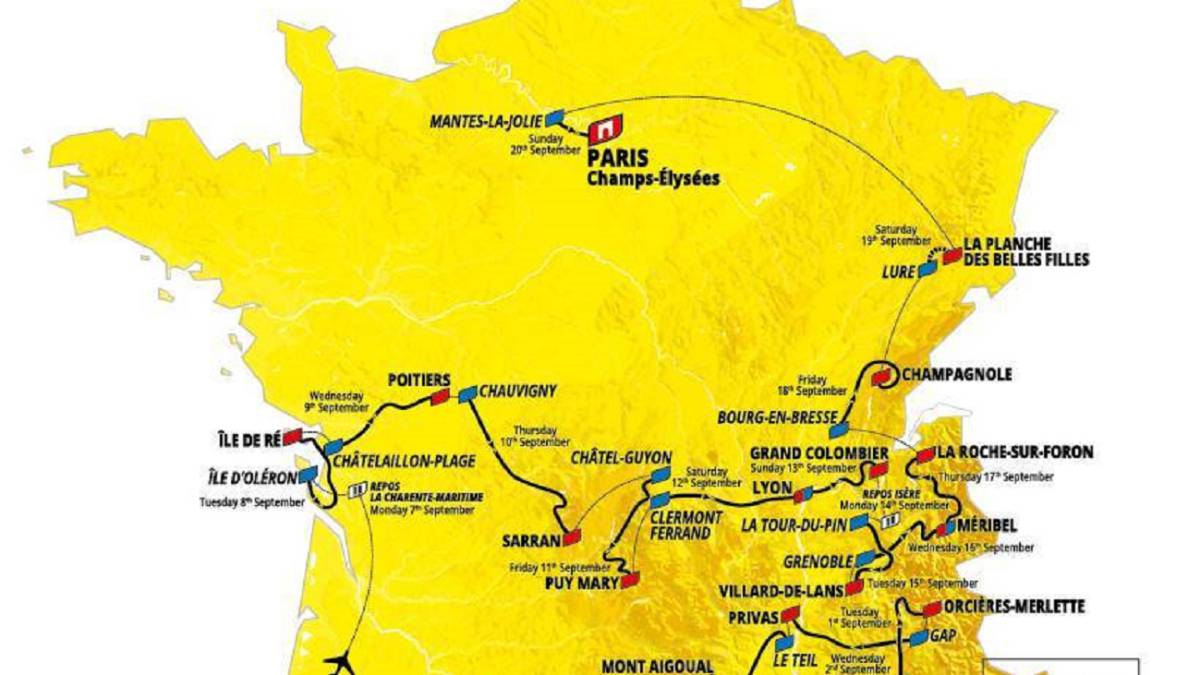 The 2020 Tour de France, which will be marked for life by unfolding in the midst of the coronavirus pandemic, will start on August 29 in one of the pearls of the Côte d'Azur, Nice. It will end on September 20 at the Champs Elysees in Paris after 3,481 kilometers divided into 21 stages that will cover mainly the center, the east and the south of France. Below we break down each one: Stage 1. Llana - 196 km (Saturday, August 29)
Departure from Nice to face a mostly flat route with a third category elevation that will be passed twice: the Cote de Rimiez (5.8 km a, 5.1% ). After the descent towards Saint-Martin-Du-Var, ground to abort the escape of the day, if any, and a propitious occasion for the sprinters on arrival. Intermediate sprint in a first step across the finish line, also in Nice, at kilometer 88.
Stage 2. Mountain - 186 km (Sunday, August 30)
The race continues in Nice. Departure near Lac du Broc and two first-rate passes in a row: Col de la Colmiane (16.3 km at 6.3%) and Col de Turini (14.9 km at 4.7%). At 30 km from the finish line, the Col d'Èze is climbed, second (7.8 km at 6.1%). There is a bonus at the Col des Quatre Chemins, just before arrival, and an intermediate sprint as soon as you start, at Lac du Broc (kilometer 16) .
Stage 3. Llana - 138 km (Monday, August 31)
Third exit followed in Nice to Sisteron. Leg-breaking route from the beginning with three heights of third almost followed: Col du Pilon (8.4 km at 5.1%), Col de la Faye (5.3 km at 4.8%) and Col des Lèques (6.9 km at 5.4%). After a fourth level, the Col de l'Orme (2.7 km at 5%) and sprint 38 kilometers from the finish line, in Digne-les-Bains. Good day for a leak to make its way.
Stage 4. Medium mountain - 160.5 km (Tuesday, September 1)
First finish at the top of the edition, in the Hautes Alpes, with Orcières Merlette as the ascent that will make the difference at the end. A first class climb (7.1 km at 6.7%) and explosive that will be preceded by four heights, three third and one fourth: they will be Festre (7.6 km at 5.3%), Corps (2, 2 km at 6.3%), l'Aullagnier (3 km at 6.4%) and Saint-Léger-les-Mélèzes. The intermediate sprint, in Veynes (km. 51.5). Hostilities between favorites will likely break out.
Stage 5. Llana - 183 km (Wednesday, September 2)
Another day that will presumably end with a pulse between sprinters. Departure from Gap and arrival in Privas after a descending path with steep slopes in the intermediate sprint of L'Épine (kilometer 47.5), Col de Serre Colon (fourth, 4.1 km at 3.7%) and Cote de Saint- Vicent-de-Barrès (fourth, 2.7 km at 4.2%). 444 444Stage 6. Medium mountain - 191 km (Thursday, September 3)
155 relatively comfortable kilometers will give way to a new high finish on Mont Aigoual. You will leave Le Teil, you will pass the intermediate sprint at kilometer 125.5 (Saint-Hippolyte-du-Fort) and then two thirds will come, Cap de Coste (2.1 km at 7.3%) and Col des Mourèzes (6.1 km at 4.8%) before La Lusette, first class (11.7 km at 7.3%). Once the latter is crowned, there will still be 15 kilometers uphill to the finish line.
Stage 7. Llana - 168 km (Friday, September 4)
Trap stage at the end of the first week with a convoluted course that will subject the peloton to changing winds and should end with victory on the run or sprint. Starting in Millau and the first race between sprinters will be at the intermediate point of Saint-Sernin-sur-Rance, at kilometer 58. Col de Peyronnec, third (14.5 km at 3.9%) and Cote de Paulhe (fourth but ramp lasts 1.1 km at 7%) emerge before flat terrain to the finish of Lavaur.
Stage 8. Mountain - 141 km (Saturday, September 5)
The Tour arrives in the Pyrenees with a chain of first two and a special. You will start from Cazères-sur-Garonne and will arrive at Loudenvielle. Intermediate sprint in Sengouagnet, kilometer 42, before tackling Col de Menté, first class (6.9 km at 8.1%), Port de Balès, special (11.7 km at 7.7%) and Peyresourde , first class (9.7 km at 7.8%). At its summit, 12 km from the finish line, there will be bonuses.
Stage 9. Mountain - 153 km (Sunday, September 6)
Another bite of the Pyrenees and another linked with the first two. Departure in Pau, passing through Col d'Artiguelouve (fourth, 2.3 km at 4.5%), passing through Col de la Hourcère (first very intense, 11.1 km at 8.8%), immediately after Col de Soudet (third, 3.8 km at 8.5%), intermediate sprint in Arette (km 99), another third, the Col d'Ichère (4.2 km at 7%) and a small valley before the Col de Marie Blanque, the first to close the series (7.7 km at 8.6%). A small plain spikes upwards until reaching Laruns.
Rest (Monday, September 7) Stage 10. Llana- 168.5 km (Tuesday, September 8)
After the Pyrenees, heading west with a stage that starts from Île d'Oléron Le Château-d'Oléron and ends at Île de Ré Saint-Martin-de-Ré. A coastal route that will connect two islands and visit various fortification designs by Engineer Vauban in the New Aquitaine region. The finish should be for sprinters, but the coastal wind will stalk the peloton and could cause some interesting escape. Intermediate sprint in Chatelaillon-Plage (km 129.5) .
Stage 11. Llana - 167.5 km (Wednesday, September 9)
Last day of truce before the arrival of the mountain. The route is practically flat and has no mountainous difficulties, except for the small level of Cherveux, in the 4th category, around the middle of the stage. The triumph, except for capital surprise and relaxation of the peloton before the coming stages, should be resolved in a massive sprint.
Stage 12. Mid-mountain - 218 km (Thursday, September 10)
Stage conducive to escapes, with a leg-breaking terrain of 218 km between the towns of Chauvigny and Sarran. There will be four ascents, the last one being the hardest: the Suc au May, 2nd category. It is crowned at 26 km from the finish line and whoever has the strength will be able to try it alone since the slopes of the last bars favor the escapees with respect to large groups.Stage 13. Mountain - 191.5 km (Friday, September 11)
Time of truth has come. First mountain stage in this Tour, where the favorites of the general will have to show themselves in the dispute for the partial victory, or at least, to save time from the rest of their rivals in the last ascent. In total, seven ports that will destroy the race into a thousand pieces almost from the start, with the Puy Mari deciding the victory in its 5.4 km at 8.1%. Ideal day for pure climbers.
Stage 14. Medium mountain - 194 km (Saturday, September 12)
Without rest after the beating of the previous day with another 194 km. Of course, this time without any port of excessive entity. It is expected that the favorites will take the day more calmly to regain their strength and that it is the men on the run who play the victory. La Cote de la Croix-Rousse, 5 km from the finish, ideal for explosive runners to take valuable seconds.
Stage 15. Mountain - 174.5 km (Sunday, September 13)
The runners will start from Lyon on a day whose first 100 kilometers will be flat. But the end is firework, with three almost chained passes of the highest demand: Montée de la Selle de Fromentel (1st), Col de la Biche (1st) and the Grand Colombier (Hors Categorie). Its 17.4 km at 7.1% average slope will be totally decisive in the future of the race, since more than one favorite will say goodbye to their options.Rest (Monday, September 14) Stage 16. Mountain - 164 km (Tuesday, September 15)
After the second and last rest day of this Tour, the most decisive section of this edition begins. The day will be resolved in the last two ascents (of a total of five), with Montée de Saint-Nizier-du-Moucherotte (1st category) as the most decisive. After crowning, the runners will face a slight descent to Villard de Lans, where the victory will be resolved among the runners who have a powerful change of pace, since their ramps are not very hard.
Stage 17. Mountain - 170 km (Wednesday, September 16)
Only two passes in this 170 km stage between Grenoble and Méribel. But go two ports, both Hors Categorie. They are the classic Col de la Madeleine (17 km at 8.4%) and the tremendous Col de la Loze (21.5 km at 7.8%). Very important day that could mark the outcome of the race, since authentic minutes can be won or lost in these two colossi. In addition, the stage concludes at an altitude of 2,304 meters, where only the strongest will gain the upper hand.
Stage 18. Mountain - 175 km (Thursday, September 17)
There are not two without three, and this third consecutive mountainous day will wreak havoc on the peloton. Five chained passes, with no flat kilometers between them, make up most of the route, with the Montée du plateau des Glieres as the highlight, less than 40 km from the finish: 6 km at 11.2%. Its ramps are brutal, so that only a small group of chosen ones will play the victory in the descent of the Col des Fleuries, which is not considered a port for the organization of the Tour.
Stage 19. Flat - 166.5 km (Friday, September 18)
Small impasse on the road with this flat, rather short, 166-kilometer stage between Bourg-en-Bresse and Champagnole. There will be quite a few steep slopes along the route, which at this point in the Tour will weigh on the legs, but the triumph should be resolved by sprinting among the sprinters in the peloton.Stage 20. Individual time trial - 36.2 km (Saturday, September 19)
The last bullet in the chamber, if the race is not determined at this point, with the individual time trial at La Planche des Belles Filles. It is not a typical individual time trial, nor is it a time trial. It will be about 30 flat kilometers, ideal for riders, with the last 6 ascent to La Planche and its average drop of 8.5%. It will be essential to calculate the effort in the flat section so as not to burst at the port.
Stage 21. Llana - 122 (Sunday, September 20)
The traditional arrival at the Champs Elysees, with the classic circuit through Paris, where glory will be reserved for the winner of the 2020 Tour de France. As usual, the day for the sprinters put the finishing touches to the race
Photos from as.com