The sun rises: Ricky's decision and the Phoenix Suns take off
With Devin Booker confirmed as a big star, the Suns have marveled at the bubble. They have run out of playoffs, but they have won a future.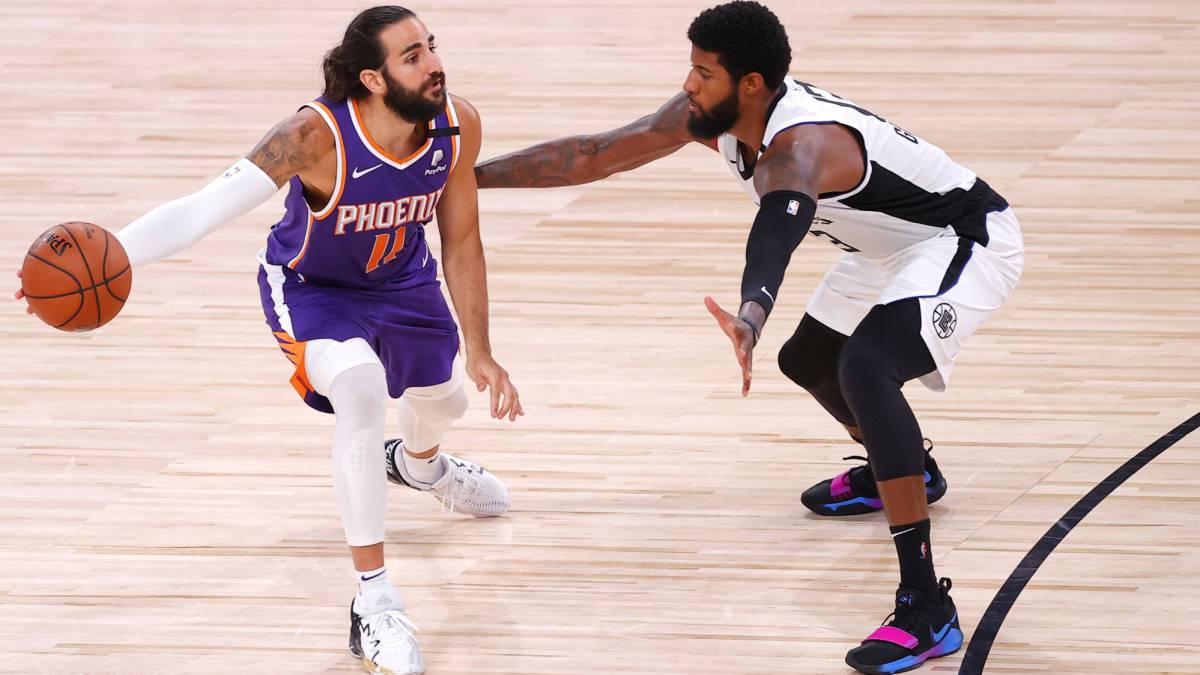 On the horn, in the Nets-Blazers that closed the penultimate day of seeding games (the appendix of the Regular Season) in the bubble, Caris LeVert missed a good shot (front, well positioned) that, if he had entered, would have given the victory for his team (who did not play anything, he will see them with the Raptors in the playoffs) and would have transformed the map of the West. The Blazers saved their skin, which they've been doing for the past week hanging from a superhuman Damian Lillard, and joined the Grizzlies in the play-in. Along a path in which Pelicans (with all their hype), Kings (with all their miseries) and Spurs (with all their mystique) had already stayed, Phoenix Suns also stayed. The bubble team, the first in history to finish a regular phase (a very atypical one, yes) with eight consecutive victories and does not play playoffs. The Arizona franchise has not made the playoffs, in fact, since 2010. Before they had been absent three times since 1988.
But the season has been a gigantic step forward for a franchise that came from a sporting instability and structural dysfunction that were worrisome. From the chaos, the birria, a future project has emerged that painted well from October to March and has painted excellently well in the Florida reboot. That 8-0 has led to a final 34-39 (the same balance as the Grizzlies, the same losses as the Blazers who finished 35-39), a 46.6% of victories that leaves behind four years without even reaching the 30%. The arrival of Monty Williams (an excellent guy, too) was the first good news for the bench since Alvin Gentry, who left in 2013. The arrival at the offices of former player James Jones (a regular in LeBron James' finalist teams in Miami and Cleveland), in October 2018, has been a revelation.
James Jones, the unexpected architect
With increasingly stingy fame under Robert Sarver, the once-proud desert franchise seemed to hit another blind spot with Jones, who also heard taunts when he traded the Indiana Pacers out of TJ Warren (other than has exploded in the bubble) in exchange basically for money and salary margin to renew Kelly Oubre. And, above all, when in the last draft he traded number 6 with the Wolves. He took Dario Saric and a number 11 that he invested in Cam Johnson. This, a fine shooter but without much more arsenal of game, arrived after five years of college after moving from Pittsburgh to North Carolina. At 23, he was an older rookie than Devin Booker, the star of the team that started this season at 22 ... and was already fifth in the NBA for him (number 13 in 2015). But what the hell are the Suns doing? In tow they had, of course, years of serious skidding in the draft. A reconstruction that never came: in 2016 and 2017 he spent two number 4s on Dragan Bender and Josh Jackson, two players who are no longer in Arizona and who suffer to continue in NBA rotations. In 2014 his lottery pick was TJ Warren, given to the Pacers last summer, in 2013 the number 5 went to Alex Len, and another globetrotter without much glory… but what are the Suns doing? 444 444
Well, basically, the Suns (James Jones) were building a smart, meaningful project around the foundation they already had. Booker, a voracious scorer downplayed by the chaos around him, and DeAndre Ayton, the giant who was No. 1 in the draft in 2018 (the first in franchise history), the year of… Luka Doncic (No. 3). Whether it was good or bad (and it is going well, or so it seems) Jones (who made a career as a shooting specialist) had a plan: with the scoring star and the center capable of continuing the blocks to the basket, outside threats were needed to open the clue, don't amass possession ... and defend, something neither Booker nor Ayton did with much energy. So the Suns took advantage of the urgencies of the Wizards to take Kelly Oubre Jr (24 years now) from Washington in exchange for Trevor Ariza (35 years). That is why the criticized operation by Cam Johnson and why, a year before (2018 draft), they gave the Sixers Zhaire Smith (pick 16) and a protected first round in exchange for Mikal Bridges, number 10 in the draft. They were looking for 3 + D, forwards with long arms and defensive versatility and good outside shooting.
And veterans were being sought for the locker room to set and the team to grow: Ricky Rubio signed for three years and $ 51 million and Aaron Baynes arrived on draft night in 2019. The second was home insurance while Ayton (who started his second season with a 25-game sanction for consumption of prohibited substances, in addition), the first a multipurpose base that would help take pressure off Booker in the creation of the game and that would connect points on the track until creating offensive channel routes: what Ricky does better. The Spaniard, who was very close to the Pacers (a playoff project, as were the Jazz he came from) was criticized for returning to chaos, dysfunction and seemingly confused rebuilding. And the Suns were criticized for giving him $ 51 million. The union has been a success. Ricky (he will be 30 years old in October: tempus fugit) has been visibly happy, his team has played visibly well and his role has revalued him in the eyes of the NBA, if it was necessary after his World Cup MVP. He has averaged 13 points, 4.7 rebounds and 8.8 assists. And in the bubble, in addition, he has made 46% of his triples.
The Suns hit the bubble with Baynes and Oubre injured. And they have won their eight games with an excellent level: the seventh best attack and the second best defense… two data that are difficult to sustain but promising. In his Florida rotation there was only one player over 26: Ricky. Ayton is 22, Booker and Bridges 23, Johnson 24 (the same as Oubre) and Saric (another cog between present and future) 26. Since everything goes well, they have contributed in the backcourt the tough Jevon Carter (24 years: should make a career as a defensive point guard) and Cam Payne, a player who (26 years old) was running out of NBA opportunities.
Booker has debuted as an all star this year (he has many ahead of him) he has been the most decisive player in the bubble of all those who are not named Damian Lillard. His averages in the eight victories have been 30.5 points and 6 assists. In the season, 26.6 and 6.5 with a 61.8% in true shooting percentage (the shot meter that weights shots from all positions). Only Lillard himself and James Harden surpass those numbers in this full course. Booker has shown, an essential step, that he is more than a super scorer and that he can be a true franchise player. Meanwhile, Ayton has continued to leave details of his enormous potential (18.2 points and 11.5 rebounds on average) between defensive mistakes and some disconnections (of head and hands) in attack.
Around his two young weapons, Monty Williams has not stopped searching, modeling: building. It started (without Ayton) with Ricky-Booker-Saric-Oubre-Baynes as a quintet. After introducing Ayton, he pulled Saric out to give Bridges minutes. Finally, Oubre's injury introduced Cam Johnson and the Suns formed the quintet that has amazed the bubble: Ricky-Booker-Bridges-Johnson-Ayton. The evolution of Cam Johnson has been fascinating, better than expected as a passer and defender, he has opened the court with his shot and understood his role: 13.3 points, 5.9 rebounds in the bubble with eleven teammates touching the ball more than him and only 0.6 seconds of each possession in his hands. And Bridges has been confirmed, he had been warning, as the perfect 3 + D to play alongside Booker and Ayton: efficiency in attack (12.8 points, 35% in triples) and endless arms in defense. With Oubre, a tremendous talent, in a similar role, the Suns may even look to the future quintets with Booker and Ayton surrounded by all three: Oubre, Johnson and Bridges. A plan full of forwards and, for that very reason, absolutely adapted to the current NBA. And one that will take advantage of Booker's growing ability as a playmaker: his problems and mistakes in past seasons have helped him, in a finally structured system, grow a lot as a real point guard in many offensive plays. Ricky, meanwhile, does his job to perfection: he moves and moves in attack, connects dots, builds roads.
The bubble Suns are no fluke. James Jones's footsteps, which seemed like gibberish when there was still no path, have paved the way for a future that is once again promising in Arizona. The bet on Monty Williams (who was tempted by the Lakers) has worked. Ricky's contract now seems like a resounding success, the rotation has a lot of youth, a lot of talent ... and the sense that it lacked in past seasons. And Booker definitely has traces of a leader who will decide the playoff series. Not long after. Finally, after years of eclipse, the sun rises again in the Pacific.
Photos from as.com