The squad situation: Sergi Roberto on the starting ramp
The youth squad played a game to forget against Bayern, but Manchester City wants him and Barça is willing to sell it, like a good part of the squad.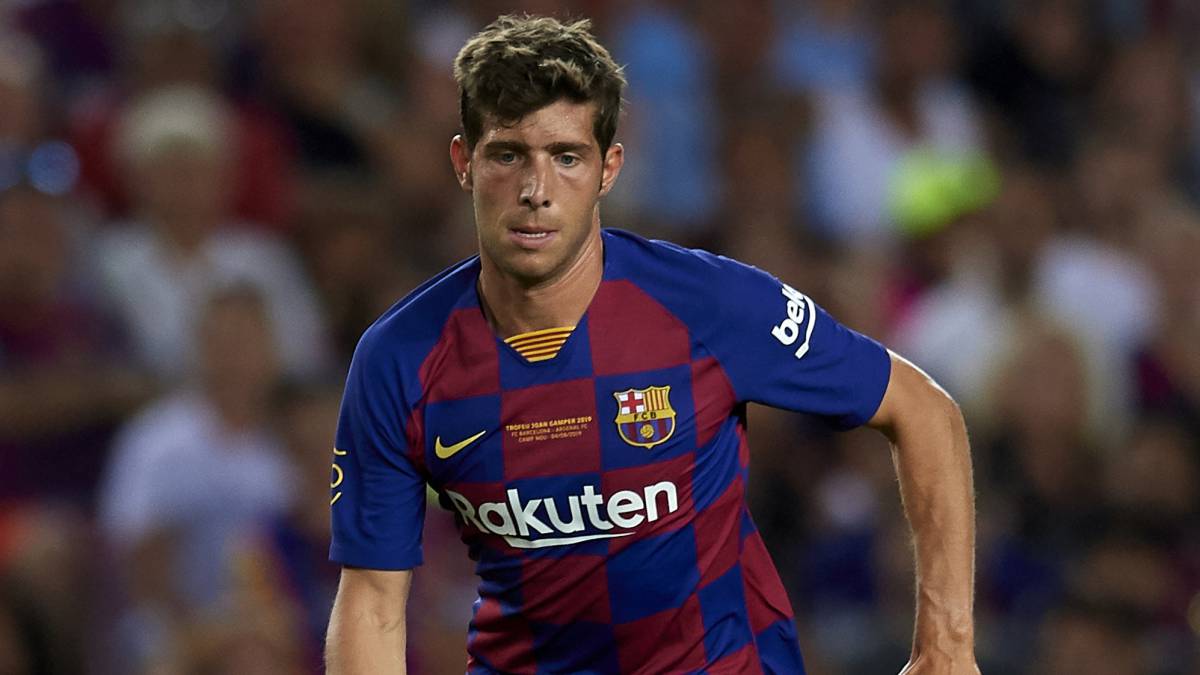 Ter Stegen. 2022. Clause 180. He wants to be the highest paid goalkeeper, but after Bayern's eight it is more difficult. Their relationship in the locker room is not easy. Important, not untouchable.
Net. 2023. 200 million. Does not count. Barça will try to get some money for him after the financial engineering operation he did with Cillessen and Valencia last year.
Semedo. 2022. 100 million. Portrayed in Rome by Manolas, and in Lisbon by Alphonso Davies, he was in negotiations to improve the contract but it is transferable again.
Pique. 2022. 500 million. He has offered to leave. It is one of the sacred cows that maintain the level, but due to its character it will not be around. An interesting case.
Searches. 2023. 500 million. Surpassed in Europe in recent years, the club believes that its time has come. A delicate case because he does not plan to give away his contract.
Arthur. 2024. 400 million. He has been part of the Barça squad this year but has already been sold to Juventus in Turin for 72 million euros plus ten in variables.
Luis Suarez. 2021. 200 million. Barça believes that the moment of his goodbye has arrived despite the fact that he is one of the few that has shown his face away from the Camp Nou this season. An easy target.
Dembélé. 2022. 400 million. He has been injured for three years. He has not played since last November. A remora. Barça wants to get rid of it. You have no offers or are expected.
Messi. 2021. 700 million. A god for the fans, but there are already voices that demand that he play a supporting and accompanying role in the renewal of the team.
Lenglet. 2023. 300 million. In Lisbon he showed again that he can be a good replacement center, but not a starter at Barça. A rotation player and a good professional. To follow.
Griezmann. 2024. 800 million. His first year has been disappointing. Nobody understands what football reasons brought him when his position is that of Messi. Future in the air.
Jordi Alba. 2024. 500 million. Bartomeu succumbed to the pressures of the environment and signed an endless five-year contract. The club wants to do without him and sign a more physical side.
De Jong. 2024. 400 million. Disappointing first course. He played fast-motion at Ajax and has had to adapt to Barça's slow motion. It would be a shame to lose so much talent.
Arturo Vidal. 2021. 300 million. A hard-working player and a competitor who has also completed a cycle. Barça needs recycling and for him it is also the time to change of scene.
Rakitic. 2021. 125 million. He disconnected from the team this summer and, although he has made attempts, he no longer entered into good dynamics. Another footballer who has completed a cycle at Barça.
Umtiti. 2023. 500 million. Another of Bartomeu's big mistakes, who wanted to renew him at any cost even though he knew he was injured in his left knee. It will come out in summer.
Junior. 2024. 200 million. There has been no way of knowing whether or not he has a level for Barça. With Alba playing almost by decree, he has had to settle for a role as a troupe.
Ansu Fati. 2022. 170 million. The great hope of Barça. Player with a different talent: he has overflow, talent and goal. Only context can spoil a gem of this level.
Riqui Puig. 2021. 100 million. One of the few good news at the end of the season. He has earned a place in the first team. Now a technician needs to believe it.
Aleñá. 2022. 75 million. His assignment at Betis has been a fiasco. He didn't play with Rubi and he didn't play with Alexis. Barça does not know very well what to do with it: sell it or give it up.
NEW
Pjanic. 2024. 400 million. The Bosnian is a guarantee in the core, but in the current Barça dynamic nothing seems certain. It could become contaminated from a decaying computer.
Trincao. 2025. 500 million. Apparently, a winger with overflow and goal. Good left-hander. He is not measured in elite competitions and may have Messi and Dembélé ahead.
Pedri. 2022. 100 million. His future goes through an assignment. Leaving him in the first squad at 17 in this context would be a basic error. Although in this Barça everything is possible.
Matheus. 2025. 300 million. He has not been heard from in Valladolid and he played very little at his previous club, Palmeiras. It is difficult to think that he will play for Barça next season.
Photos from as.com