The Spurs take advantage of the Rockets nap to stay alive
Gregg Popovich's team beats the Rockets without ruffling a James Harden or interest in the game. And it continues with playoff options.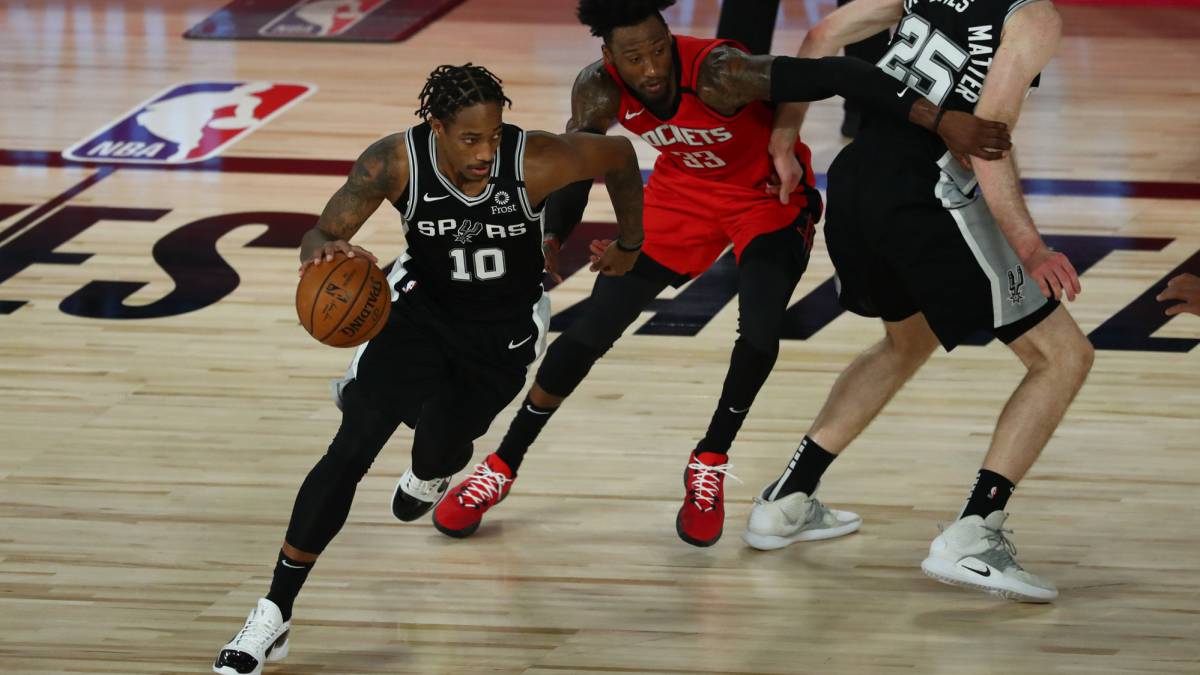 Before the games started in Florida, Gregg Popovich said that if someone had told him that the regular season games were going to end 6-2, his reaction would have been to ask him to pass a drug test. The Spurs are 5-2 and finish against the Utah Jazz. They arrive alive after beating the white label version of the Rockets (123-105), still with options to be in the playoffs via play in. Almost no one counted on them, or rather almost no one talked about them. But where others with more hype have been scalded (the Pelicans, mainly) the Spurs have played basketball. Serious, as they always play. When talent was falling out of their pockets and also now, when they don't have an ounce of it left over. The Spurs continue: if they finish in the playoffs they will be the first team in history to do it 23 seasons in a row. For that alone, and for Popovich, and for the merit of those who go as far as they can, it is hard not to wish them well.
With that said, there is an obvious grassroots glitch in how a (exciting by qualifying, of course) fight for that final playoff ticket in the West is being resolved. Four teams came into this match on Tuesday in a sideline game, and that's great. But they face rivals who no longer play anything, who handle themselves without tension and who reserve stars and headlines without blushing. A beautiful fight seems reduced to who meets fewer opponents with an interest in winning games before next Monday, when the playoffs begin. And the tougher the enemy seems a priori, the more options for him to send you his version B (for the same reason: the playoffs start on Monday). The fight, exciting (I insist) a priori, has finished watered down. The invention had a basic defect.
The Rockets, in this line of thinking, left James Harden, Danuel House and Eric Gordon without playing. And those who jumped onto the track did it almost to train, to get a light cardio session. And to shoot a lot of triples: at the end, 14/48. The Rockets' style, with many detractors already, is insufferable without tension or will. Russell Westbrook, a constant power turbine, turns out to be an innocuous player with no interest in breaking a sweat. The opportunity was perfect for the Spurs, and they did not fail: from the initial 2-7 to 66-49 at halftime, 98-78 after three sets, 112-87 in the middle of the fourth quarter. Only one needed to win. And, of course, he won.
The Spurs won as they have won almost all their games in the bubble: with small quintets, wide players, circulation of the ball, good shots. Only DeMar DeRozan (23 points) is allowed joys with those backsides four-six meters from the hoop that he always puts. With Derrick White enduring physical problems, veterans like Rudy Gay and Marco Belinelli and youngsters like Lonnie Walker, Jakob Poeltl and Keldon Johnson (24 points: the rookie is growing in plain sight in Florida) extend the life of a team that is objectively worse (or should be) than almost everyone in the same fight. But he is still alive. And he wants more, if only for that shirt, which forces him to play basketball the way he should. Whatever the circumstances: the San Antonio Spurs.
Photos from as.com