The seven conclusions of the GP of the Czech Republic
On Sunday there was an unprecedented podium, for those who made it up and for the motorcycles they were carrying. Binder, Morbidelli and Zarco, with the official KTM and the Yamaha and Ducati satellites.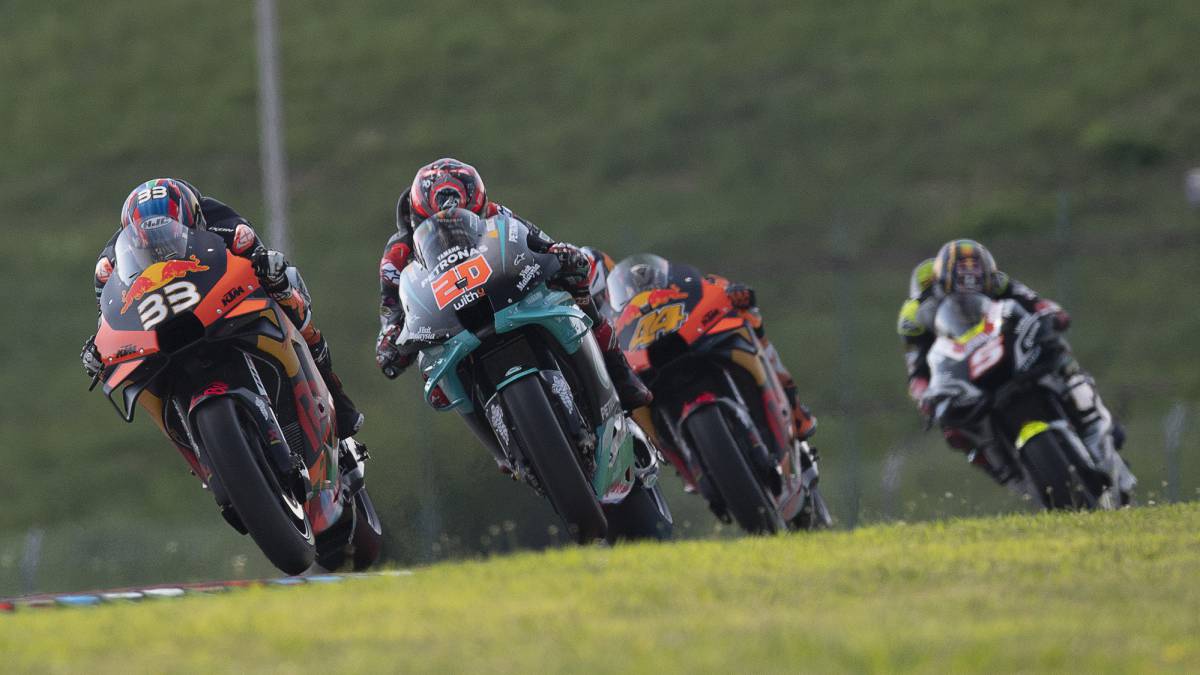 1 MotoGP is rare.
We started by counting in AS on Friday, already in the chronicle of the first free practice of the weekend, that MotoGP was strange without the presence of Marc Márquez. Leader aside from Quartararo in that session, unusual riders from the top positions were already ahead. And on Sunday the originality of the classification was even greater, with an unprecedented podium, for those who made it up and for the bikes they were driving. Binder, Morbidelli and Zarco, with the official KTM and the Yamaha and Ducati satellites. Between the three they add 93 races in MotoGP, the least expert podium in the entire history of the category. I said, that MotoGP is strange these days without its champion on the track, which does not mean that it is ugly. Weird and ugly are not synonymous and the Brno race was very entertaining.
2 There is no other Márquez.
As the situation is, with Honda announcing that Bradl will repeat in Austria as Marc's replacement, forced to stay home to continue recovering from his second operation for the fractured humerus in his right arm, the normal thing is that at the end of the season someone ends up dethroning him. But apparently in Brno, it is not very clear who will be the privileged. Quatararo was seventh, Dovizioso eleventh and Maverick fourteenth on the second day in which Márquez had to be exercised on the grid, but it is seen that there is no other equal.3 Honda is a Titanic without a Marc.
To all this, the Marquez-dependence that was already talked about in past seasons is so real without the champion that Honda has become a Titanic without its reference, with an improper sinking of its potential and with the rest of his pilots turned shipwrecked: Nakagami was 8th to 12.8 from the head, Crutchlow 13th to 18.7 (in his case he saved that he had a wrist operation on July 21), Álex Márquez 15th to 24.5 (at least has scored in all three races) and Bradl 18th at 55.9. So far this season, they have not been on the podium once and the best result for a pilot with the golden wing is Nakgami's fourth at Jerez 2, favored by the failures of Bagnaia and Morbidelli plus the crash of Miller. A ruin given its might.
Pol Espargaró's ballot.
The KTM has given up renewing with the Austrian factory to sign for Honda with the intention of aspiring to win races, and now it is KTM that has started to win and Honda that has not come close to it since some time ago with another rider other than Marc Márquez. Would you back down if you could? Surely not, but it is to consider. In Brno his teammate Binder won brilliantly and the only one who was in a position to fight for the victory was him until he went to the ground in the touch with Zarco. By the way, Pol had already crept in three corners before and in the set with the Frenchman something past turn 1 also entered. That meant that he had to close the line again with Johann inside. Guilt of the French decided. I am not so clear about it.
5 Rossi continues to enjoy.
How well Rossi and the many Rossistas have benefited from these last two races, because of the results, because of the sensations and because he is having fun again. The main obstacle for him to decide to hang up his suit at the end of this season and not renew with Yamaha at 41 years was that he was jaded, but he is happy again. Leaving a hair ahead on the grid, he would have come to fight with Zarco for the podium and it was a pleasure to see him celebrate his third place with his friend Morbidelli. It was the first podium for the Italian-Brazilian and the first for a VR46 Academy rider in MotoGP. So much training at the Tavullia ranch pays off, everyone.
6 Spanish crisis in Moto2.
A single podium has celebrated Spanish motorcycling so far this season in Moto2. It was Martín's third in the distant inaugural meeting in Qatar and from there the highest that our team has been seen has been with three fifth places, two from Canet, who is doing very well for a rookie, and Fernández , which last year had three victories and this year is a true reflection of the Spanish crisis in Moto2. The Mallorcan was expected in the title fight from day one, but no. The good news is that his fifth place in Brno seems to have woken him up from slumber. The same happens with Navarro, who is hampered by falls in the first two races. And Martín is being more irregular than usual. Nothing to do with the Italian fleet, which now has Bastianini on a stellar plan, but has also seen Marini and Bezzecchi win on the podium.
7 Arenas is a champion plan.
The most open category is almost always that of Moto3, but this year there is a rider who is emerging as a champion. This is Albert Arenas and, beyond his leadership, with two victories and a second place, it is because of the way he manages the difficult group races in this category. He is always seen in the good place, that third or fourth place in which what happens in front or behind is controlled. He is seen forcibly trying to break up the group when he considers it. And he is seen to be responsive when things don't go the way he planned. And to that we must add that he knows how to suffer, because he arrived in Brno with his ankle still swollen after his hard crash at Jerez 2, which forced him to undergo a lot of rehabilitation. With what that hurts ...
Photos from as.com