The redemption of Carmelo, the man who survived LeBron
Carmelo has shown that he can still play in the NBA. He is the last survivor of his generation alongside Korver ... and LeBron, his friend and rival.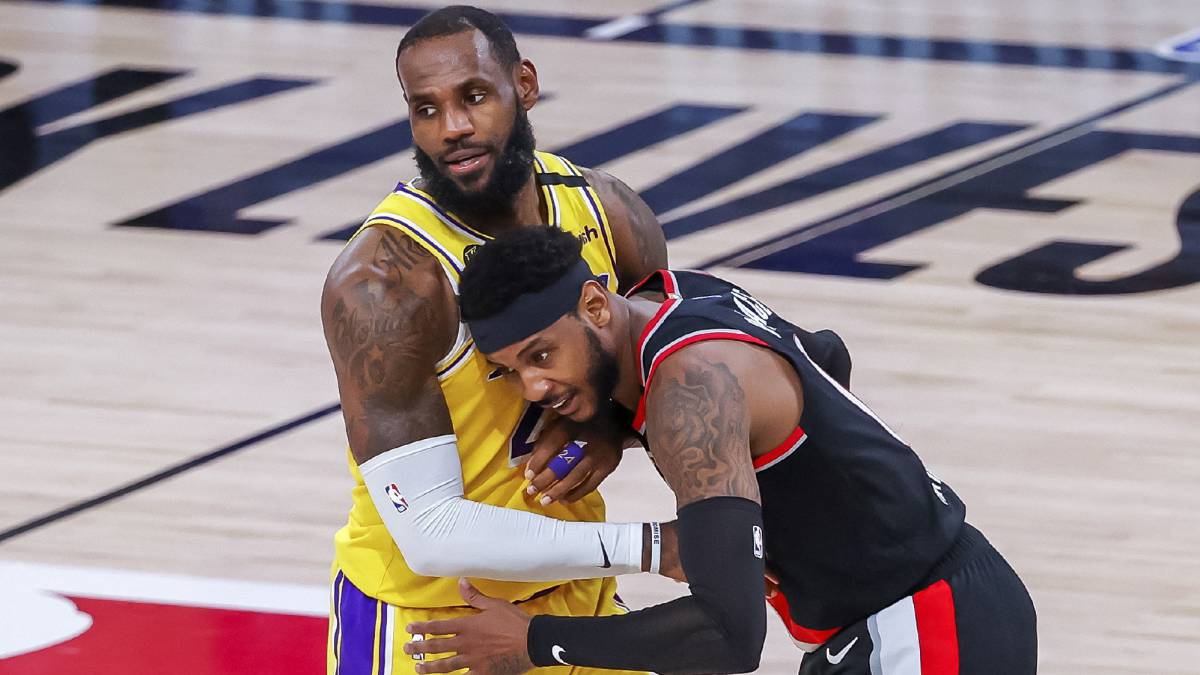 On June 26, 2003, some of the most momentous pages of modern basketball began to be written. Intertwined with each other, a generation of young talents came to the NBA willing to take over the world, who almost automatically became the references of the franchises in which they landed and who conquered almost everything that lay ahead. It was the day that players of the stature of Chris Bosh, one of the most talented power forwards of the 21st century, came to the best league in the world. So did people like Dwayne Wade, starring just three years after one of the biggest shows in Finals history. That day triplists such as James Jones, Jason Kapono or Kyle Korver came to the North American competition, talents that ended up belonging to the bourgeoisie such as David West, Kirk Hinrich, Carlos Delfino, Leandro Barbosa, Chris Kaman or Boris Diaw and people with a certain renown like Kendrick Perkins or Mo Williams.
Also, how could it be otherwise, frauds came to that draft. That dubious honor went to Darko Milicic, a man with little star and a nonexistent work ethic whom the Pistons inexplicably chose ahead of Wade or Bosh, nearly a year before giving him their only champion ring (an excessive gift). ) in what was the last competitive version of that franchise known in the late 1980s as the Bad Boys. Milicic also came ahead of one Carmelo Anthony, a man called to dominate the NBA. And behind LeBron James, who, also destined for it, ended up dominating her. They are the latest exponents, along with Kyle Korver, of a generation that has been running out (Wade, Bosh ...) and that has overlapped the dynasties of Kobe Bryant and Tim Duncan, who won 10 rings from 1999 to 2014. If the NBA has taken over from Jordan, it was them, and it was not until his decline that LeBron agreed to an Olympus that Carmelo has never reached, and the comparisons that both heard at the beginning of their careers have been diluted, experiencing two very different faces. other than the League.
Different in substance and form, with two different conference projects and a rivalry that was extraordinary in high school but had LeBron as the individual winner, no matter how much Carmelo and Oak Hill Academy took the head-to-head matches. The King was on the cover of Sports Illustrated and was elected Naismith Prep Player of the Year, taking the Rookie of the Year to Carmelo, the only one who overshadowed him in 2003-04. From there, LeBron was like a shot to stardom, one that seemed like he would never reach it, battling criticism and rivals until he was crowned. Anthony, on the other hand, established himself as the star of a competition that did not wait for anyone or did it with him, which saw George Karl's project disintegrate in Denver before going to the Knicks, in a trade precipitated by James Dolan in which Raymond Felton and, above all, Amar'e Stoudemire ended up blurring to make room for the forward and his style, whose arrival was, yes, the only and (very) relative light in the darkness of a historical franchise but that lives a crisis only comparable to the ineptitude of its owner.
Carmelo experienced the face of an NBA that turned its back on him just as LeBron touched the sky, collected rings and began to be compared to Jabbar, Jordan and company. Where the King fitted the crown to his head more firmly than his traditional headband, Anthony was questioned. Little in the Knicks, where almost nobody blamed him for the project that changed course with his arrival, but in those Thunder in which it became clear that the game had changed and that there was only one person capable of monopolizing the game to practice it however you want. LeBron, of course. Carmelo had to learn to play without the ball, to catch and shoot, stop posting and run after highly developed physiques that punished his never striking defensive skills (and attitudes). He was the scapegoat of a City of Thunder that also did not touch glory without him and of some Rockets in which he wanted and could not (or did not give him enough time). And that's where it seemed that his career was ending prematurely and in an unwanted way. Through a back door that many cross but whose threshold no one wants to cross.
The Blazers, to the rescue of the survivor
It was the Blazers, mired in a crisis that mixed bad luck and bad summer management, who rescued a man who refused to consider himself retired and who was permanently training, waiting for a call that he did not know if it would take place and that finally took place. Carmelo came to a drifting team to see one of the most impressive individual explosions, that of Damian Lillard, in recent years. And while it has become evident that his 35 years and his adaptability to that new era of the triple in which tall men are conspicuous by their absence and off-road players capable of doing everything with an extraordinary athletic complexion, it is very complicated, he has shown one thing: he can play. And that he has enough innate talent to make up for his shortcomings and draw on experience and wisdom to get the best of himself and contribute to the attack of an eminently offensive team in which he has made a social and sporting success and has made it clear that his retirement if you continue to have offers, it will not happen in a short period of time.
Carmelo has adapted his role, has agreed to be behind someone like Lillard in the opposite way he wanted in the Rockets and has improved on the triple. His problems in lateral movements and his lack of defensive commitment make him continue to be a problem on that side of the court, but in a team in which no one (with Trevor Ariza's permission) defends, and the fact of not defending is not noticeable so much. Terry Stotts' offensive tactical variant has allowed Camelo a certain freedom to have his opportunities in the one-on-one, either at the post or from middle distance, two styles that he has dominated but for whose lack of productivity in the new basketball are little used. However, he has also improved in shooting, especially in the 3-pointers after reception (40% in this section compared to the 31 he had in his short time in Houston), and has averaged 38.5% in shots from outside, the second best mark of his career after 2013-14. And choosing better when to shoot, shooting 3.9 times from that distance, his fewest since 2011-12.
In the regular season, Carmelo has had mixed performances, mixing excellent games (the winning shot against the Raptors is a great example), with very poor shooting series (1 of 15 against the Grizzlies). However, he has consistently helped in rebounding (6.3 per game, his best record in the last four seasons) and, above all, he has been the spiritual leader that the team needed, already being one of the Top rated veterans in the NBA. The only one of the generation of 2003 with Korver and LeBron, you know. A man who in the first 8 games in the bubble averaged 16.5 putnos and almost 7 rebounds, with 45.6% in field shots, 46.9% in triples and 85.2% in free throws. And it has stayed at 15 + 5 in the playoffs, with the last three games of 20, 16 and 27 points, the last of them (9 of 16 in shots, 3 of 4 in triples and 6 of 7 in free throws) as a farewell to a LeBron, of course, from another galaxy (36 + 10 + 10). However, the comparisons with his rival, partner and friend do not matter much to a player who has achieved redemption and, above all, claim.
Carmelo can play. It is what he has shown and what he wanted so much to teach the world. As light as in his early years (104 kilos) and with greater adaptability to current basketball, but without giving up the post, the middle distance and the classic foundations with which he grew up, Carmelo can continue in an NBA that, we have already said, it does not wait for anyone nor did it wait for him. And even without waiting, 10 All Stars, three Olympic golds, 15th all-time leading scorer ... of course, his resume was too big to see him close like that. Now, it only remains to know what the next stop for a legend like him will be. The Knicks have sounded there. That is already known, they are in need of heroes and live on nostalgia. Also for Carmelo. For now, the forward has found his place in what has always been his home. The rest, we'll see.
Photos from as.com