The new Bernabéu has a lawn in case the public can return
Madrid has expedited the replanting of the same in case the public can return to the stadiums, but the idea is to continue playing in Valdebebas.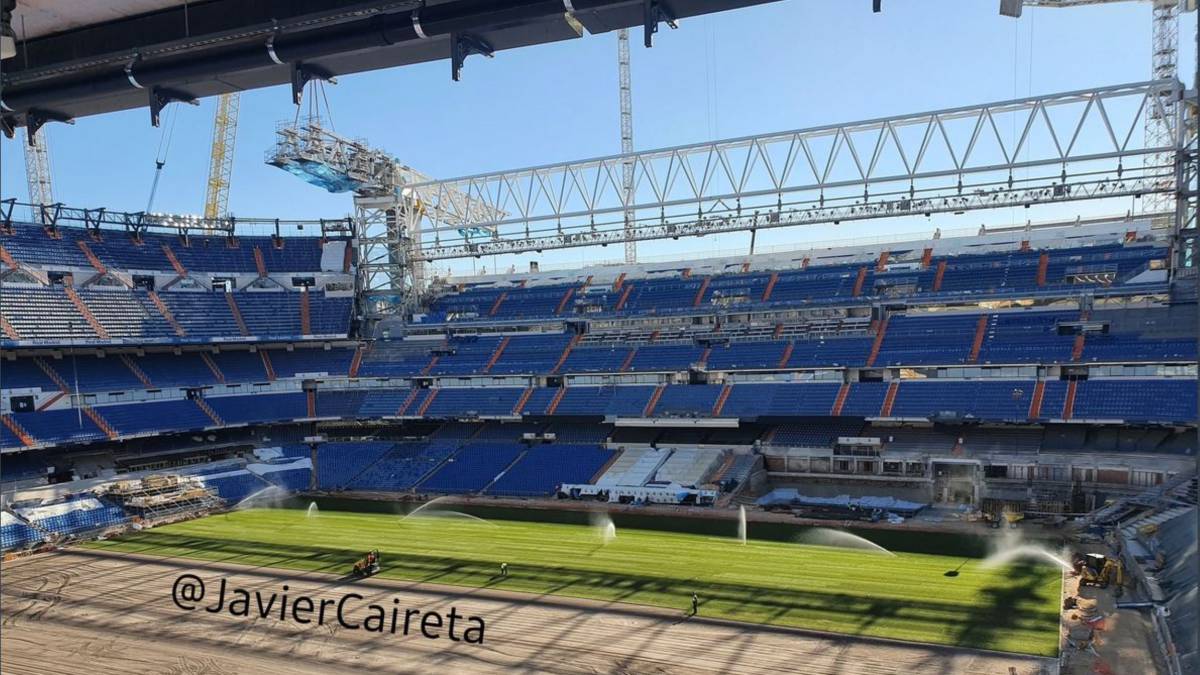 The New Santiago Bernabéu already has a lawn. Or, at least, it is being replanted. The images of a tweeter, Javier Caireta, show that a large part of the pitch has been restored. Paul Burgués, the experienced gardener at the Bernabéu and Valdebebas, is overseeing the replanting operation that will last about a week. Real Madrid has been able to speed up the construction of the New Bernabeú to the point that the deadlines for its completion could be shortened by one year. But neither has he wanted to neglect the possibility that they will have to play again in the Madrid fiefdom if there is a possibility that people will enter the stadiums.
Replanting the lawn responds to this idea. Madrid is scheduled to continue playing the competition in Valdebebas. There, Madrid won the last league title and it was shown that visually the idea works for camera shots. Although the construction of the New Bernabéu will continue to advance at the fastest possible pace as long as the restrictions due to the pandemic allow, it is intended to have everything planned in case the gradual entry to the stadiums begins to be allowed.
In France, the public has already been allowed to enter the stadiums in some friendlies and the idea for the next European Super Cup is that it should enter 30% of the capacity. All these plans are, logically, in quarantine and subject to the advance of the pandemic, which in Spain has been rekindled in recent times. In the case of LaLiga, everything depends on the decisions that the Ministry of Health and the CSD take in this regard. Meanwhile, Madrid continues to advance the works to the best of its ability. With the stadium completed, he expects to increase operating income substantially.
It should be remembered that the construction of the New Bernabéu is a great bet for the entity and represents a great investment. For them, the board had to ask permission from the Assembly of delegates to approve the request for a large loan. Real Madrid will pay a fixed annual fee of 29.5 million euros, starting on July 30, 2023 and until it expires on July 30, 2049. That is, the new Bernabéu will cost the club a total of 796 , 5 million euros, a figure resulting from multiplying the annual fee by the 27 installments of the loan.
Photos from as.com