The Lakers sweep and leave the series shivering: Lillard, injured
Magnificent Lakers game against a disastrous rival in defense and misguided in attack. Lillard was injured again. 3-1 and on track.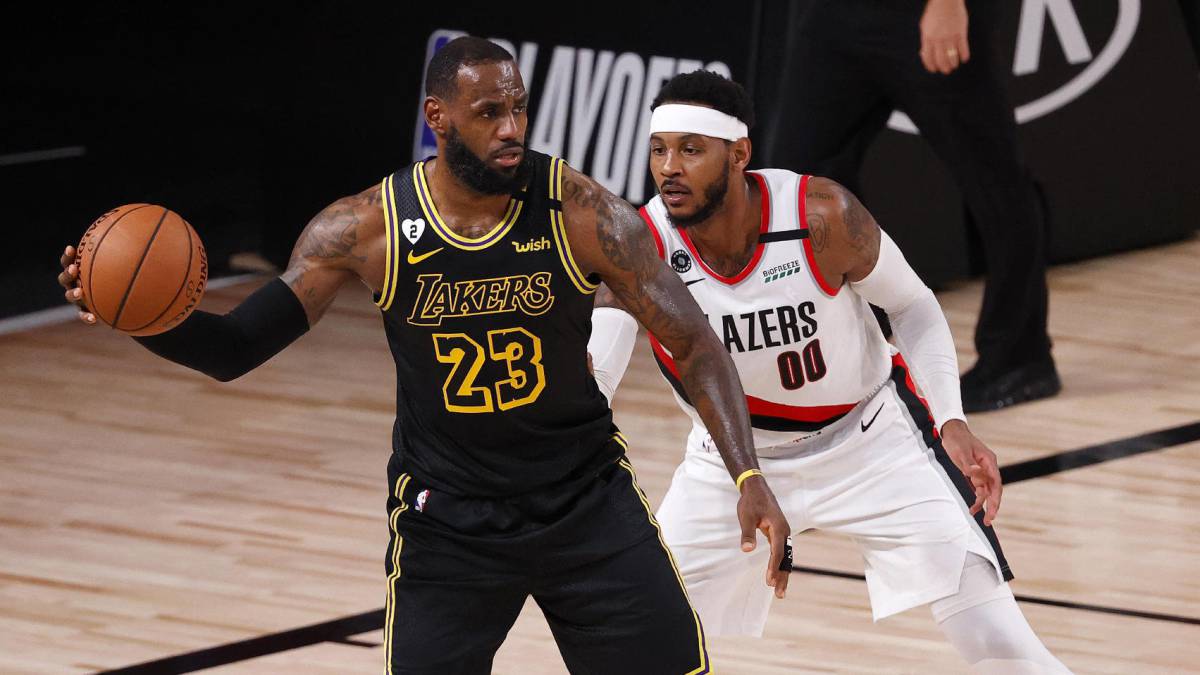 You don't have to be La Bruja Lola to realize that the Blazers are already hitting the limiter. Or that the Lakers are kicking them off the road, rather. Or both things. They are against everything, fighting against the current, and the Oregonians have fought a lot in this series. They have at least one game left, they are not yet eliminated, but the sensations and circumstances suggest that the end is near for them. Only a miracle would change the tone.
In this fourth game they touched the ridiculous. For whatever reason. Stotts pulled Nurkic and Whiteside back together and realized quickly that it wasn't going to work, but neither did the rest. In fact, the Bosnian center was the one who prevented his team members from getting redder, as his points and his fight in the zone against McGee and Davis prevented a greater evil in the first half. Lillard and McCollum could not handle the defense of Caruso, Green and Caldwell-Pope, at times and rotating as they should. The pressure from the Lakers was suffocating and, on the other side, the opposite. Analysis comes down to that. The advantage became 38 points for the purple and gold, today in black honoring Kobe Bryant on Mamba Day (8/24), and the match faded when it came to rest. There was no more game and to know how much more there will be in the tie. Disruptive shock.
The Lakers opened the game 0-15. Half way done. But far from stepping on the brakes, more wood. Anthony Davis hit from the middle distance and left the weight to LeBron, who regulated a lot from the middle of the first quarter, to show off. Melo, Trent or whoever they put in front of him was not going to stop at 'The King', once vindictive in terms of his social figure and also in sports. 30 points, 6 rebounds and 10 assists, with 10/12 in field goals; a card that he signed out of pure superiority, without forcing and taking off his shoes over time to comply.
Stotts despaired on the wing with the referees and it was a symptom of the impotence of his team. Among those who most protested a terrible Carmelo Anthony in the first moments who then made up his data already in the irrelevant third period. Portland had 80 points in the first half: how do you eat that? And perhaps worst was knowing that Damian Lillard could not return to the game with a blow to the right knee, the second injury in a three-game range. Anthony Davis also did not return, but this one due to back problems that are not serious. Everything was seen for sentence in minute 30 and the technicians gave a lot of ground to men like Dion Waiters, Quinn Cook, Mario Hezonja or Wenyen Gabriel. A small two-day impasse has the Portland Trail Blazers to drastically change the image of this first round of the West.

Photos from as.com