The epic awaits Alonso and Palou
The Asturian assaults the oval for the third time from the 26th place while the Catalan starts in the leading group with the favorites to victory.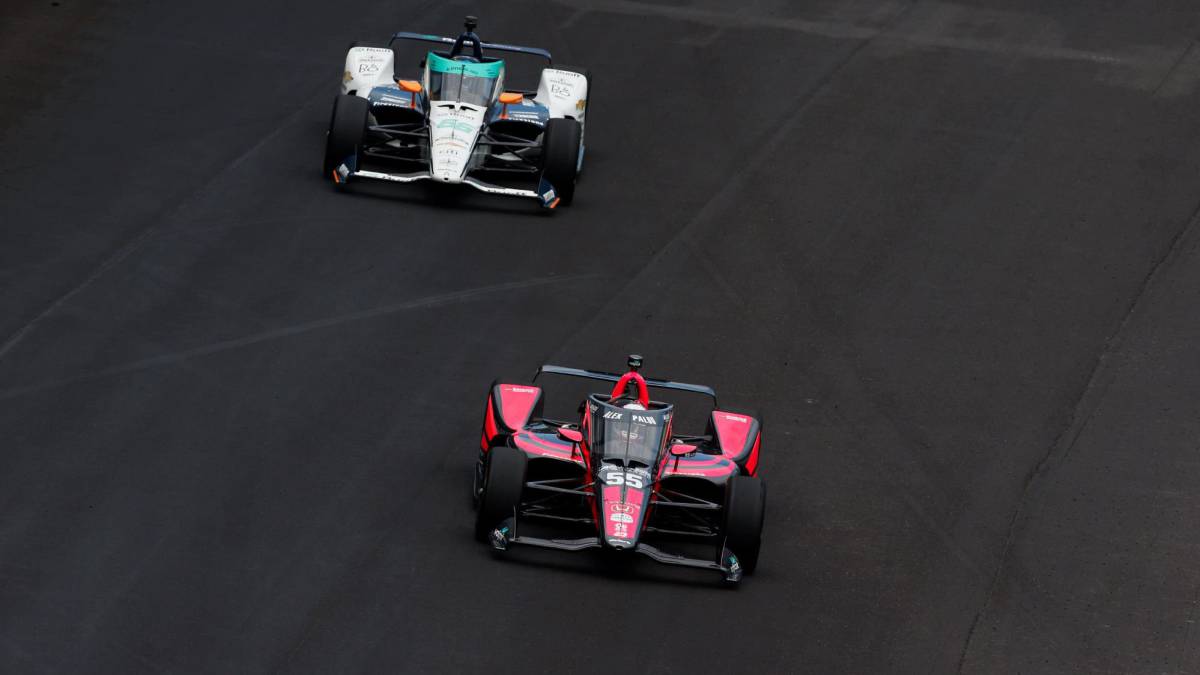 They remember it with a smile. "It's Alonso ...", they keep saying, like then. It was hot that summer day, the Mediterranean sun shining in Valencia, engines roaring as before and a pilot dancing between the curves in search of an impossible in which only a handful of fans who had crossed the country believed. Not even himself. Fernando Alonso had confronted the blond, Canarian journalist who at that time represented us all. "No, I can't do much, although later you will say that I am going to get on the podium," he answered Nira Juanco's question. He won and he did it starting from eleventh, passing, with his red Ferrari, over faster cars like Hamilton's McLaren Mercedes, Vettel's Red Bull or Raikkonen's Lotus, even the Mercedes of ... Michael Schumacher was already threatening.
Empirical proof that it can sometimes be done. What names, what times ... That day the Asturian genius achieved an impossible, just like that same year in Malaysia the rain fell or Singapore 2010 or San Marino 2005 or Baku 2018 or ... to achieve a podium, make a pole, win races, be a Formula 1 world champion coming from an economically humble family from Oviedo. Winning in Monaco, a Spaniard, an Asturian kid, winning at Le Mans, at Daytona, Sebring ... to be world champion again, this time in the Resistance, participate and shine in the Dakar, yes the Dakar, the desert race for a king of the circuits. Once Alonso decided that he wanted to win the Triple Crown. And he's only got the Indianapolis 500 left to do it. After fighting for victory in his first outing, dazzling in 2017, and failing to qualify for the race with a half-built McLaren last year, this time he had high hopes for the Spaniard and a McLaren Arrow SP that he offers greater guarantees, without being one of the best cars, but the results are not being as we expected and I started in the first two free practice sessions. The Spaniard has not been with the fastest at any time and comes out twenty-sixth to the oval to try an impossible. Again. He speaks of the objective with complete platitude lucidity. "You only have to cross the line one centimeter ahead of the others, that's the only challenge. I think it will be a challenge for everyone. We have to rely on strategy, pace, luck ... and we have to try to find the best set-up to have a fast car at the end of the race. We go back, but we love these things, "he says from Indianapolis.
And while Alonso will try another feat, another Spanish rider is among the favorites for victory, from a great seventh place, with the confidence that comes from having already reached the podium and having the best engine, the Japanese Honda, in a good team, the Catalan Alex Palou also pretend the epic, go down in history as the first Spaniard to win Indianapolis. He has everything, even the previous congratulations from Alonso, "it never hurts to have a two-time world champion say those words to you," he said. It is, a priori, the great national asset.
Although if we talk about a favorite, pole is for Marco Andretti, who like his grandfather Mario (1966, 67 and ... 87) starts from the first position in the Indy 500, on the second pole of the Andretti team in this competition after Tony Kanaan in 2005. But the man on pole rarely wins, even though Simon Pagenaud did last year. Attention also to Scot Dixon who comes second, Sato third or even Rinus VeeKay, the honor of the Chervrolet, fourth for the best rookie. That title Palou will try to take away in the race. Alonso has it almost impossible. In modern Indy, only Johnny Rutherford, in a McLaren, who started 25th in 1974, managed to win.
It will be starting at eight thirty at night, 200 laps in an anti-clockwise direction, skimming the walls and flying at almost 400 kilometers per hour with 33 pilots in search of history. And there will be two Spaniards, Palou willing to show that there is life beyond F1 and Alonso to make it clear that he is still a champion, before his return to F1, in his penultimate impossible. Can do it? Like that day in Valencia, Miguel and Carlos, Spanish fans, look at me smugly. "Well of course ... it's Alonso" .
Photos from as.com