The definitive time for Dos Anjos
Great promise from the Madrid quarry, he stagnated and has had to wait to have a long contract at ACB. Bilbao can relaunch him. He hopes to learn with Balvin.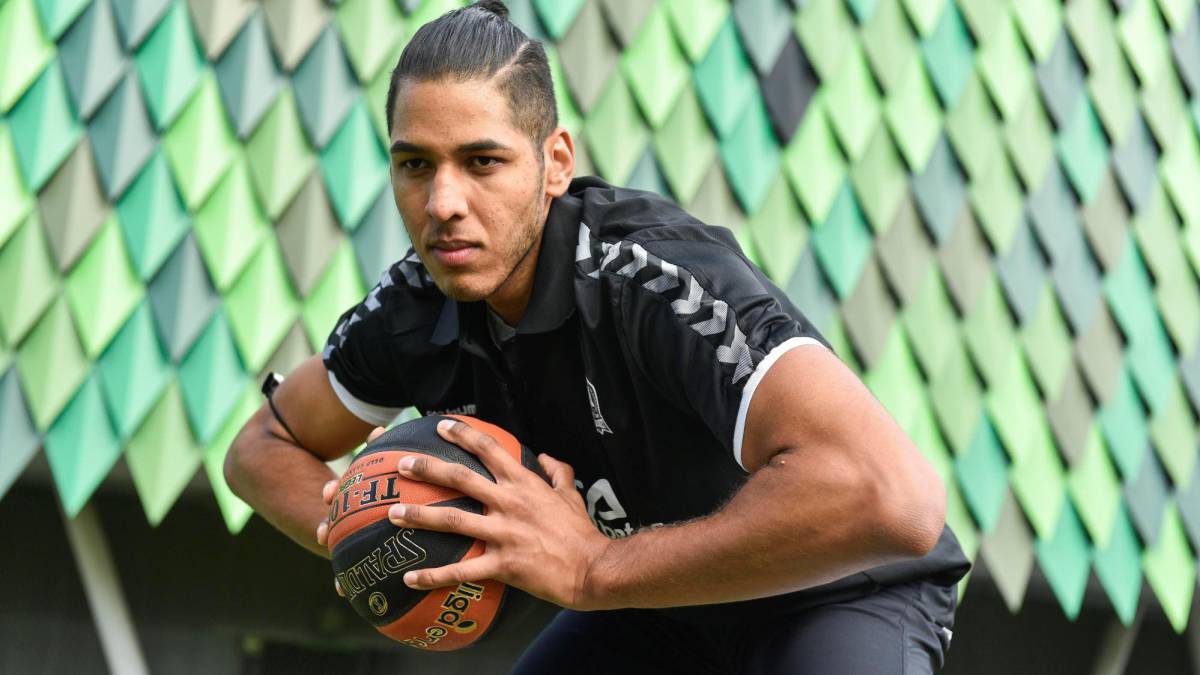 Felipe Dos Anjos grew and grew in every way (physical and basketball) in the Madrid quarry and Laso rubbed his hands before the five of the future. He was training from the cadet category and already as a junior he won the 2015 European Club Championship in a team in which he coincided with Luka Doncic. But his path has been very different from that of the current Dallas Mavericks star. He stalled because he couldn't quite believe it. His height (2.18) is a candy in these times when the five coordinated are scarce in Europe. He had to wait for a long shot at the top flight. He has played three seasons in LEB Oro, with Oviedo, Melilla and Palencia, and only touched the ACB with four meetings with San Pablo Burgos in the 2017-18 campaign.
In 2012 Dos Anjos came to Real Madrid from the Brazilian Esporte Clube Pinheiros and immediately became one of the most promising players in the merengue quarry. The Adidas Next Generation in which he averaged 9.9 points, 7.3 rebounds and 1.3 blocks put him in the crosshairs of many NBA scouts and in the 2015-16 season he played in the subsidiary team of Liga EBA, where he averaged 9.7 points, 7.4 rebounds and 1.4 blocks for 11.9 PIR points. At 22, the Rio de Janeiro center equals Weis as a rooftop in Bilbao, where he has signed for two seasons. He will try to learn together with Balvin (2.16) by forming a Torres pair. "I want to learn to play against pivots over 2.15, like Tavares or Tomic. Balvin is a player who reads very well, has a good vision of the game and is very powerful. With my youth training with someone who is almost my own. Height is very good to improve, "explained the South American interior in the press conference that he offered in Miribilla together with the sports director, Rafa Pueyo.
He confesses that in the first contacts he spoke with Pueyo and Mumbrú and was delighted with what he heard. In addition, playing ACB and Champions fascinates him, although they may have to start without an audience. "From the first day Mumbrú came with brutal energy and he is correcting the small details that make the difference in a match. I am capturing everything and I hope to get a lot out of him. What he says I am getting the most out of it," he confessed.
Rafa Pueyo, for his part, stressed that "due to his stature and size" Dos Anjos's greatest production is "close to the basket, both in attack and defense." "In attack, he is a good player without the ball, taking advantage of his teammates on the outside line. He finishes with skill and forcefulness near the basket. And in defense, he is difficult to beat in one-on-one because of his intimidation ability. He has great projection and that's why we have signed him two seasons, "said the manager. In the ACB there have been a good handful of Brazilian centers who have left their mark: Faverani, Paulao Prestes, Splitter, Nogueira, Hettsheimeir, Lima, Varejao ... 444 444

Photos from as.com