The break between Dovizioso and Ducati is now official
Batisttella, representative of the Italian: "Andrea has decided that it is better not to continue in the future with Ducati and we have told the team."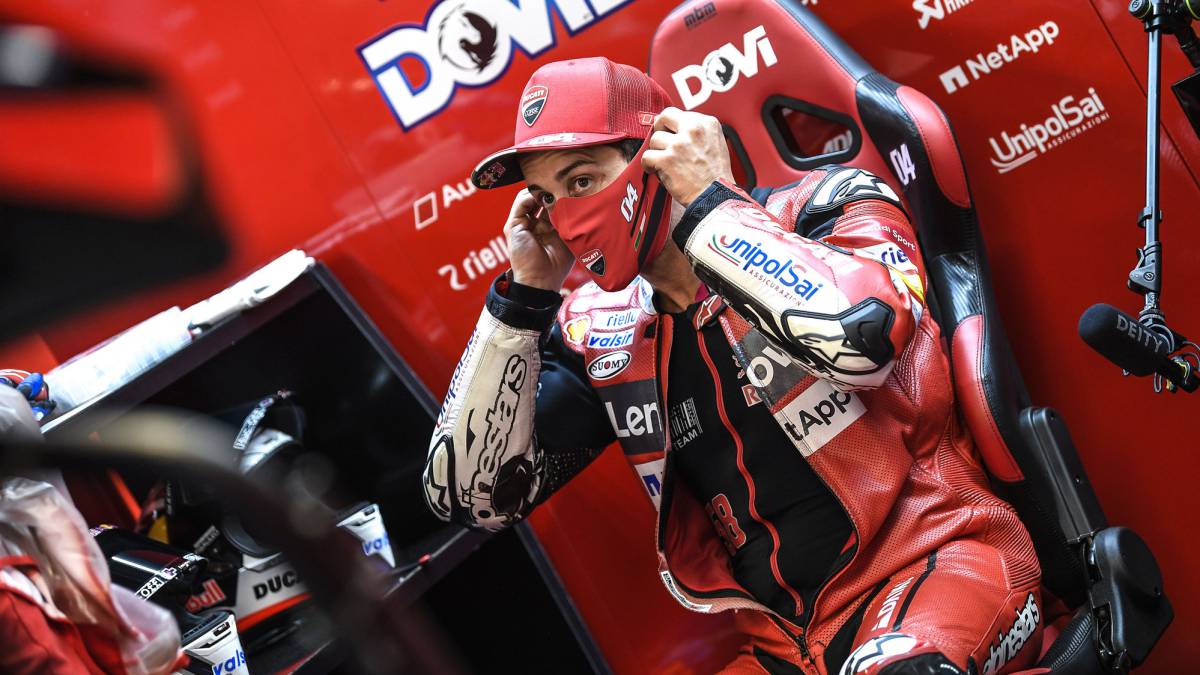 The cold war between Ducati and Andrea Dovizioso is over. The Italian rider let his factory know this morning in the paddock of the Austrian GP that he does not want to continue with them. In reality, he did not count for the Borgo Panigale factory, but before they tell him that he was not the one who said he did not want to continue, perfectly aware that there are contacts with Lorenzo and Bagnaia and Zarco are followed to replace him in his box from 2021.
This is how the film Simone Battistela, his representative, has told: "Andrea has decided that it is better not to continue with Ducati in the future and we have told the team. We have had a very open conversation. We know each other very well and we have verified that the conditions are not in place to continue. We have communicated this to the team and now we are very determined to finish the season as well as possible with Ducati and for Ducati. "
Asked the reasons, the Italian says: "It is not because of the economic factor, because we have never talked about salary. We have never had a negotiation and it is not an economic problem. Throughout the history of Andrea and Ducati we had always reached an agreement. There are simply so many elements to take into account when making this decision. The important thing is that now the driver and the team only have to focus on the championship. "
Y regarding the future of Dovizioso, who does not rule out a sabbatical, his representative assures that "for the moment there is nothing. Andrea wants to run and when there is an offer that she likes, if it is a good project and from an economic point of view, she will examine it in advance. Now surely there is nothing but Aprilia for next year. "
Paolo Ciabatti, Ducati sporting director, also gave his version of what happened in Dazn: "It was a possibility and this morning we met with Simone to talk about the whole issue and we decided that there are no conditions to continue. Sometimes relationships like this, which have been very successful, with 13 victories together and I hope we win some more, because after Marc Márquez we are the most successful pair in the World Cup. It's a shame, but that's life. Now we are focused one hundred percent on the season. We have 11 races to do it and it is a rather strange championship that can be won, and this is the goal for now and then we will see. "
Ciabatti did not want to go into the conditions that have not been met: "We cannot go into the details now. We have talked a bit about everything. Sometimes a very successful relationship ends. I can't say more, but I say that we are going to work together until the end of this season and I think we can win races and hopefully we can fight for the World Cup. "
This move by Andrea has precipitated events, because Ducati preferred to handle other times: "We did not make a decision. Our idea was to wait until the second race in Austria to sit down and make a decision. In the end, Simone and Andrea have decided before that it was better to decide now to have their head free and focus on the next races. So it has been and we will see. We have different options. After Austria 2 and before Misano we will decide ".
And regarding who will be his substitute, Ciabatti does not deny the contacts with Lorenzo: "Surely, we want to continue with Pecco and Zarco. We are working on this. There are no pre-agreements with Lorenzo. His name has been on the table and it might still be. "
Stoner criticizes this decision
Casey Stoner, the only driver who has managed to win the title for the Borgo Panigale factory, has shown his dissatisfaction with this divorce through his official Twitter account: "It's just my opinion, but I don't think Ducati can afford to lose someone like Dovizioso. I think they need to realize at some point that it's the pilot, not the wind tunnels, that gets results, so you have to listen to them. "
Photos from as.com