"Everything that is happening helps Márquez to be champion"
"If Marc returns at the San Marino GP, things can happen. The average of the leaders per race is 16 points," says Dennis Noyes.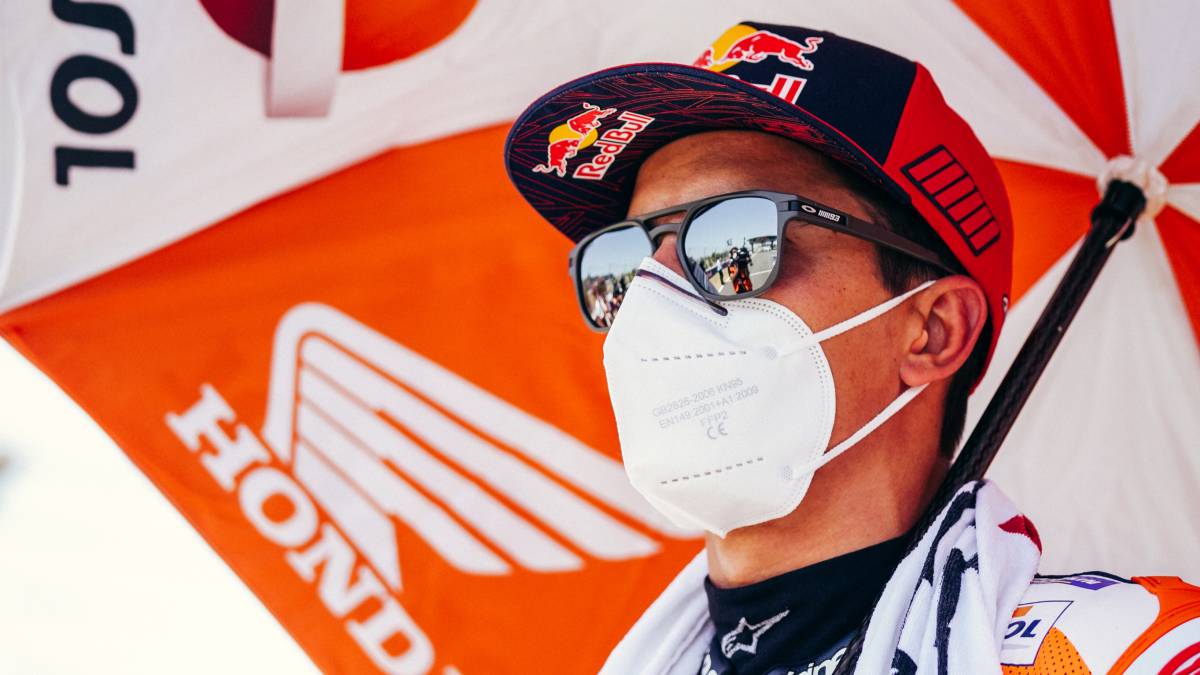 "If Márquez returns in the 2020 San Marino Grand Prix, things can happen." This is the warning that Dennis Noyes has released to Fabio Quartararo, Andrea Dovizioso and Maverick Viñales, in a podcast with Judit Florensa, before the celebration of the 2020 Styrian Grand Prix, the last test, a priori, that Marc Márquez should miss in the 2020 MotoGP World Championship after fracturing his right humerus at the 2020 Spanish Grand Prix and having to visit the operating room of the Hospital Universitari Dexeus in Barcelona for the second time on August 4 to have a new titanium plate put on after damaging the above in a bad domestic gesture opening a window in Cervera.
Noyes bases his thesis on the fact that from Misano to Portimão there would still be 225 points to be awarded, as well as the average number of points that Quartararo, Dovizioso and Maverick are getting is 16 points, although the American assures that Marc needs to return winning in the fraction of Santa Mónica if he wants his 'comeback operation' to be successful: "Everything that is happening favors the option of Marc Márquez being champion. I do not say it as crazy, I say it with the numbers ahead. If Marc returns as Marc, if he returns truly recovered, there will be nine races left. He has a chance of scoring 225 points and the average of the leaders per race is 16 points. If Marc returns at the 2020 San Marino Grand Prix, things could happen. If not, he It will be time to start preparing next year. But it is not impossible ".
The Spanish Resistance champion has also detailed the situation that Ducati is experiencing after announcing Dovi in the village of Spielberg that it will not continue next year in the Borgo Panigale garage: "As soon as he says 'I'm leaving' he begins to win races". Dovi has already made it clear that this train has left the station. Although everyone talks about the races that Casey Stoner won, Dovi has contributed as much as Casey. He wanted to lead the development of the bike, but of course, Jorge Lorenzo arrived with his titles And with that style ... What bothers him is that they have not appreciated him. He wants to take Ducati on the other side, to improve the entry into a curve. I think that deep down it is like a marriage that has already reached the limit, especially in confinement. They have not spoken for a year or so. At Ducati the star is the motorcycle and this is more or less what Casey Stoner said in his tweet. When we imagine a rider capable of winning over Marc Márquez, despite his year at Honda, that's Jorge Lor enzo. But the one from two years ago, we don't know which Jorge we will have now. When Ciabatti is asked about Jorge, he replies that the idea of signing Lorenzo only exists in Lorenzo's head. I would love to see Jorge Lorenzo on the ducati again, that's for sure. "
Finally, Dennis Noyes wanted to send a message of support to Johann Zarco, stating that it is pure chance that the Frenchman was involved in two such serious accidents and putting the focus on the FIM, which should review the loopholes of circuits such as Red Bull Ring: "A meter of difference and we would not be talking in this way, because what was coming towards Rossi and Viñales was like an artillery shell, it would have been horrible. We have all had enormous luck. What I am not going to do is criminalize There is a lot of tendency to do this thinking about what happened last week, but it has nothing to do with it. It is simply a coincidence that the same pilot is involved in two accidents. It has also happened to Pol Espargaró. This does not mean that Pol is a magnet for this type of situation, Zarco is not either. I am sure that Zarco could never attempt an overtaking at this point. I have not seen any overtaking at this point, because it happens right at the moment you have to brake. Morbidelli is on his way, overtakes him and takes the lead just when there is a need to brake. Morbidelli could do nothing. The thing was miscalculated and what happened happened. Things like this happen, but not on circuits where loopholes make motorcycles return to the track. The FIM has to review these circuits ".
Photos from as.com