Thanks to the fans: #OtraFormaDeEntenderLaVida
Atlético has published a series of messages on their social networks to thank the fans for their constant support after a difficult season.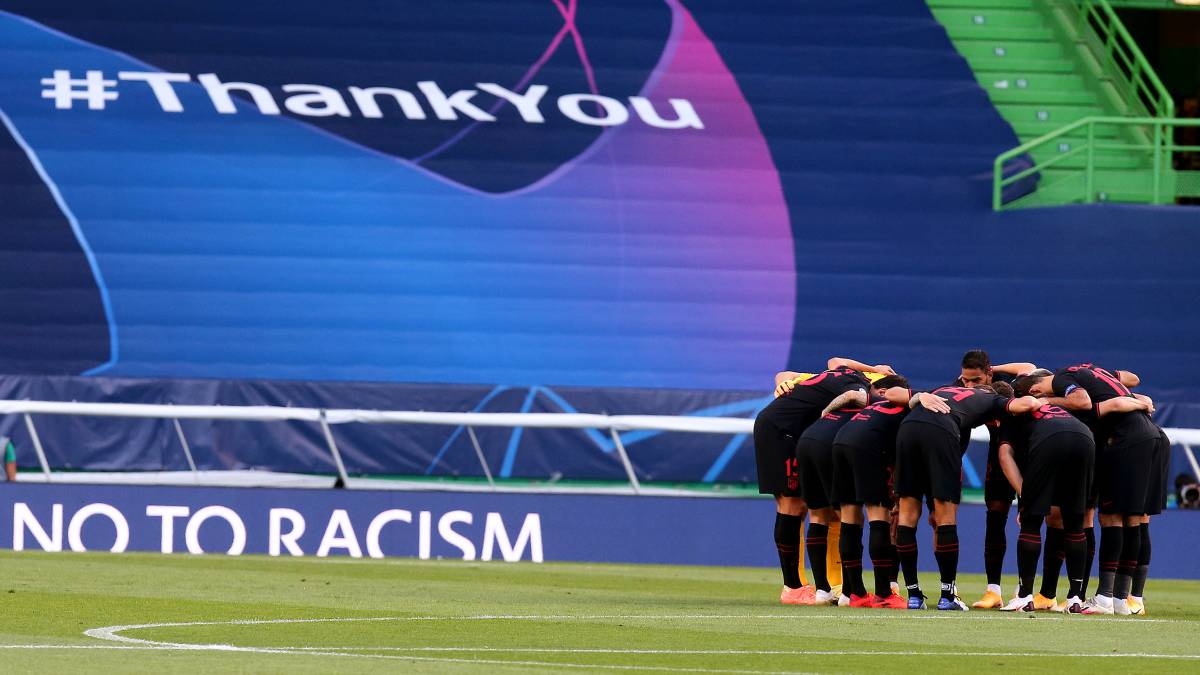 With the loss to Leipzig in Lisbon, Atlético ended the season with a bittersweet flavor. He has achieved the goal of qualifying for the Champions League for the eighth consecutive season, being third in LaLiga. However, it has fallen in the round of 32 of the Cup against a Second B (Cultural Leonesa) and has succumbed in the quarterfinals of the Champions in a format, a priori, more beneficial than other years to go far. Therefore, the club has decided to publish a thread on its official Twitter thanking the fans for their support.
"As the hours go by, we can only say THANK YOU over and over again to this unconditional fans that make us feel like the most beloved team in the world."
"After a complicated and atypical season, our players and coaching staff went out of their way and gave everything to finish third in LaLiga and face the challenge of the Champions League together with all of you" .
"Despite having you away from the stands in each game, you have made us feel your songs very closely to fight each ball to the fullest and try to give back all your support."
"In Lisbon we gave it our all, but we couldn't give you that victory that we wanted so much. Now, with the bitter taste of defeat, when the easiest thing for any other hobby would be to give up, when fans of other teams would withdraw their support in difficult moments… ".
"... Athletics are there, united, demonstrating the values that make us different, looking to the future and getting up to insist more strongly after falling" .
"That is why we are proud of you and to be able to say that, now more than ever, it is confirmed that we have #OtraFormaDeVivirLaVida" .
Some players have also left messages
The club has not been the only one to post messages on its social networks aimed at the fans. Lodi, Felipe and Llorente have done the same on their personal Instagram.
The Brazilian full-back has published this message: "The end of the season was not as we expected, but it is part of the game. I want to thank everyone for the support and the messages I received these days. It was a year of learning and a lot of evolution for me. It's time to recharge, so we can be even stronger next season. " # AúpaAtleti
Llorente, for his part, said the following: "My first rojiblanca season is ending in which, after a difficult start, time and work have ended up giving me unforgettable moments. The coronavirus that has rocked the world as we know it, also altered football. We closed the previous life with the most special moment of my career, a historic day. On the way back nothing was the same. The team responded to the difficulties fulfilling the objective but, without your warmth, everything is different. The farewell to the Champions League has been the saddest thing because it did not do justice to a campaign that has been characterized by what represents us most: we never stop believing. The purpose cannot be other than to improve and work even harder because this club deserves the most. I wish you, above all, good health and a good summer. Hopefully soon we can meet and enjoy our passion together ". # AúpaAtleti
Finally, Felipe has shown his feelings about this campaign: "The season does not end as we wanted. We are disappointed, but all that will be motivation to work more and seek evolution. I am very proud to wear the historic Atleti shirt. We want to always win! Thank you all for the love and support in my first year as a club ". # F18 👏🏼❤️
Photos from as.com