Tatum display and ridiculous Sixers in critical condition
Striking Celtics forward game that, without Hayward, crushed a lost Sixers, without resources or spirit. Embiid, very lonely again.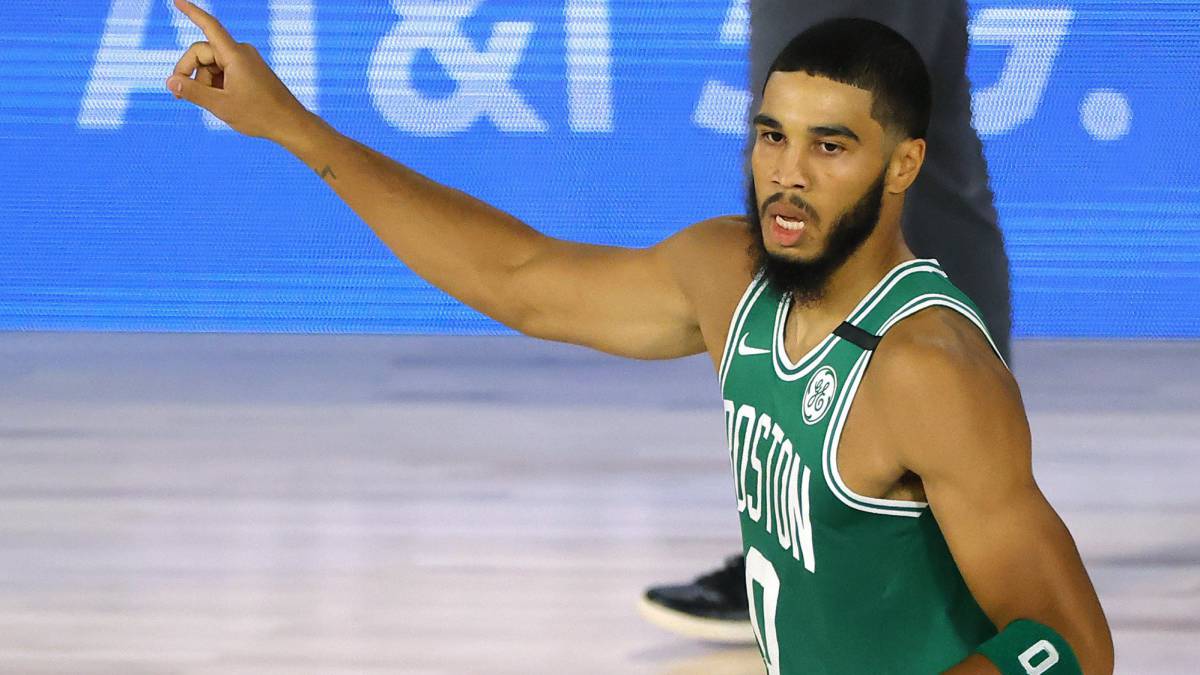 This, let us remember, is the great historical rivalry of the East. The one that inspired the shouts of 'Beat LA' in the Garden when the Sixers had sealed the win and the ticket away in Comanche territory, in the seventh game of the 1982 Conference final. Two separate East Coast power centers for just 450 kilometers, the Boston and Philly teams hate each other. Two cities with a huge sports tradition, with legends forged in duels like this one ... but to which the Sixers do not know if they will even appear. Perhaps the younger generation has only known the defeats applauded by the Process, the industrialized tanking and the merriment of accumulating draft picks. But the Sixers, before, were one of the teams with the most mystique and, I repeat, pride, in American sports.
The Process was intoxicating with the aroma of a future that does not come. The Sixers gave a terrible image in the second game against the Celtics (128-101) and lost 2-0. Gordon Hayward's injury called into question the superiority of Brad Stevens' men against a rival who this time has the excuse (and, furthermore, a very real handicap) of the absence of Ben Simmons. But the Sixers did not do anything with that possible stroke of luck in favor. Just as they have done nothing to prevent the headwind (Simmons injury) from sending their year to the canvas. Not for now, and after watching the second game very few would bet that there is a pending revolution in the spirit of that dressing room. One that, in addition, is on the way to a dark postseason: there are more than 145 million dollars committed already for the next season, in which it is not known how or when it will be played. Flexibility is minimal, Tobias Harris has a superstar salary until 2024 and Al Horford, until 2023.
If everything follows the course it is now on, Brett Brown will fall, a tactically outmatched coach who leads one of the most obtuse teams when it comes to reading games, also with fewer players capable of (and more without Simmons) seeing and giving the right pass at the right time. At least one Pyrrhic victory, Joel Embiid went from his measly 15 shots in the first game to 21 (11/21). Again he started dominating (22 points in the first half) and again he was frustrated, disconnected and wanting to be somewhere else when his team began to be beaten. He finished with 34 points and 10 rebounds, watching a useless last quarter from the bench: after being 14 up and winning the first quarter 27-33, the Sixers took 71-42 between the second and third. A beating. With star salary and talent, Tobias Harris was once again a cold and disappointing player. With an obvious punishment of age, Al Horford also did not work from the bench in a team in which he never seems to be comfortable. Burks, a more or less reliable scorer on his good nights, finished 1/8. Korkmaz did not make a shot and rookie Thybulle has a lot to learn about how to attack to be able to start in games like this based on how he defends.
The Sixers seemed to give up the game as the Celtics hit five 3-pointers in four minutes, one from a Kanter who had only made one more all season. In a third quarter that ended 98-75, there was a 360-degree dunk from Jaylen Brown (20 points) and a green festival. In the end, minutes for everyone, Tacko Fall included, with Marcus Smart taking over from the injured Hayward in the quintet and 22 points from Kemba Walker.
Y 33 from Jayson Tatum, who scored 32 in Game 1 and has beaten his playoff scoring record in both games of this series. The forward, who breaks into a superstar in the eyes of all, finished with an 8/12 in triples and devastated the Sixers, also emotionally. It is a tremendous talent used in the right way in a proper system and within a team built with sense and well trained. Looking at it, one can imagine much of Joel Embiid's frustrations, but even that is not an excuse for the pivot, no matter how good he is and, above all, no matter how lonely he is.
Photos from as.com