Silva: "I am not coming to replace anyone"
The genius of Arguineguin is "excited" in his presentation with the Real and defines himself as "competitive", wanting to continue winning titles.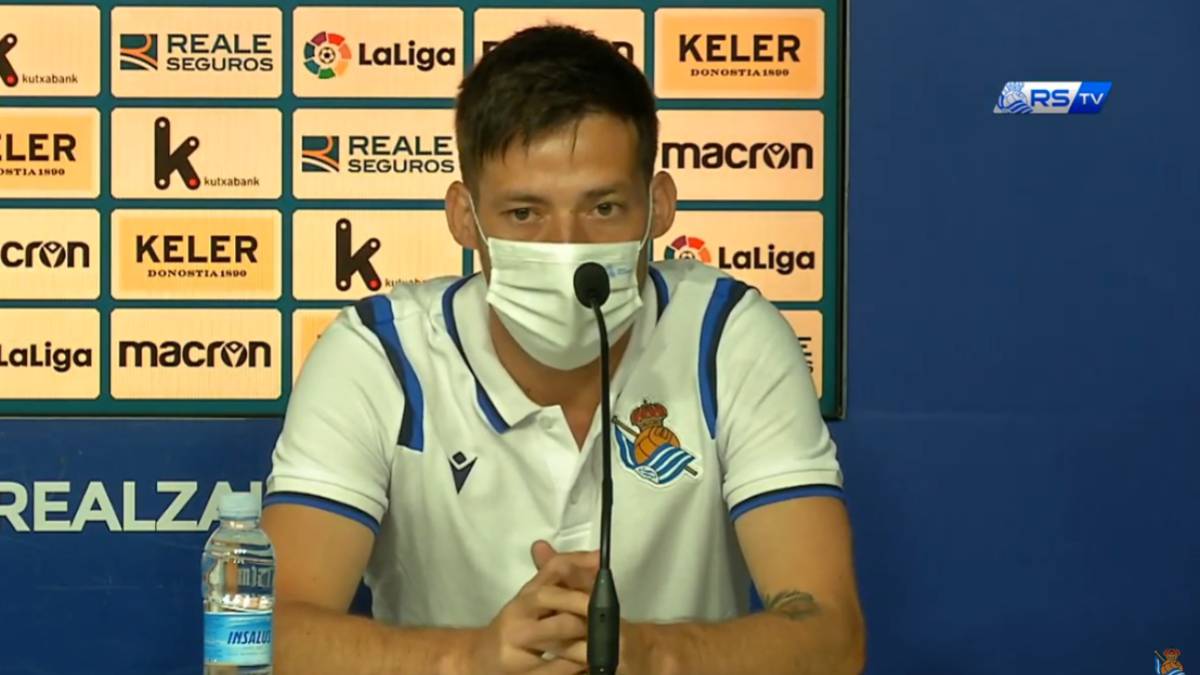 David Silva has been officially presented as a new Real Sociedad player at the Reale Arena. The genius from Arguineguín is already working as a new txui-urdin, wearing his classic number '21', which he inherits from another magician like Martin Odegaard in San Sebastián, on the lawn of his new home. The canary was accompanied by the vice president of the realistic club, Ángel Oyarzun, who was the first to speak.
-Receipt. "Hello everyone, making a presentation of a player like David Silva is a simple task, you only need to look at his sporting record to realize the level of the player we have signed. We must thank him for choosing La Real over other offers he had. "
Later, David Silva himself took the floor.
-First words. "Thank you all for the welcome, all the people have given me many signs of affection, I really want to start and meet all my teammates and the sports city, and I hope they are very good years, because the club is doing things very good. "
-What does it mean to return to LaLiga? "For me and my family to return to the league is a lot, it is a lot of hope and a lot of desire, and more in a club like Real Sociedad" .
-He took into account his passage through Eibar. "Personally, it has also been a good part of the decision, because many years ago I lived in the Basque Country and I found myself very comfortable with the people and with the treatment, and now we have decided with my family to return" .
-Silvamania in San Sebastián. "I appreciate the displays of affection, that means that people are excited, and that for me is also one more reason to do well and achieve great things at La Real" .
-First news of the Real. "When I had the news that the Resl loved me I was very happy and excited, and then it was quick on the part of the club and us. It was a pleasant surprise, and expectations are high, because I saw the team compete last season and I think we can fight for great things, like a title like the Cup. "
-Shadow of Ødegaard. "I don't like this supplying players. Players come and go, no one comes to replace anyone, I just come to play my game and do my best. "
-Other offers. "There has been everything, there have been great offers to be honest, and everywhere, but I opted for the Real, and everything has been said" .
-How was the negotiation. "I can tell you that everything went very fast and very well, and that is why I am here, but the rest of things are private" .
-Leader. "I assume the role that I have assumed since I started in football, to do my best and now bring my experience to a young group" .
-Imanol Alguacil. "They have given me very good references, before I had already spoken with several people, and then the football that is done is very good for me. And then I talked to him and he gave me a very good feeling ".
-Competitive. "They bring me in for that, to try to win, during my career I have been lucky enough to win many things because I am very competitive, and here I am also going to try to do it again" .
-Xabi Alonso. "With Xabi Alonso I spoke rather when he had signed, and he congratulated me for being here and now when we are here in Zubieta, I am sure we will talk longer and more, but he told me many good things about the club and the city."
-How it is defined. "I define myself above all as a competitive player, apart from all the qualities that I usually have" .
-Midfielder. "He has been playing in the middle for many years, and defending by running less I don't know how to do it, I have always run a lot, but being an attacking player it seems that we run less, but it is not.
-European competition. "Of course, always after so many years playing in Europe that also influences that, that the Real plays in Europe, to come. But also that the good football that Real does caught my attention and is good for me. "
Photos from as.com