"Sevilla showed that they have a different skin in this competition"
Bono assured after achieving the pass to the final: "We knew how to handle the difficult moments and in our moment the goal came." Suso: "It has suffered a little."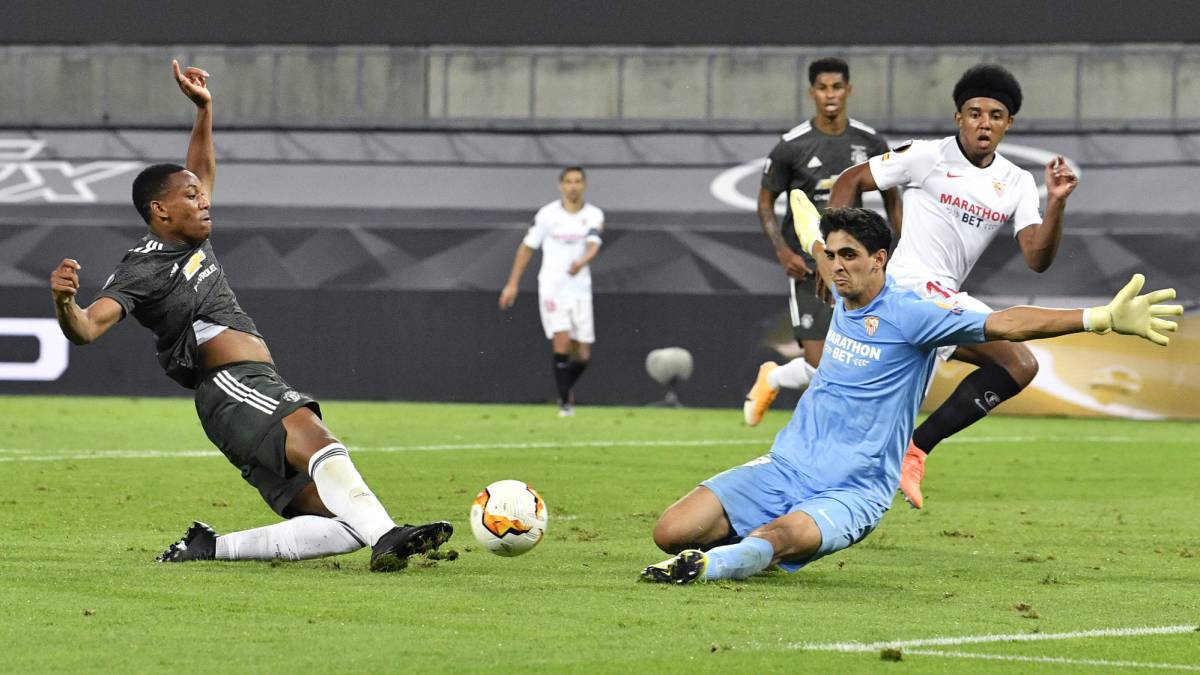 Yassine Bono went through the microphones of Movistar Liga de Campeones after being one of Sevilla's heroes in the Europa League semifinals against Manchester United.
Perfect match: "At the end when you see the teammates run as they ran. They broke their souls in each dispute, you cannot not be present. The team played a great game and showed that they have different skin in this competition. We knew how to handle difficult moments and in our moment the goal came and we had more possession. We made them run ".
Stops: "They are a powerful team that hurts the counter and having the ball close to the area and under construction. When the bad moment passed we had the game for ourselves" .
Hard year: "I was always on this boat. Playing or not and what it means for me is the joy of the team and the conscience that the group has that there is a final left"
Resistance: "Soccer is everyone's talent, but if you don't have a heart, it gets complicated for you. We will face the final with all our heart."
Suso: "It has suffered a little"
Victoria: "Happy. It has suffered a little, but I am happy" .
Bono: "The good thing about this team is the group. When someone is missing it is not noticeable. The differences are minimal, not to tell you that they do not exist" .
Suffering with rewards: "That's what makes teams good and set times. We knew how to endure and suffer and we had that bit of luck that is always sought. We are deserving of victory. They had four clear chances in a row and Bono appeared. The end of the job comes the reward and today it has been seen ".
His first goal in the Europa League: "It was a special and different day. I dedicated it to my wife and two children."
Rival's preference for the final: "Against Inter I have played several times and I know him. Tomorrow we will see what happens and, from there, to work" .
Koundé: "A final is fine, but you have to win it"
Jules Koundé showed his joy at the victory against United: "We know that it is very special to be in another final of the Europa League. United was dangerous, but we suffered together, as we usually do. We have conceded more chances than usual, but we have all left our legs to win this match and Bono has made a lot of saves ".
Achievements of this team: "We have a great team and from the beginning of the season we thought we could do great things. Now we have to think about the final. This is the merit of the whole group, of many and everyone enjoys it in a way. The most important thing remains, it is good to reach a final but you have to win it. The goal? I hope to do it in the final, but above all for the team to win ".
Banega: "We have a little step left"
The triumph: "I am very satisfied with this path that we are doing, we have a little step left. The union of the group makes us stronger and that is reflected on the field" .
You look at the title: "At the beginning they dominated us, but then we were able to take the game. We had to suffer together, we always waited for our opportunity. The team works like crazy, we have to thank everyone for this. It will be my last game and we have to face it from the better way. It will give me some nostalgia, but it is time to enjoy and think about being able to win ".
Photos from as.com