"We should have kicked everyone's ass and we were 11th"
Dovizioso did not hide behind Brno that a red alarm has gone off at the Borgo Panigale factory: "We must understand what is happening."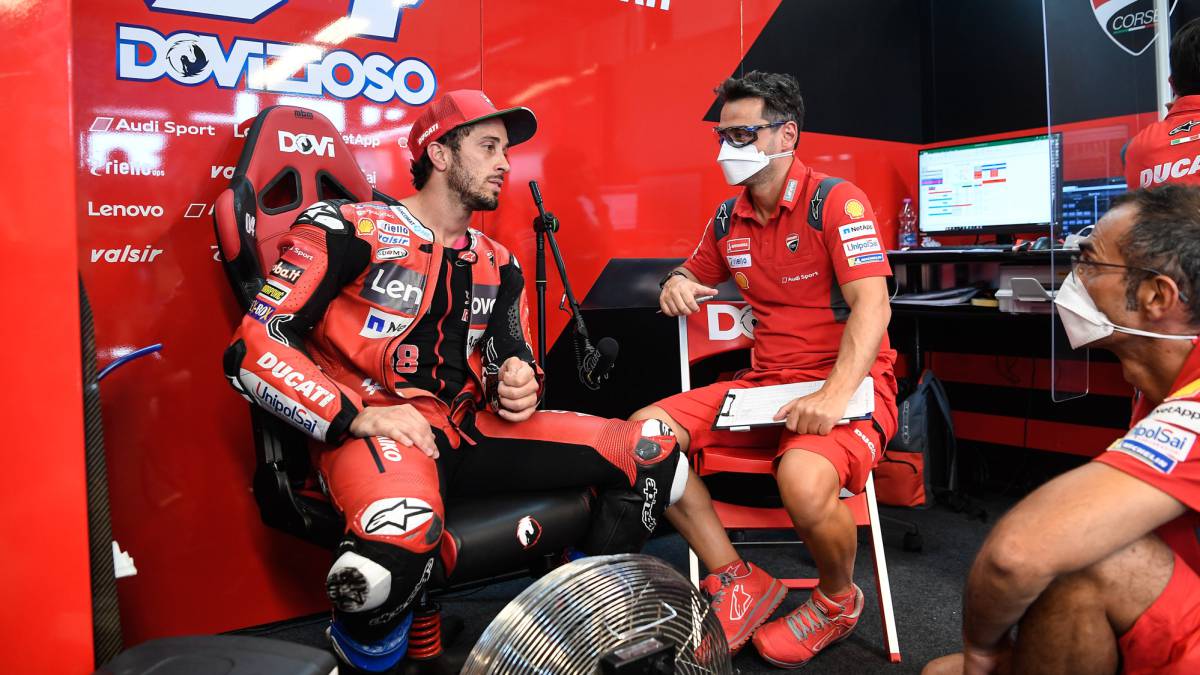 The start of the 2020 MotoGP World Championship has not been easy for Andrea Dovizioso. Despite climbing to the third drawer of the podium at the 2020 Spanish Grand Prix, the one from Forlimpopoli has never possessed enough speed on the back of the Desmosedici GP20 to match the performance of the Yamaha and KTM riders and fight for victory in Jerez -Ángel Nieto and Brno.
Of particular concern was the runner-up's performance on the Czech track, as Dovizioso saw the checkered flag in eleventh position more than 16 seconds behind the winner, Brad Binder. Asked about this result and the favoritism that Borgo Panigale's mount was assumed to be at the event in the Moravian region, where engine power plays a very important role in lap time, Andrea has made no secret of his concern about this arduous event This week, he is confident that transalpine technicians will find a solution in Johann Zarco's telemetry before traveling to the Red Bull Ring.
"Before coming to Brno we should have kicked everyone's ass here and we were eleventh. Making predictions today does not make much sense, it is out of place. We must understand what is happening, find the person who knows what is happening. We try to stay calm and study the data, because this approach always pays off. Fortunately, Pecco was strong in Jerez and Zarco was strong here, so we will study his telemetry and try to understand him. Maybe on Thursday in Austria before we start we will have more answers. I have some ideas, but we must study all the data we have collected today. It is the second time that a Ducati rider using another setup and with a different riding style has finished ahead of us. I want to read all the data well and confirm my ideas. In recent years we have changed the bike a lot, we have achieved the results we wanted, we have improved in many areas. But now nothing works and it is really strange. or. The Ducati riders who are strong now, Pecco and Johann, use a totally different setup than the one we were used to using when we had the problems we have now. Even in driving mode they do different things. I want to study your telemetry very well. It is unacceptable for me to waste time braking, I have always been the best in this area, and now if I compare Pecco's laps in Jerez or Zarco's here with mine, I see that I lose tenths braking. It is unacceptable. I take the bike to the limit and it doesn't work. We are slow coming out of the curve and we are not effective braking, and these are two areas in which we were fast in the past, so we are concerned, "said Andrea.
Similarly, the Italian has ruled out that the GP20 has an error in concept, pointing to Michelin's new rear tire as the source of all its setbacks: "What Zarco said makes sense. All the changes we make do not work, we have never been fast except for the Qatar test, and only in race pace. In no other situation have we been competitive. The last three years are very heavy, because we used to try things that worked. Maybe it's what limits us the most now, nothing works . The bikes of 2019 and 2020 are very similar. It would be too nice if that were. The problem is Michelin, the front tire pushes a lot and it does not work like the previous one. We are changing many things, I use another style, but it does not work. I have worked In the setup of the bike, I am not someone who usually makes excuses, just look at my telemetry and you will see all the times I lock the front wheel. This means that it is at the limit. And when the rear tire falls off. performance, for me and for the others, you have to push harder by braking in the middle of the curve. And then you finish eleventh ".
Photos from as.com