Seville, Ithaca of Lopetegui
The Basque coach, like Ulises, achieves the necessary recognition after occupying three great benches in which he finished badly. Monchi, his great support, has made Telémaco.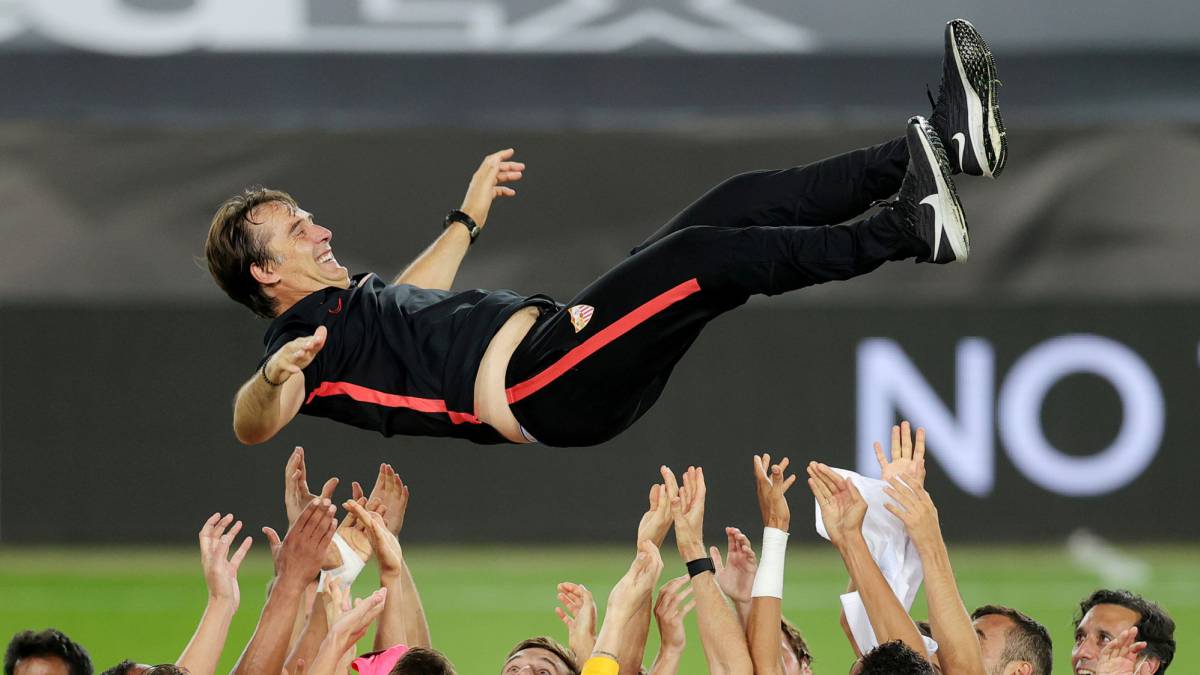 He was crying like a Magdalena Julen Lopetegui Argote after managing to lift the first of his titles as club coach on the Cologne grass, two Europeans (Under-19 and Under-21) had achieved in the lower categories of the Spanish National Team. They were the tears of a fighter against the tides, those of the migrant in permanent stress who, after much suffering, reaches his destination: the tears of Ulises, finally returning to his country. Sevilla, this Sevilla already Hexacampeón, has been Ithaca for Julen.
Years of struggle without recognition for the Asteasu coach, who they criticized and ended up dismissing in Porto. That he left the National Team through the back door and from Real Madrid, how little it lasted in Valdebebas almost on tiptoe. After occupying three of the great benches of the Iberian Peninsula, he took a little step backwards, towards Sánchez Pizjuán, where a fourth place and the Sixth Europa League give him a great respite and a lot of reason to those who saw him a coach with all letters
What would have happened to Spain in the World Cup in Russia if Julen had continued as coach? Those fans ask themselves, more and more, who no longer hold a grudge against the Gipuzkoan for the mess set up with Real Madrid hours before he started roll the ball in the 2018 event. Monchi, who gave him all his confidence against the thousands of voices that suspected in Nervión, makes particular Telémaco, Odysseus' main support in the reconquest of his vital space.
The Sevilla sports director put a good part of his credit to the Basque coach and the Nervionian fans (let's call him Penelope) have been embroidering all these months a confidence and an appreciation towards their coach that before this final phase in Germany was already in almost all doubt . There were very difficult moments, just after the elimination of the cup in Miranda del Ebro, when part of the highly demanding respectable white and red came to sing a brief 'Lopetegui, go now' that the Basque and his squad managed to dissipate in a few weeks. Julen, who has 21 games unbeaten after a series of four consecutive victories in Germany and has not lost for six months, is preparing to tighten his goal to achieve even more: on September 24, in Budapest and against PSG and Bayern, He will try to defeat another giant and take the second European Super Cup in Sevilla to the La Giralda envelope.
Photos from as.com