Serena Williams, after losing to Sakkari in Cincinnati: "It's like dating a boy who sucks"
The American was very critical of herself after missing her match against the Greek tennis player. "Playing nine hours in a week is too much," he lamented.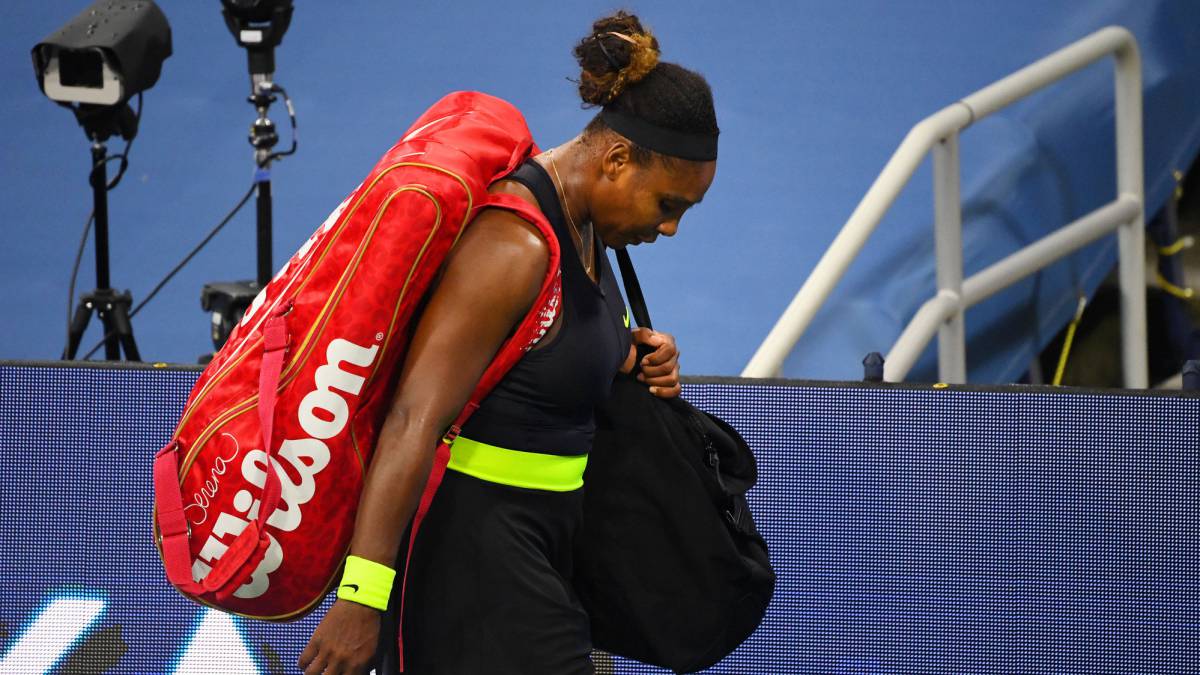 Former world number one, American tennis player Serena Williams, acknowledged tonight after being eliminated in the third round of the Premier 5 tournament in Cincinnati that she has lost the "murderous" instinct she had before to define the decisive matches.
This time, the youngest of the Williams sisters let lead after lead slip away in the third-round duel she had with the young Greek Maria Sakkari, thirteenth-seeded, who after being on the verge of losing, completed a comeback that left her with the victory of 5-7, 7-6 (5) and 6-1, in the first game they had as professionals.
"I don't think that helps mentally, when you know the game ended and you could have won it, but your legs were tired and now much more," Williams declared at the end of the match that lasted two hours and 17 minutes. "It's a bad situation. It's like dating a guy you know sucks."
This was Williams' fifth match since professional tennis was resumed amid the coronavirus pandemic after a nearly six-month hiatus, and the five he has played have been three sets at 3-2.The result against Sakkari, seeded No. 13, was not promising for Serena Williams as the start of the US Open approaches next week.
"It's hard to play like I've done and stay positive. And playing nine hours in a week is too much. I don't usually play like that," admitted Williams.
"I literally should have won the match. There was no excuse. It was difficult, but I had many chances to win. I have to figure that out: how to start winning those games again."
The Cincinnati Premier 5, which usually takes place in Ohio, this year moved to the US Open headquarters in Flushing Meadows to create a two-tournaments "bubble" without spectators during the COVID-19 pandemic.
Sakkari: "I still don't think I have beaten Serena Williams"
The young Greek tennis player Maria Sakkari who tonight gave the big surprise of eliminating the great favorite, the American Serena Willams, third head in the third round of the Premier 5 of Cincinnati series, he said at the end of the game, which he won by 5-7, 7-6 (5) and 6-1, that he had not yet assimilated the victory.
"I haven't figured it out yet," admitted 13th seed Sakkari after the match. "It feels pretty good, because she has been a role model for me growing up and obviously what she has accomplished is huge. So I feel great."
Sakkari, 25, who started the week with a decisive win over American teenager Cori "Coco" Gauff, was one set behind. A break in her first meeting with the 23-time Grand Slam champion, before she overwhelmed in the third and claimed victory after two hours and 17 minutes of action.
"I didn't feel well. In that first set and a half, I couldn't feel my shots. There were some points where I was playing well, but I knew the game would be difficult if I didn't find my best touch and confidence."
It did so, in part, favored by the physical and metal sinking of Serena Williams, who proved to be far from her best preparation in all respects.
"I'm a little proud of myself for having overcome that match just because of my mentality and my fighting spirit," acknowledged Sakkari, who was facing Serena for the first time.
Sakkari also acknowledged that "the key point was, of course, winning the second set." "But then serving like I did in the first game of the third set was like a turning point for me, because it gave me a lot of confidence going into the third set."
Now, Sakkari is on the verge of a third semifinal of a WTA Premier 5 tournament, but first she will have to overcome in the quarterfinals the English veteran Johanna Konta, who beat the former world number 2, the Russian Vera Zvonareva, 6-4 and 6-2.
"I haven't seen her play this week, but I suppose she's doing well from her results," said Sakkari. "It's going to be a tough game. Now I can't think about the way he plays. I don't remember. It's too early and too early."
Sakkari stressed that what she needed was a good dinner, a good night's sleep, and then figuring out how to deal with Konta - something she won't do until after breakfast.

Photos from as.com