The cycling peloton raises its voice after Jakobsen's serious accident, Evenepoel's tremendous fall, Kruijswijk and Buchmann's injuries ...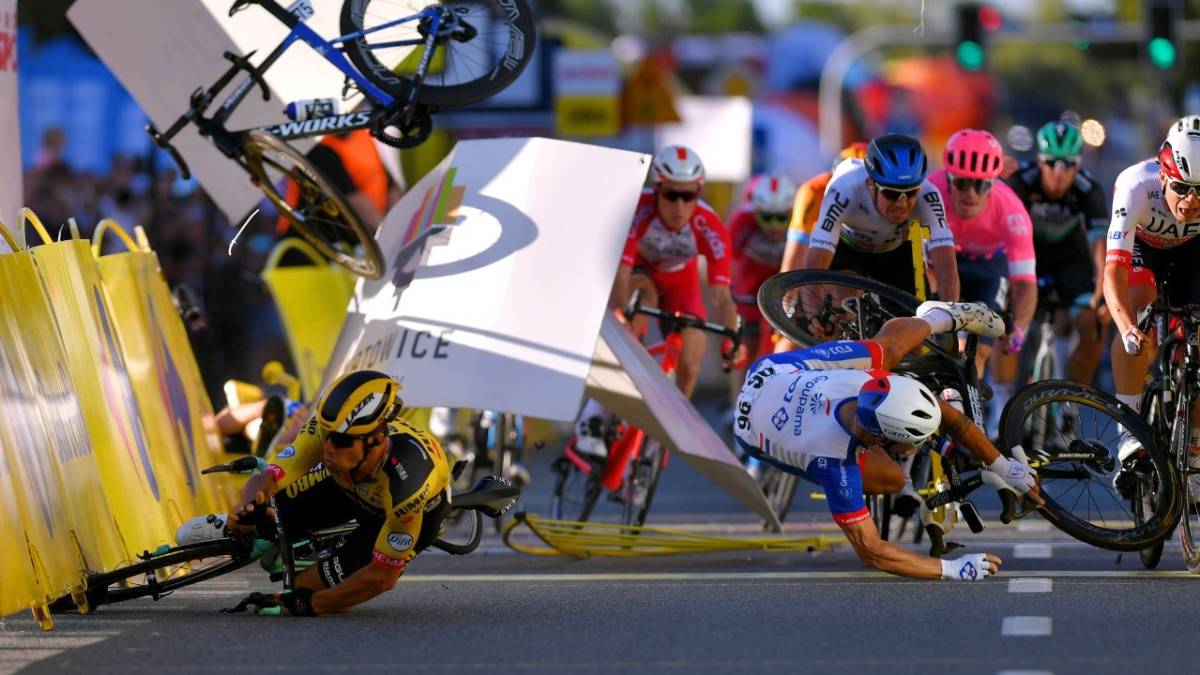 The last dates have been especially delicate for the peloton. In Poland, a maneuver by Dylan Groenewegen put the integrity of Fabio Jakobsen and the rest of the sprinters at risk. In Lombardy, the descent of Sormano again left the striking image of a runner fallen down a ravine, Remco Evenepoel (Laurens de Plus and Jan Bakelants also left in that area in 2017), and a car entered the track and collided with Max Schachmann, who broke his clavicle. And on the Dauphiné, the Plan Bois featured gravel and areas that were too narrow on its descent, resulting in falls and injuries for Steven Kruijswijk (with a dislocated shoulder) and Emanuel Buchmann (with deep abrasions). The pressure of such a compressed campaign also plays its part.
Apart from the unacceptable movement with which Groenewegen closed Jakobsen, the finish was downhill and the hurdles did not meet the demands of a finish at 85 km / h, without restraints or mats. The International Cycling Union (UCI) announced an investigation, as well as disciplinary measures for the Dutchman. Many of the participants in Poland were critical in networking with the organization and the Professional Brokers Association (CPA). At the Dauphiné they stood for ten minutes at the start of the fifth day after the Plan Bois mishaps. Tom Dumoulin raised his voice: "It was a crazy design, no one should pass through there." The UCI explained that it will inquire about the gap caused by the vehicle that hit Schachmann in Lombardy, but not because of the damage to the road on the Dauphiné or the absence of help from different motorcycles and cars to Evenepoel, since an attempt was made to clear the way , avoid traffic jams and allow the ambulance to access easily, as confirmed by sources from RCS to AS.
Apart from the paramount importance of guaranteeing security, the debate also underlies the traditional conflict between the different actors to dispute power quotas. Richard Plugge, the manager of the Jumbo and a member of the International Association of Professional Cycling Groups (AIGCP), charged hard against the inaction of the CPA in the wake of recent events, calling for team work "as a solution to problems." Gianni Bugno, president of the corridors, answered bluntly: "Unlike the AIGCP, the CPA does not have a member on the UCI Road Commission, which is in charge of proposals for safety regulations." From the CPA they affirm to AS that "unity and joint effort are needed to improve the conditions of the peloton". A mantra that is repeated without results.
Photos from as.com