Sainz's confessions: from frustrating streak at McLaren to Leclerc's stunts at Ferrari
Exclusive interview with the McLaren driver. "Life gives you victories when, like me, you leave your skin behind." "There is anger and frustration, but trust remains intact."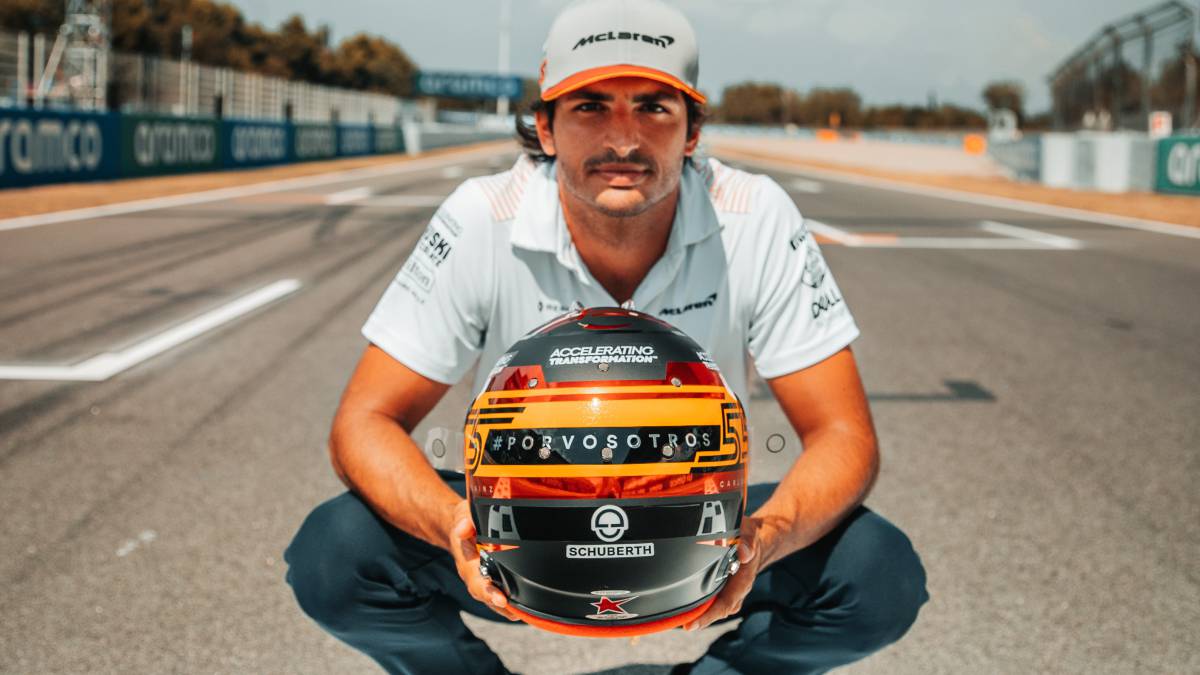 Tired after a long day in Barcelona, but wanting to talk about legendary races and teams. Carlos Sainz speaks exclusively with AS at the Spanish GP. The 25-year-old from Madrid is overcoming an uneven start to the season with the McLaren, hit by external factors. He will march from Woking as captain general, in the background the challenge of Ferrari awaits him. "Fancy", sentence. It feels like a lot.
-How was Friday?
-Complicated. Barcelona is not our best circuit, it is difficult for us in the last sector and although one lap we have not gone bad, in the race it is difficult for us. We knew it before we came and maybe we have to suffer on Sunday. Let's see how.
-It looks like a strange Spanish GP. Not only because of the absence of the public, but also because of the date or the accumulated fatigue. This used to be the first European race.
-Yes, I agree. Here we arrived fresh after the races in Asia and welcomed F1 in Europe, with the public. It is a sadder Spanish GP, there is no one on the circuit, you do not feel that support beyond social networks, which compensate. Then comes a week-long break that is going well for all of us.
-Does the pilot's life change a lot this season?
-We have restricted access to the factory due to the risks involved. There is less simulator and many more meetings with the engineers by Zoom. On trips, we arrive on Wednesday morning to be able to do the coronavirus test and that requires spending more hours on the circuit and inside the paddock, for safety. It's a different year, weird.
-With this rhythm of competition, do you have time to correct the problems?
-From week to week, no. So far we have not been able to resolve last week's problem (with the McLaren's cooling) and we will try to resolve it before qualifying. We will do the rest, I would not like to go out with the car even hotter.
-And about the other problem, what will go through your head on Sunday when you enter the pit lane to change the tires?
-I'll try not to think about it, you have to trust that everything will work out well. The team, believe me, is doing everything it can to improve the pit stop situation so that what has happened to me three times does not happen. We know it is a pending issue, but psychologically I cannot worry about it. I can't change anything, I trust the mechanics and all the team members.
-Last year he did not lose confidence with the three zeros at the start of the season. Now, how do you manage to miss so many points that make it difficult for you to be 'the best of the rest'?
-This year, in that sense, the championship is very complicated due to all the points we have lost. Confidence is still intact, making numbers I see where I could be without those situations. I calculated 26 points, I would be very comfortable in qualifying. Confidence intact, but anger and frustration are higher than last year because it is a shorter season and races are worth more. And there are many. In 2019 I lost good points in Bahrain, but in Australia and China there were not going to be that many. Here, in the two Silverstone, Hungary and the second Austria, too many have gone to waste, no matter how well the year of Barcelona goes on.
-What is your personal goal in 2020?
-If I added up those missing points, we would be third in the (manufacturers) championship and it would be a very good year for the team. But having seen the last free practice sessions and the recent races, we are always between the fourth and sixth car. Our championship, as the year progresses, will put us on our site. Renault has improved a lot and is a direct rival, and Ferrari continues to score points even if it is not having its best year. Racing Point is the fastest car in the middle zone but on Sundays it costs them a bit more. There are many teams, many fights, and we have to fail as little as possible from now on.
-Andreas Seidl said in an interview with AS that you have been essential in the recovery of McLaren.
-I would not use the word 'essential' because nobody is. But I can say that I have helped as much as I have been able since November 2018. I know that I have been taken into account and I appreciate it, the driver must be given confidence and heed to be guided in that regard. I saw that I have been supported a lot and we are determined to continue improving. There will be improvements in the rest of the season and I hope they go in the direction that both Lando and I ask for.
-And which driver does Ferrari want to meet?
-They know it from the beginning because they have analyzed me, as a pilot and as a person. I think they know what I can contribute, but I must put it into practice and then they will tell you what I can contribute. I don't want to talk soon, I prefer to wait for things to happen. There is a lot of desire for that, but also to finish the year well with McLaren.
-How does a driver feel when he can choose between Ferrari and McLaren Mercedes, which are the winning teams of his childhood?
-Well, imagine. Much pride, who was going to say to me ten or fifteen years ago that this winter I could sign for Ferrari or choose between McLaren Mercedes and Ferrari. No one in my family, not me, who was a bit deluded, expected me to find myself in this situation. Very happy, even if it may not seem like it after five such frustrating races, I am still happy with how well these years of Formula 1 have gone. Now, keep pushing and doing things well. Achieving these mini victories that life gives you when you manage to do things well and work hard, and you leave your skin as I do in each race, in each trip, in each simulator session. In every workout. In everything I do I try to do my best.
-Leclerc has a second, a third and a fourth place. Seeing the glass as half full, bad Ferrari can make the podium in any race ...
-Leclerc is doing a great job and makes up for what Ferrari lacks, he is putting it in and doing things very, very well. But it's true that this year I don't think they are happy at Ferrari, they were making pole positions in 2019 and now they are more than a second behind Mercedes. That doesn't make McLaren, Renault or Racing Point happy either. Nobody is happy, Ferrari either. There is a lot of work to do in all the teams if any of them even want to upset Mercedes after the big step they have taken this season.
-Are you attracted to Leclerc's challenge? It is based in Ferrari.
-I feel like the Leclerc challenge and the Ferrari challenge itself. But I know that I am going to get to a team in which he is established and embedded. You know the car perfectly, the set-ups, how it reacts to the new wheel in qualifying and in the race, the laps after the pit stops, the tire management, the fuel ... all the mini tricks that are in Formula 1 to extract tenths I will have to learn them from scratch next year against a driver who is going to know them all. That will take a while. But once I get comfortable with the McLaren, if I can, and once I get used to and acclimate to the team, I can expect anything.
-In the life of an F1 driver it is essential to choose the right team at the right time. Is Ferrari your bet to be world champion or fight for a World Cup?
-Yes, without a doubt. Ferrari's bet is attractive for any driver and if we look at pure statistics, Ferrari has to win. Hopefully soon, and hopefully I will be part of that period of victories. However, F1 today is dominated by Mercedes and taking them out of that position will be very difficult. It is no secret. But Ferrari is the ideal place for me in the next two years and I accept the challenge, I want to live the experience of being a Ferrari driver.
-What motivates you the most about the future that lies ahead?
-I don't know. People tell me a lot about what it's like to be a Ferrari driver, about feeling the support of the Tifosi at Monza. Everything it means to be part of such a great team. I prefer not to have expectations, I prefer to live it. I've talked to people who have driven there, but I don't want to expect anything. Let everything pass, live it on my own.
-Thank you and good luck.
-To you, thank you very much.
Photos from as.com