Sacramento Kings, 14 years without playoffs: the failure that does not stop
Five losses in six games in the bubble for a team that has trailed last season in Luke Walton's first year.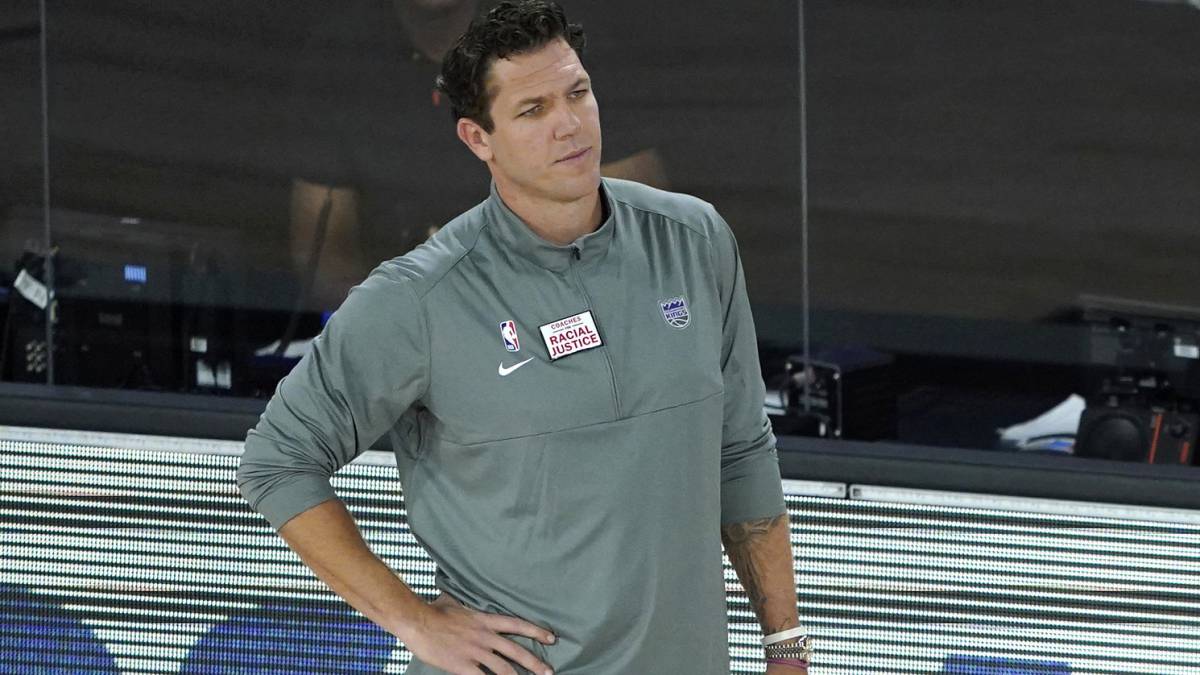 Yet another year, the Kings have been out of the playoffs. This time, twice. They were not on their way to qualify through the natural channel but they have not done so either when the pandemic and the new play-in system gave them another chance, an extra life in the Walt Disney World bubble. They have lost five of their first six games. They have generally played poorly except in small stretches of discontinuous and insufficient brilliance (a familiar story in Sacramento); frayed, not entirely interested (not all), burned tactically almost every night, and not on either side: no solid playoff block, no obvious growth team, no rebuilding zone, or ... nothing. Nothing: Sacramento Kings, 14 straight years out of playoffs.
Is that too bad? The historical record for seasons outside the playoffs is 15. It is held by the Clip-pers, who opened it in 1976 as the Buffalo Braves, passed through San Diego and closed it in Los Angeles in 1991. The Wolves stayed at thirteen until They broke it in 2017, in the short experiment with Jimmy Butler, Andrew Wiggins, and Karl-Anthony Towns. And the Kings are a year away from matching him. Active, the next brand is the Phoenix Suns, which has ten years without qualifying but fights for them in Florida, after a year in which they have been able to boast of a young point guard, good coach and project management. In which, basically, they have passed the Kings themselves in the hierarchical order of California. And from the West. The third worst stretch without a playoffs is for the Knicks: seven years, the same years that Vivek Ranadive has led the franchise. Before it was another seven. Neither with you nor without you have my ills remedy.
In fact, there is an obvious thread that stitches together this franchise's failure story. On May 19, 2006, it was announced that Rick Adelman would step down after two straight first-round eliminations… and eight straight years in the playoffs. All with him at the controls. Since then they have not returned to the qualifiers. And, what is worse, they have not had a positive record again. They have always been below 50% of victories, and now they march in a 41.4% that worsens the 47.5 of last season (39-43). Because the bullet from the bubble has given some teams a sense of unreal competitiveness, at least before playing, to some teams. The Kings are now 29-41, twelve wins from 50% and a long way from respectability. Dave Joerger, a good coach without aura, left after three seasons with a record of 98-148. Luke Walton came up with an identical one, the same wins and losses, after three years lurching through the worst stage in Lakers history. If your first year in Sacramento you had to prove whether you were a victim or part of the problem in LA, that has been pretty clear. Almost always surpassed by the rival coach, he has tried game rhythms and rotations, many times without continuity or meaning. Nothing he has done has seemed to help, build or add. And he's also already exhausted lives as a player coach, the tag he earned alongside Steve Kerr on the pre-Durant Warriors.
The Kings have lost their identity as a fast, aggressive and flashy team when they were running at full capacity. Walton, for reasons that are difficult to understand, turned the third fastest team of last season (thus green shoots were emerging) into the slowest at the start of this season, in which it was never fully known what he was doing. Of course, it will not facilitate the leap forward that the franchise sought with a wrong but ambitious plan: 40 million for three years to Dewayne Dedmon and 25 for three to Trevor Ariza. Neither of them is on the team anymore. 37x3 to Cory Joseph and two super renewals: 85x4 for Harrison Barnes (so many nights an inert body) and 94x4 to Buddy Hield, a shooter who has collided with Walton and has been erratic, with worse numbers than last season and without feeling of hitting the jump to the star level that the most volunteer people saw in their triples in the race, when the team attacked in waves to the electric rhythm of D'Aaron Fox.
With their moves, the Kings are no longer a young team. Harrison Barnes and Cory Joseph are 28, Buddy Hield and Bogdan Bogdanovic (whose future is up in the air because he will test the market as a restricted free agent) 27, Richaun Holmes 26 and Nemanja Bjelica 32. What's left? Fox, a 22-year-old point guard with all-star potential, a 22-year-old Harry Giles with whom the Kings have never seemed to know what they want to do, a new litter (Kyle Guy and Justin James) who is left without an end note course and, of course, Marvin Bagley. The number 2 of the 2018 draft. That of Luka Doncic (and, in addition, that of Trae Young, Jaren Jackson ...). The Kings (DeAndre Ayton was No. 1 for the Suns) let Doncic go and took Bagley. The decision, surely, will gnaw at their ankles for decades. And it certainly doesn't help that the power forward played just 75 games in his first two seasons. And ten as a starter. Almost always injured, he averages almost 15 points and 8 rebounds in the NBA. He has left flashes of a good player. It is: but not much more for now. And comparisons, of course, are hateful.
In the Bagley draft, the Kings chose Gary Trent Jr (number 37), who (to top it all) now explodes on the Blazers, with whom he is playing a brilliant role in the bubble. There he was traded on that draft night in 2018. A year earlier, in the Fox draft (number 5), the Kings chose Zach Collins with number 10 and sent him to the Blazers as well. From 2009 to 2017, the franchise had picks in the top 10 in the draft and none of those players are on the roster: Ben McLemore, Nik Stauskas, Willie Cauley-Stein, Thomas Robinson… and DeMarcus Cousins, of course. The great star that was not. Because nothing seems to be in Sacramento Kings. The role of Vlade Divac in the offices is already in all the sights. And it is not easy, it never is, to break with who was the symbol of the best stage of the franchise. Another wound in sight, but one that already seems inevitable: Divac has lost his way, if he ever had it as an architect.
The Suns have taken the position the Kings should have assumed in the Pacific: the young and emerging team, the wildcard. In the Division there are already the two animals from LA (Lakers and Clippers) and some Warriors who ruminate on a comeback in an overwhelming version. The Kings, in a terribly demanding ecosystem, have skated in a season that seemed important and, albeit in a low key, exciting. Another misstep, another season like that, and they will be the second team in history with 15 years out of the playoffs. With a diffuse past, an unbearable present and a future that cannot be seen. A perpetual failure.
Photos from as.com