Rousselle-Balvin, spokespersons for the dressing room in the new Bilbao
By seniority the captaincy belonged to Brown and Rigo, but the French base has personality to wear the bracelet and much more. "This is a new stage," he assumes.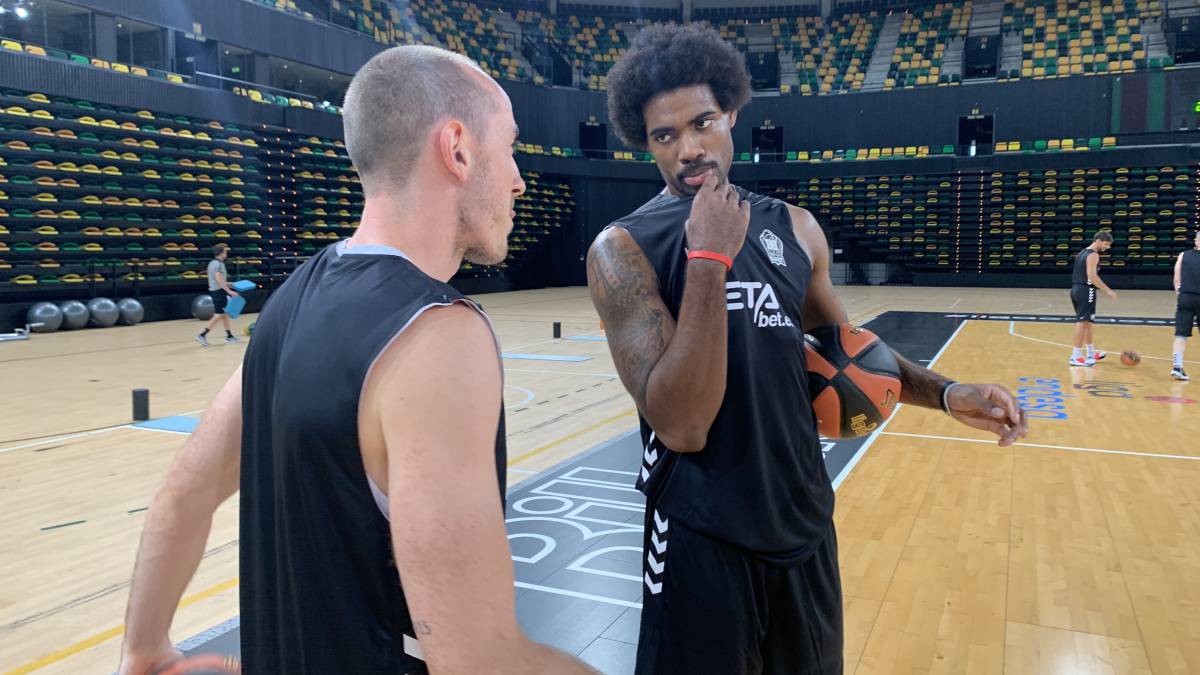 Bilbao Basket assumes that the new normal is seen as an old or unknown anomaly. Nobody knows where the air is going to give it. And try to get used to it. Also to assume that the years of 'the family' are far away, of that group that climbed from LEB-2 and that found heir in which he danced after each feat in La Casilla, already within the framework of the ACB. Now are times of hurry, to believe that erudition with aberrations is added as a 'roster' to name what has been a whole life 'team' ... and there is no room to become fond of the kids. As with Sulejmanovic, who all the fans loved in Bilbao and left them for another.
With Salgado, Banic and Mumbrú the captaincy of Bilbao Basket has been held back tooth and nail and very few have been able to escape that control, only a few privileged have opted for it, because that triplet has drawn up minutes for almost the entire history of the entity . By seniority, such an honor corresponded to Brown, the North American with the greatest footprint in Botxo, and Rigo, but it is their turn. In the new era, two foreign spokesmen arrive. One is Jonathan Rousselle, French, with plenty of charm and personality. The bar left by Rafa Martínez is very high. And the other is Ondrej Balvin, a peculiar guy who likes challenges. Deep down, make no mistake, the boss of all this is Álex Mumbrú, coach for the third consecutive year and has 11 between player and coach (he will add at least two more) .
"Jo already showed last year that he is capable of assuming the responsibility of having the team on top of him and I think he is a good captain for the team. Balvin will help him in the cocapitanía. These are people who know Bilbao, who was already there last year. , that they are already very integrated and that they can help a lot to that the new ones integrate as soon as possible ", explains Mumbrú on the leaders of the dressing room. Rousselle was "very proud to be the new captain", something that he considers "a great honor" but which also requires him to "live up to this responsibility" .
Balvin believes that his role does not change much with the cocapitanía, since "in the last year many times in the locker room" he has "tried to talk to the boys". "I speak English and Spanish and that is why it is easier for me to communicate. I always try to talk with my teammates, with the new ones and with those already settled in the team to get to know them," said the Czech giant, who this year will be accompanied by Dos Anjos as Fives and sees "a fairly new group that is still getting to know each other." "In the next few days we will get to know each other better and we will see that there is good chemistry between us," he advanced. Personally, he hopes to "keep improving" despite having been one of the most outstanding players last season. "This year I want to continue with the dynamics I was in and I hope I can improve because there is still a lot of room," he said. It is a 2.17 that joins the team with a 2.18 from Dos Anjos, a duo that put one on top of the other could sniff the stratosphere.
Mumbrú will not have much time at weekly work, since the Champions League adventure awaits them, so he emphasizes the importance of having a good preseason, all of it in a house, almost almost confined in Miribilla, and with friendlies no more beyond 300 kilometers: "We have to make the most of it." In the first session, held yesterday afternoon at their court, the players already realized the importance of taking extreme precautions and trying to be at home a lot to avoid infections and focus on training. "Mumbrú confessed that they are looking forward to seeing from new to his people and that they miss the 'black tide', as happened in the 'bubble' of Valencia. "Now everything is getting a bit complicated with all the infections and we do not know when he will see us. I would love for everyone to be in Miribilla vibrating with us already in the first game, but you have to be careful. Both for them and for us the first thing is health, "added the Catalan coach, hopeful that," within a control and a protocol, we will see each other as soon as possible in Miribilla ".
Rousselle will share the wheel on the track with Hakanson, who has considerably more experience than he at ACB. Now they all try to get to know each other and try to make a team, they live for a while so that "the new ones feel good in the city and in the team and do things little by little." The French game director also asked to forget last season, despite how good it turned out for Bilbao Basket, "because this is a new stage and it is going to be different."

Photos from as.com