Rossi: "There will be a lot of atmosphere in Misano with 10,000 fans"
On the moderate return of the public to Marco Simoncelli, Valentino says that "it is positive to regain normalcy as quickly as possible".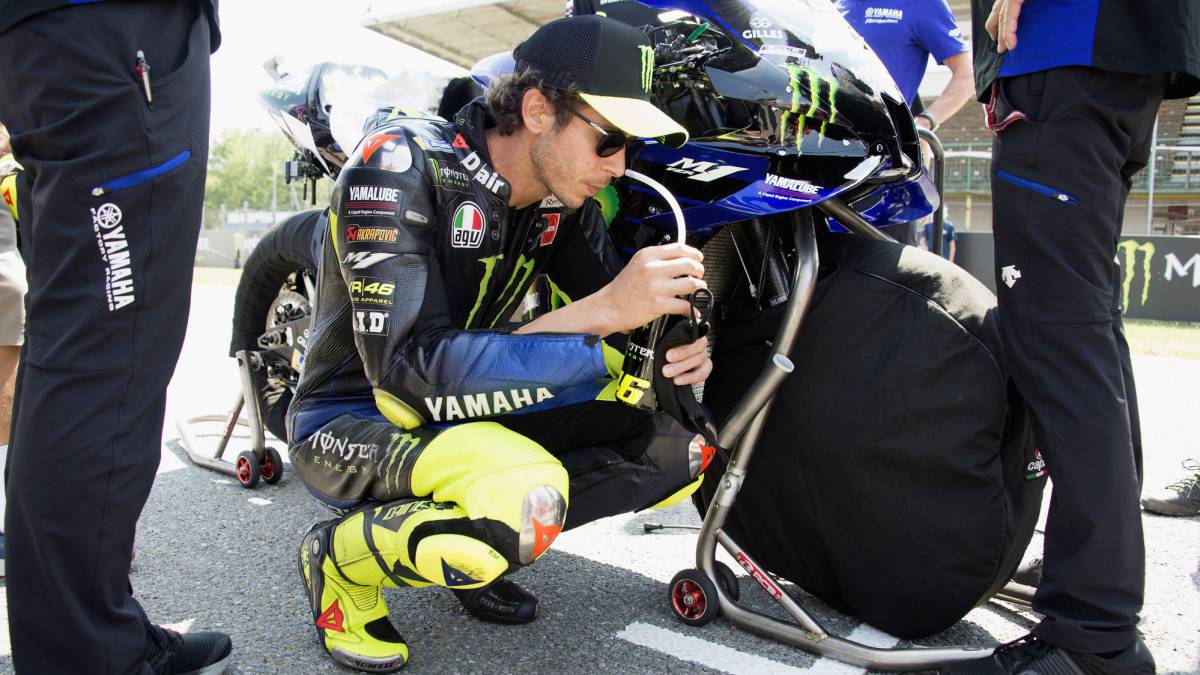 A Valentino Rossi is happy to know that he will be spurred on by 10,000 fans in the stands of the Marco Simoncelli Circuit, during the two events that MotoGP will hold there on the weekends of September 13 and 20. He has said it from Austria, where tomorrow the first of the two consecutive appointments starts at the Red Bull Ring in Spielberg.
-How about going to see some public in the two appointments of Misano?
-One cannot imagine Misano without fans. It is our place and this point in Italy has put a lot of pressure to be able to have two races, because it is a great event. Tavullia and all the surrounding towns are eagerly awaiting these two appointments. I think there will be 10,000 people every day and, although it will not be complete, there will be much more atmosphere than if there were no fans. This is a good thing in order to be able to regain normalcy as quickly as possible.
-Mounted several positions in Brno. They seem to have found things for race day. Is that so?
-Yes, in the end it was a positive race. Unfortunately I made some mistakes in qualifying on Saturday and had to start from the fourth row. It was difficult to go up from there, but I had a good pace and I was feeling good on the bike. Also in the second half of the race I felt that I could keep pushing. I was gaining positions, trying to make clear and intelligent overtaking. I went with Rins and we reached Zarco, but not enough to get the podium. It was positive to be able to enjoy the race and drive well even in difficult conditions, but on the other hand we have to improve for Saturday to qualify better on the grid.
-What expectations do you have for this weekend in Austria? They give rain ...
-There are people who say that this circuit is not good for the M1, because top speed is not our strong point, but last year I was able to ride the bike well and have a good race. We were too far behind the Ducati and the Honda, but we were able to fight for the podium and that is very important. We have to try to be strong this weekend and fight for the podium again, although the forecasts will be very important, because it will be very changeable and it is not at all clear. You have to be strong and be prepared for any condition.
-Do you see KTM as a candidate for everything after Brno?
-Why not. The improvement over last year is impressive. KTM has put a lot of effort into its MotoGP program. They are already competitive and I think that without Pol's fall they could have done first and second. Here they are very strong and they are probably the favorites, because here they have already done good performances, for example, with Miguel Oliveira. They have three drivers who are in very good shape and riding strong, so they can fight for the championship.
-MotoGP has not raced in water in Austria. Worried about having to run in the wet here?
-Yes, in the past we had quite a few problems braking at Turn 1 and Turn 3, because there were a lot of crashes, especially in Moto2. Perhaps it was a problem that there was a lot of rubber accumulated on the track and that made it skid a lot with the water. Then they cleaned it thoroughly and the situation improved. We'll see if it's safe, although I hope it's a dry race.
-The championship is strange, as seen in the results of Quartararo, Maverick and Dovizioso the other day. Do you see any favorites?
-The championship is truly open for many drivers. It is true that Dovi has had problems so far and that Marquez is injured, but I think all the results are related to the tire issue. The first ten or fifteen drivers are very close and everything can change a lot from morning to afternoon. Sometimes you are out of Q2, but then you win a race, as was the case with Binder in Brno. Everything is very open and it is very curious to follow.

Photos from as.com