Rossi accused Zarco of "voluntarily braking" in front of Morbidelli in Austria
"Race Direction must speak seriously with the drivers and take serious measures with Zarco," he said on TV, although later he was less critical at a press conference.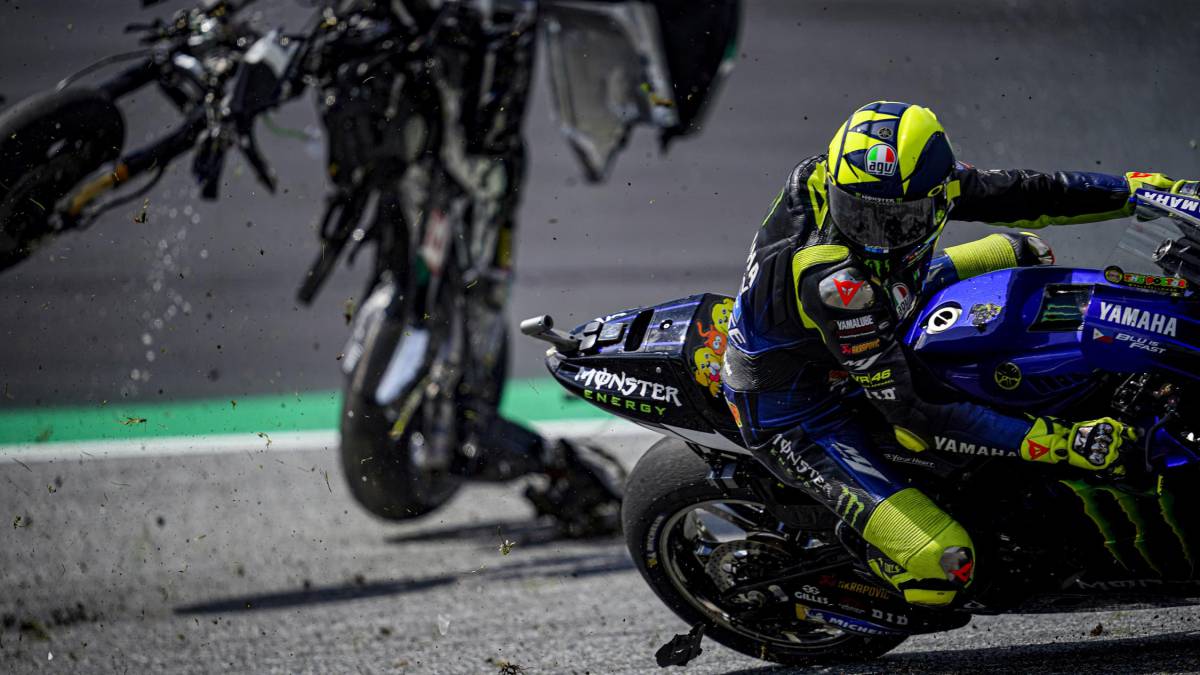 Valentino Rossi hotly accused Johann Zarco of "voluntarily braking" in front of Franco Morbidelli and causing the dangerous accident that forced the red flag to be shown at the start of the MotoGP Austrian GP. He did so in statements to Italian television that have been collected by the EFE Agency, although later he was less critical at the press conference, because he had already spoken with the Frenchman, who promised that he did not do so intentionally.
In Rossi's first version, he considered that "it is not a novelty" that Zarco commits irregularities in the races. And he acknowledged that this Sunday he experienced the most important risk of his career in MotooGP, because Morbidelli and Zarco's bikes were about to hit him and Maverick: "I have to say it was hard, I'm a bit shaken. Even starting the second one. The race was complicated. I was next to Maverick, we were slowing down to enter Turn 3 and I saw a shadow arrive. I thought it was the shadow of a helicopter, instead two bullets arrived. I saw Zarco's Ducati well, instead the motorcycle of Morbidelli didn't even see her, I only saw her later in the pictures. Today the saint of motorcyclists did a great job. "
More about Zarco: "It is good for a driver to be aggressive because we play a lot, but thus we are losing respect for our opponents. We practice a very dangerous sport and you have to respect your rivals. It is not news that Zarco does these things. What happened was very clear. Zarco overtook Morbidelli and then did not want him to pass him before the corner, so he voluntarily braked in front of him. But at 300 km / h, Morbidelli could do nothing and hit him very hard. Zarco cut him off and stopped him in front of him. We have to be careful because we can hurt ourselves. Race Direction must speak seriously with the drivers and must take serious measures with Zarco, because even in Brno he has beaten Pol Espargaró. And Here at Spielberg he did the same, he hurt Morbidelli so that he would not overtake him. And in the end I was also able to get involved. You have to understand that our bikes, at these speeds, are bullets. We are pushing the limit a bit. Morbidell's bike I brushed against me and even Zarco's passed me a few meters away ".
At the subsequent press conference he said this:
Reflection: "For me, now everyone is very aggressive in MotoGP, from the small categories, and it is something that I cannot understand. You have to be aware that you play a lot. For me it is important to have respect for the riders who are on the track with you and do not forget that this sport is very dangerous. Especially on a track like this, with long straights, and braking from 300 km / h to 50. From the small categories, there are many riders who get used to closing the door in the faces of other drivers. Zarco braked in Franco's face so that he would not overtake him again. But they were too close and at 300 km / h Franco had no chance to brake. The risk was very high. And above all he has us put me and Maverick at risk ".
Flying motorcycles: "When we were reaching the stockade Maverick and I, I saw a shadow and I thought it would be from the helicopter. Sometimes that happens with the helicopter and it scares you. There I thought," fuck, the helicopter ". But not later. Honestly, I haven't seen Franco's motorcycle pass by. Yes, I have seen Zarco's motorcycle and I have felt more fear for his. Later, when I saw the images, I realized that it was much more Franco's motorcycle is dangerous. We need the riders to understand that they are extremely dangerous potential projectiles that go crazy at speed. We need to be vigilant. Today nobody has done anything because we have all been very lucky, but we must try this thing and not let it go pass because no one has been hurt ".
His talk with Zarco: "I have spoken with Zarco face to face, I have explained it to him, and he told me that he did not do it on purpose. But, in any case, being aggressive is one thing, but braking in the face of a pilot 300 km / h is a potential disaster ".
Fear: "I feel very bad. I have been very afraid. It has been very dangerous. In these types of situations they change a lot if nobody is injured, like today. None of the four pilots have suffered injuries, but the situation would be radically different in the otherwise. I hope this helps things to change in the future, for me, these maneuvers are dangerous ".
The circuit: "Red Bull Ring is a bit dangerous in some parts, especially when you hit braking points of 300 to 50 km / h. Those hairpins are potentially dangerous. But I think that more dangerous than the track is not having respect for the pilots.
Return to action: "Getting back on track in race two with the right concentration after such a dangerous moment has been really difficult, but actually, I had no choice because I couldn't say 'ciao, ciao' to everyone. But It's not easy to go back on the grill after something like that. "
Lots of falls this year: "It's a short championship, but it's actually 15 races. It doesn't change that much with a normal season. Maybe this puts an extra pressure point. Every weekend has had a different story. Jerez was very hard because It was very hot. In Brno it was difficult because the asphalt was very bumpy and there was no grip. But what I see in the races is that the level of aggressiveness has grown a lot. Everyone wants to push to the maximum, they want to gain positions. That is good , but you must not forget that it is a dangerous sport.
Photos from as.com