The Etihad was a litmus test: one starting and the other without minutes. Vinicius has played more in total, but less in the Champions League. Rodrygo has more and more weight.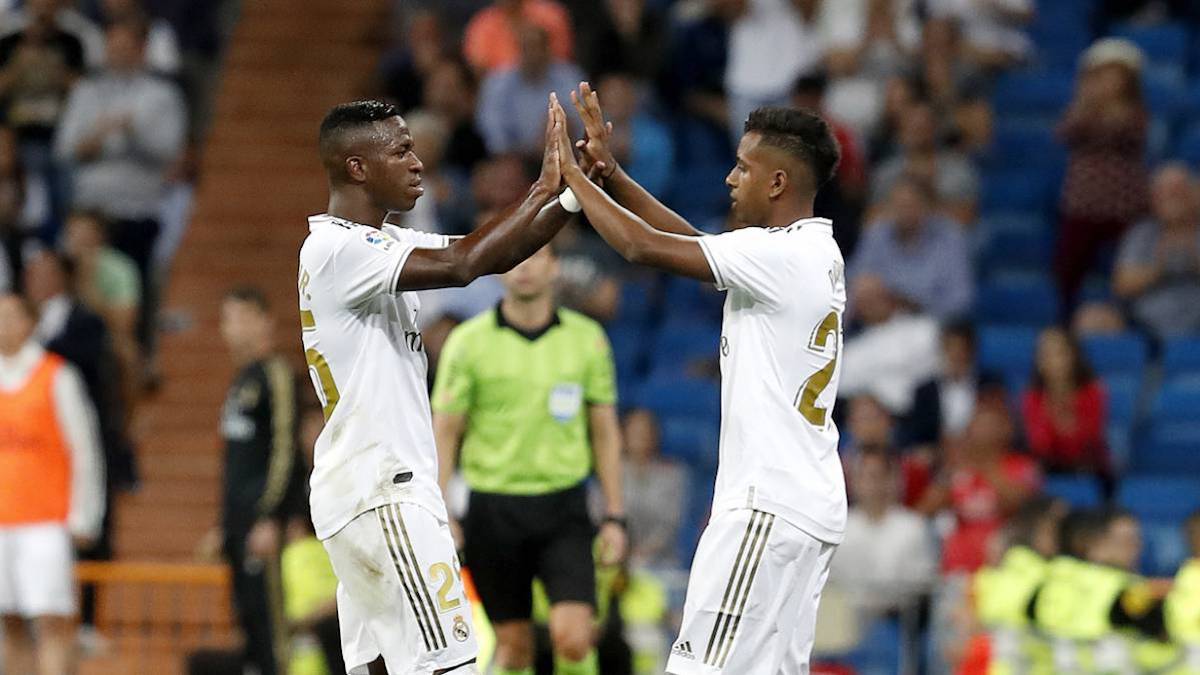 The match in Manchester has highlighted two proper names: Rodrygo and Vinicius. The first was the bomb of the previous one, starting on the right wing ahead of Asensio, Valverde and Isco. It was a display of confidence on the part of Zidane towards the young 19-year-old Brazilian, a "I trust you, show me that I'm not wrong" in every rule. But it collides directly with what Vinicius experienced: not a minute and the whole game in the stands. Neither heated.
Both have similar directions, they are even priced at the same amount according to Transfermarkt, 45 million euros. But one is on the rise and another seems to stop short at times. And it is that Zidane has put a point and apart in the debate of the Brazilians with his decision in the Etihad. If we analyze the entire season, Vinicius has played more minutes (1,817 'among all competitions) than Rodrygo (1,696'). But these figures have an important nuance: Rodrygo has played more in the Champions League (331 ', for Vinicius' 193') .
Is quality or quantity more important? That is the question. It is more decisive to have more minutes, or to have less but they are from more key games. Vinicius has participated in 38 official matches this season, being one of the players with the most appearances of the entire team, while Rodrygo has played in 29 matches.
It became strange not to see Vinicius play in Manchester. On the 25th he rested against Granada, but without counting that match he had not been without playing since January 26 (called off against Valladolid, matchday 21). After that day, 14 games in a row playing (five as a starter) in which he scored two goals, against Mallorca and in El Clásico.
Performance is uneven and that tips the scales. Rodrygo has scored almost twice as many goals (9, for his partner's 5) in all competitions this season. That has been Vinicius' Achilles heel since his arrival: the scorer's nose. Few blame him for a lack of effort, character, self-confidence ... But he does score. Something that contrasts directly with Rodrygo, who precisely scored in his debut in white. It was the sixth day of the League and, as soon as he entered the field, he scored the second of the night. He had precisely entered through Vinicius.
Zidane gave no explanations
When asked at the Etihad press conference about Vinicius's absence, the French coach did not make any specific assessments. "Today others have simply played. I could have entered, but I decided that others would do it ...", he said. The changes were Lucas Vázquez, Valverde and Jovic. And is that Vinicius did not even jump to warm up. Zidane, on day D and at hour H, decided to remove Rodrygo, period.
Both, with a contract until 2025
In their parallel lives converge until the contracts. Rodrygo (19 years old) and Vinicius (20 years old) end their ties in June 2025, within five seasons. Both are considered pieces of the future for Real Madrid. Players to be patient with. In the short term, Vinicius is playing more minutes. But Rodrygo is getting smaller and smaller. And the Etihad says a lot.
Photos from as.com