Quartararo: "There is no advantage that leaves you alone with Márquez"
"The move I will make next year is very special, but Rossi's place at Yamaha will be unique, because he is the legend," the leader assures AS.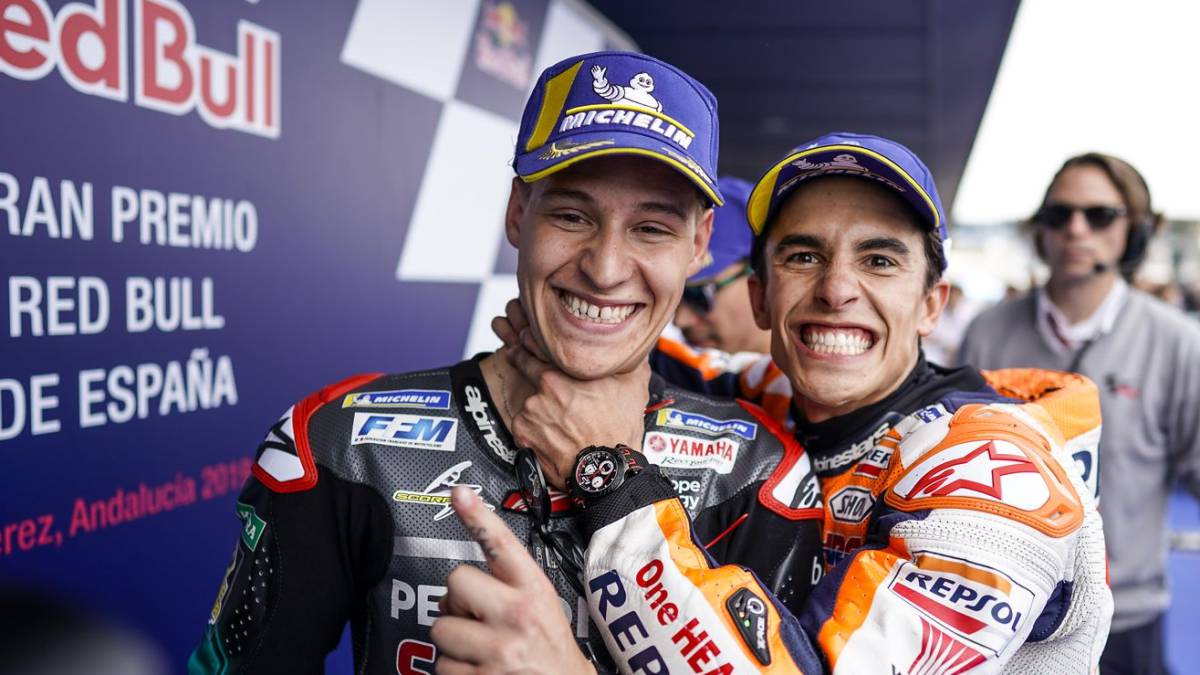 The MotoGP leader attends AS by video call during the 2020 Austrian Grand Prix. At 21 years old, Fabio Quartararo maintains the naturalness of when he was almost a stranger. The victories and the leadership have not driven him crazy. So much so that he still does not trust Márquez even though he is in the dry dock and 59 points from him ... 444 444
-I requested this interview before the championship started and then I didn't imagine it would be with the solid MotoGP leader…
- (First smile). We knew that we had had a very good 2019 and that we would be here to fight in the front, but if they had told me before starting that I was going to win the first two races, the Jerez, I would not have believed it. With the work done in the preseason, we are leaders now, but we have to go race by race and not think about the championship, because this has just begun.
-To which one do you value more of those two victories of Jerez?
-It is very difficult to say, because both have their things, but the first is the first and it was with more complicated conditions. I went out first and then I was fifth. When the two Ducati passed me, I took my time. He knew he had to go first to one Ducati and then to another. Then Márquez made a mistake and so did Maverick, and from there I left. It was a very good race, because last year the same thing happened to us in Malaysia and I got a little more nervous and finished seventh. This time, I took my time to pass Pecco and Miller and in the end we won. And the second victory was coming out first and holding on to the end, which made it difficult to stay focused the entire race. For me it was spectacular not to make mistakes in those conditions and to endure well physically.
-He is still a very young driver at 21 years old, but can it be said that what has improved compared to last year is that he manages his nerves better? 444 444
-I think that's one of the biggest changes. Brno was the most difficult race I have ever had, because from the first lap I knew that I would not be able to fight, and I set out to give my best to try to score. I didn't want to risk winning two or three points to lose nine. I took it more calmly and enduring the last ten laps of Brno was very difficult on my wheels, so I am super happy to have had this maturity, because that result will be very important at the end of the season.
-Do you think he would have been able to beat Márquez at Jerez 1 without the failure that forced him to come back?
-Everyone gives their best and Marc made a mistake because the conditions were very difficult. He wanted to push and open a hole and had that mistake, not to mention the fall. These are racing circumstances and we can't say 'if Marc hadn't made that mistake'. Marc had much better rhythm than us, but afterwards each one of us does the race that he can and he had that mistake that cost him a lot.
-For me his second victory is more valuable because it was the D day and the H hour to punch the table. Did that victory make your rivals stronger and smaller, especially Maverick?
-Not smaller, but it did give me more confidence. Everyone could say that he had won the previous one because Marc had crashed and because Maverick had problems in front. But in the second race, we all started on the same tires, the same things and I won. That made me feel very confident, as if to say that we have achieved 50 points in two races and from now on we can win in all circumstances.
-He has 17 points over Maverick, 28 over Morbidelli and Dovizioso, 31 over Binder and 59 over Marquez. What is your biggest rival?
-It is too early to say, but my teammate (Morbidelli) is doing very strong, super good in every practice and in the race. I see a World Cup of teammates, and also Maverick, Dovi and Jack. It is early, but I see my partner much stronger than last year. I like that my partner pushes me to go even faster. Last year he helped me want to be the first in the box. And now also, to want to be the first of the team and the first Yamaha.
-Have you stopped counting on Márquez? Here he adds another zero and scores 59 points…
- (smiles). Well, we know that when Marc returns, he will be there to fight. I do not rule. After what he did last year, always first or second, I am not ruling it out at all.
-How many points does Márquez have to get for him to stop counting on him in the key of the title?
-There is never tranquility with Márquez. Anyone can fall and be injured. There is not a number of points that leaves you alone with Marquez, ever. We will have to get the maximum points from everyone. Not even 200 points would make me feel comfortable in this type of championship.
-How did you feel when you knew that Márquez was going to be in the dry dock for several races?
-The angel weighs more than the devil in the head, because we never wish evil on a pilot. It's true that when Marc is there, the race is something else. When you see him driving you know that there is a very strong client, but I will never say that I am happy that he is not there. I never wish a driver badly and I wish him a quick recovery and above all a good recovery. Fighting with a driver like him like in Thailand last year means there is no better race than that. Of course I would have liked to finish first there, but I like to have that kind of fight and hopefully he recovers well.
-Will you feel full of satisfaction the day you beat Márquez in a melee on the last lap?
-Well, we'll try that. It's one thing that you always like. If one day that comes along, if one day I am able to beat a guy who is eight times world champion or Rossi at the last corner, that is always very special. They are guys you have admired on TV, who have been your idols since you were little, plus Valentino, although when I was in the CEV Marc had already won two championships and I was very excited to see him, because I was in Alzamora's team at that time. It is very special to be able to drive with them and to be able to fight with them.
-Have you been happy or worried that in the end there will be 14 races instead of 13 with the final introduction of Portimao?
-I have always said that my favorite circuit is Portimao, because it is very special, with its descents. With the Moto3 he was doing wheelies and it seemed that it was a much more powerful motorcycle. Let's see with MotoGP. I have seen a photo of Van der Mark there jumping 15 centimeters, so let's see how much we jump or if we get directly to the airport… It's like a roller coaster.
-Why are the satellites increasingly higher in MotoGP?
-There is no why, but in FP3 in Brno we were top ten by two tenths on a 1:56 circuit, all mixed up, and that's impressive. Nobody can say that one or the other has a better motorcycle. You have to adapt and a small failure leaves you out of Q2.
-Tell me about Rossi. Before starting this course, he already knew that he will be his replacement in the official Yamaha team. How do you feel about something like this and what do you comment with him?
-I would like Rossi to continue for ten more years, because it is always a pleasure to drive with your idols. We haven't talked much about that topic. Only in some moments, but nothing concrete. This move that I will make is very special to me, but his place at Yamaha will be unique, because he is the legend. I take his motorcycle more than his place, but it is incredible to think that I will go to the official team, where I will be with his motorcycle, when 15 years ago I watched the races on TV and encouraged him. It's very special to me.
-Can you bring people from your current team to the officer?
- (smiles). I think Wilco (Zeelenberg) will stay here, but I want to bring mechanics to the official team. We are discussing it with Yamaha. Let's see how many we can take.
-If you get the title this year you can't say no to anything ...
-Well, I hope so. (Laughs) Unfortunately, decisions will be made before the end of the championship.
-Do you dare to say clearly that the objective is the title?
-I'm not going to set the championship as a goal, but this year we have a very good possibility, so we will have to take it into account. I'm not going to say that it is not my goal to be world champion. Of course it is my goal, and it is my goal every year, but it is true that with the start of the championship that we have done, it is a fairly clear goal.
-Have you seen that I have not called you anti-Márquez in the entire interview?
- (laughs). I liked that. I liked it a lot.
-I love to see that success has not gone to his head. Good luck.
-Thank you very much.
Photos from as.com