Pol: "I have risked my life and I feel unfairly treated"
On the yellow flag that he did not see: "I am angry, because it is the best official training I have done with the KTM and I should be second and not sixth."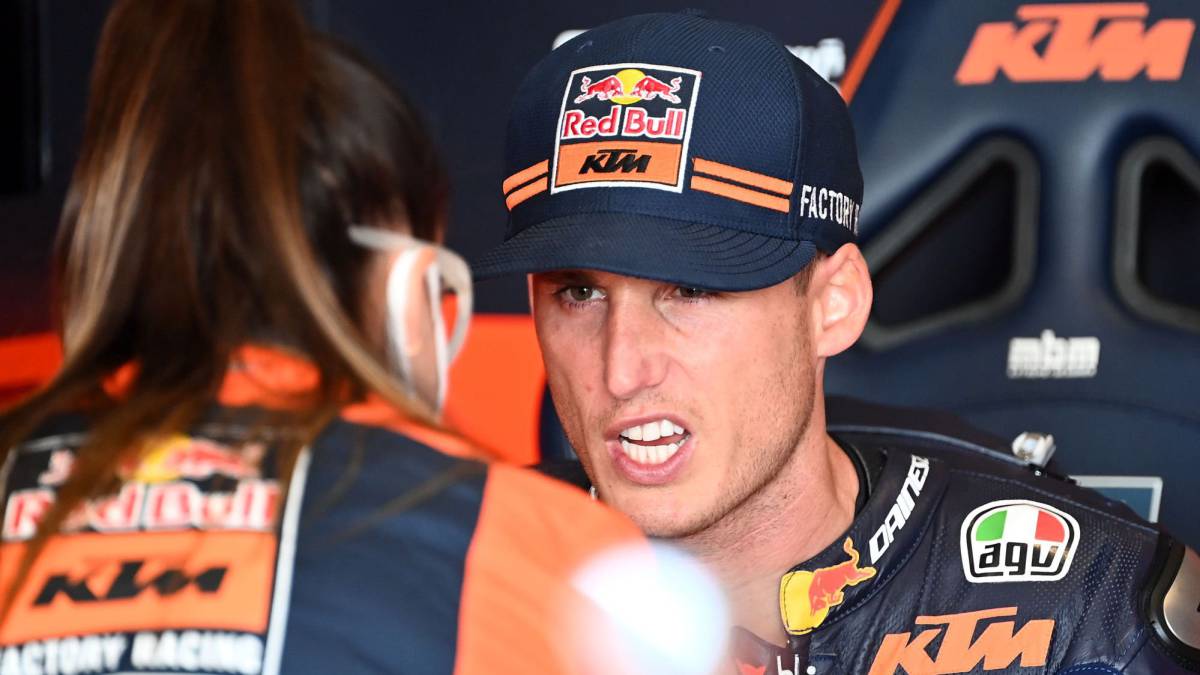 Pol Espargaró finished with the decision of the Stewards to cancel the lap that placed him second on the grid, for not seeing the yellow flag in Q2 in Brno due to the crash of Crutchlow.
The yellow flag: "The morning went well, I managed to finish at the top and qualify directly for Q2, which was the main objective. We were not very confident in being able to achieve it, because of the equality that there is, but I was able, and then in the afternoon, in FP4, I felt very good with the bike and then in the first outing in the official one. I was quick to be quick and even felt like I could be a little bit faster, so I was confident. I only shot with my second set of tires and everything went well, even the yellow flag ... That I was not where I should be, at Turn 8, because pretending that I saw the one they taught, in a place without visibility, was impossible. For me it is clear that it is not my mistake, but theirs, they did not show that yellow flag where they should do it, and as we said in the Safety Commission. And I have paid for it. I am a bit angry, because it is the best official training I have done with the KTM and I should now be in second position, but I am sixth. It changes a lot to be in the first line, in second position, than in the second line near the third… ".
General evaluation: "Being in the top six, in the second row, is always fine, but when you literally risk your life to do this kind of laps and then you see how they take it away from you that way you feel unfairly treated, and I don't like them unfair things. I've been in this project for many years, fighting a lot, and finally I manage to do a lap like that and you feel like you don't get the reward for your work. Of course, tomorrow is the race, and we will do a reset, the position is good, but things are as they are, it still seems unfair to me. Yes, there was a yellow flag, which must be respected, but they have to do it well. In that place, where they take the yellow flag, it was late, you cannot teach in the middle of two curves in which you cannot see, because I was pressing. It is clear that I have not seen it, because otherwise I would not have celebrated second place, and I would have continued to push, because I had two laps on those tires and I canceled the second option because I felt that it was already good enough. In other words, I had a second bullet to use and I have not done it because I have not seen that flag because it has been done badly, they have not done a good job and I have paid for it. And it's not fair especially since Cal was on the ground, never mind my turn. Okay, they took it from me and I'm four positions behind, but the problem is still there, I was going very fast in that corner and Cal was on the ground, so I could have fallen there because I was taking risks. So if we want to implement this rule it has to be done right, and it hasn't been done. Tomorrow I will have forgotten, we have a good rhythm and the position is good, but right now I am angry ".
Race Direction: "We have spoken with Race Direction and they say there was a yellow flag in the previous position, but we do not know where the positions are, we are guided by the curves. And the yellow flag can be seen in the image, but if you zoom; imagine me, riding the bike, and making a change of direction. It is impossible to see it! "
More about the yellow flag: "The point is that you have to mark it before, a curve before, at 8, because then by 9 I can cut. I did it in FP1, I think, together with Morbidelli, because we saw the yellow flag when Bagnaia fell. How can I see a flag so far and on the outside? The rule seems fine to me, and we all knew that this was going to happen, we all agreed because it is for our safety, but it has to be implemented well by both parties, by ours, and by the organization, and today it has not been So. It has to be done well whatever system is used, flags, screens, whatever. "
The race: "It will be difficult for everyone. It is true that Ducati has had more problems after one lap, removing Zarco, but then we all suffer in the race pace, when eight, nine or ten laps go by, the tires drop a lot and everything becomes very complicated, it is difficult to be constant. Luckily we have a good feeling with the front tire and that helps us to stop the bike and brake, and that can help us in some points. "
The tires: "The tires are not working well, but it is what it is, I know that at some point in the race I will suffer a lot, like last year, doing a lot of spinning and I will reach the end with the tires completely finished… We can easily losing a second and a half of pace in the last five laps, so it will be a tough race. "
Photos from as.com