Pol: "Aprilia has the same concessions and does not use them the same"
Pol stands up for KTM: "We have the concessions, we can do more tests and we take advantage of them. We use what we have. Those are the rules ".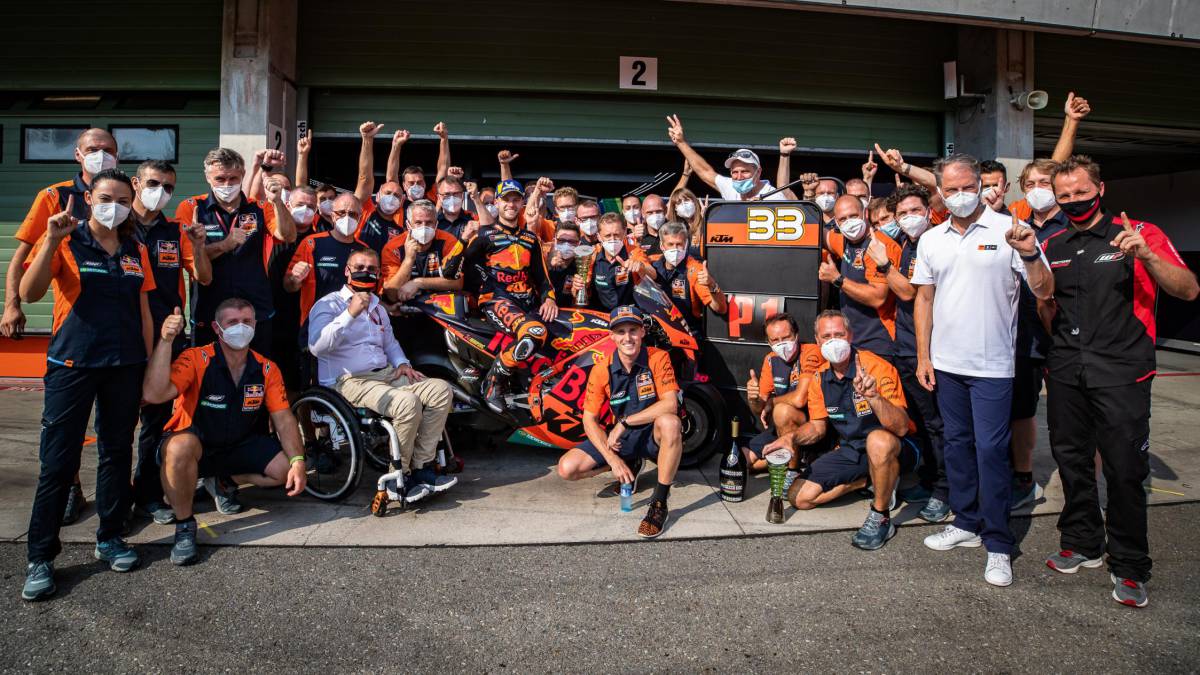 KTM has ceased to be one of the ugly ducklings on the MotoGP grid to become the factory of fashion, to the point of being envied. Without wishing to detract from the credit, or perhaps yes, there are those who are taking it upon themselves to remember that Binder's victory in Brno came last Sunday on a circuit that was very well-worn. This is so thanks to the concessions that the regulation grants to the factories with honors and that allow them to train. They have done the same at the Red Bull Ring in which Pol started leading and at Marco Simoncelli in Misano, where there will be another two races in September. Pol, who has been enrolled in the KTM MotoGP project since its inception in 2017, stands up for his factory and recalls that "Aprilia has the same concessions as KTM and does not use them the same" .
Those concessions are 6 points that are lost depending on the podiums that are achieved in dry races. A victory is three points, a second is two and a third is one. Thus, Binder left KTM in Brno without half their points, which did not prevent them from returning to training there last Monday, the day after the race. And they cared little, because all factories work and invest to be at the level of the best. It took the years from 2013 to 2015 to award concessions to factories without track records, so Honda and Yamaha were the only ones without privileges. Ducati was left in 2016 without them and then it was Suzuki who joined. Now KTM is closer to achieving it, but this requires another victory or a second and a third. That is when the right to private training will end, which they are now getting more out of than ever before.
"There is not much to say: we have the concessions, we can do more tests, and we take advantage of them. Aprilia also has those concessions and they don't use them the same. We use what we have, those are the rules ", says Pol with a vindictive tone when asked about the favorable treatment that his factory has had by regulation.
And it does the same when the subject of tires comes up, whether Michelin has given them inside information: "The tires are the same for everyone, we receive the same compounds, the same amount as the rest of the factories, so It is what it is. In Brno we used them better than everyone else, our electronics were better than everyone else's and our bike was better than everyone else's, exactly the same as in the past, when they were faster than us. This is a competition and we were faster during the weekend. "
More on the KTM show in Brno: "We were faster than the others. When the Yamaha win they don't complain about the speed, Ducati when they win they don't complain about the rear grip, and now everyone complains and they say that our bike is incredible ... It's fun to hear these things, it means that we are doing things very well. Although it may also be that the riders are doing a good job, it is not only the bike that influences this job. Because if it's only the bike that matters, then Yamaha was winning, not Quartararo, Ducati was winning, not Dovizioso, and Honda was winning and not Márquez. When someone wins it is because they are very good and very fast, but now it is because the KTM is very good. It's funny: the riders are good, the bike works and the results are there. That's it. "
KTM's huge investment (there is talk of 40 million) is beginning to bear fruit, with a testing team that leads wonderfully Dani Pedrosa, and it seems that there are those who itch. Meanwhile, Pol explains very well: "We haven't changed that much. In preseason we made some changes, but nothing to say: Wow, we put in an insanely faster engine than last year! No. We have worked a lot on electronics, the engine is a little faster than last year, a chassis with which we were looking for a bit more consistency, but nothing crazy, just small steps in each part of the bike and in the end it generated one difference. I don't know how much the conditions influenced in our favor and against others, but we will see it in each race. And at the end of the championship we will see our level. It is absurd to say that the KTM is the best bike on the grid, just for last weekend. We have to show that performance every weekend that comes, and if we do, then by the end of the year I will agree that our bike is a winning bike. But we have to go slowly and see what happens in the following races. "
If that happens, it will be even more questionable whether Pol's decision to leave KTM at the end of the year to go to Honda is correct. "I'll tell you next year. I have no idea. In any case, Marquez is not here, Honda's number 1 is not here, it is very difficult to say. Now I'm happy because the KTM works, next year will be another year and we'll see what happens ", he says, and we can't wait to see it.
Photos from as.com