Pol Espargaró: "They pay me to go fast whatever happens"
On his first place on Friday: "Today's good for a little, to get into Q2 maybe, because I think it will be difficult for 10 drivers to improve me."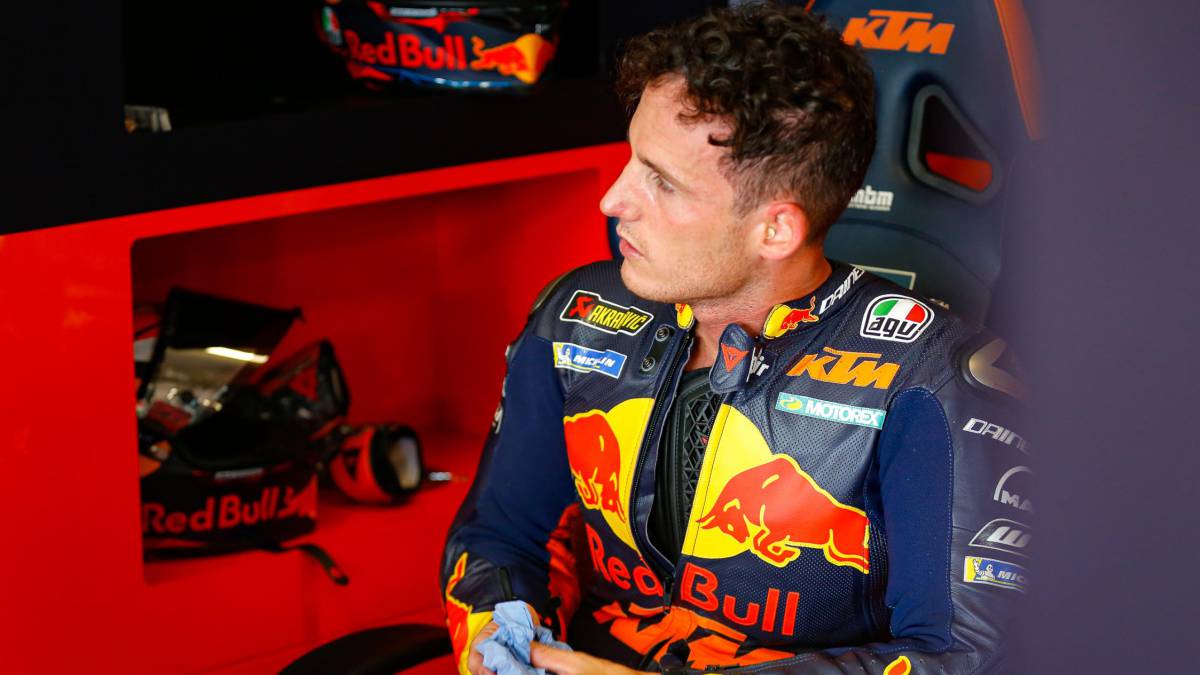 First place for Pol Espargaró on the first day of the Styrian GP.
-What does this first position mean? I think you need nothing strange to happen because you have everything to win.
-We have the speed, although in the end what today is useful for a little bit, to enter Q2 maybe, because I think it will be difficult for 10 riders to improve this time, so I have more or less assured the passage to Q2, more or less, because you never know, tomorrow morning many people will go fast and many will improve their times. And it would only do this. And morally ... What do you want me to tell you? In the end they pay me to go fast, whatever happens, and that's what I try to do, and improve the bike every day so that every day we are a little faster.
-How many new rear medium tires are you going to save for Sunday?
-You'll laugh, but this morning I was eating at the hospitality and I had Bradl right next to me, we were eating together because he doesn't eat at Honda's but at Red Bull, which is the one where I eat, and he was watching the times. It seems to me that I finished eleventh in the morning, and I was one of the few that had not put new tires on (Note: neither Viñales, Rossi, Rins, Crutchlow nor Aleix Espargaró), and he laughed and told me: Someone is keeping a tire for Sunday… Yes, this morning we just made this plan, to use only one set of tires and to try to make sure that whatever happens in the race be as prepared as possible. It's the only thing I want, whatever happens we have the same weapons as everyone else.
-Your point of view on the role of the FIM Stewards yesterday?
-Mainly the stewards wanted to talk to us, because it always seems like one thing from TV, and we all think and know a lot about motorcycles, but there are very few of us who are capable of riding a MotoGP. And even Freddie Spencer, who is a myth of this sport, wanted to talk to us to check data, to see what had happened and what we could tell about the accident. And in the end it seems fine to me. The organization is the one that makes the safety decisions, and we pilots have to show what happened. And they understand that seen from the cameras little can be understood, and they wanted the opinion of those involved in all cases to draw a conclusion, and it seems good to me, to be able to explain what happened and make it clear.
-Has this motorcycle become an easy motorcycle to ride? There are many KTM riders ahead.
-Yes, the bike works fine. Here the test riders have ridden a lot, we also rode during confinement, and the bike works well here, but not only here; Also in the Czech Republic, even better, because there we had a much superior bike, and it worked quite well in Jerez, not like in Brno and Austria, but we were always among the first. Then in the race what happens happens, but the truth is that the bike works very well and it is important that a bike is fast, but it is more so in many conditions and for all the riders of the brand. And that's what KTM has been trying to do, that's what we've worked for these years. It is a bike that is obviously not easy to handle, but the riders here are talented, young, like Iker, Miguel and Brad, and things are going very well.
-What improvements are there in the bike?
-It is not that we have made a completely new motorcycle, some parts have been arriving, chassis, engine improvements, a little electronics improvement… Yes, the tires have helped us while they have caused more problems for other factories. It has been little by little, not something at a time. I don't even feel like we've changed that much to be as good as we are, I really can't believe it… I don't want to be negative, I like to be positive, but the best guy on the grid is not here. Marc is not here, and I would like us to compare ourselves with the best, but he is not here, and I don't know what he would be doing, because Nakagami has been very fast today, and Marc is usually faster than him ... It is true that we are very well As good as it looks, but I would like to see more races and more circuits to see how we are in other places, because in Jerez we were not as good as here or in Brno. I want to keep my feet on the ground.
-The feeling is that everything is as they left it last weekend. I don't know if he shares that or thinks there is someone else in the fight: for example, Binder.
-Above all, I see the Suzuki, because the pace they have done today has been very good, also Nakagami's, and they are all candidates to win or fight for the podium until the checkered flag is given. We will see on Sunday who will be there, but the ones who will be safe will be Dovi and Miller… I think it will be a faster race than the last one, for that we all work, and the differences will be small. We are going to have to work very well to make a good official because that's when the race starts, on Saturday. It will be about doing a complete, normal race, without falls, without setbacks, and if there are any, be as well prepared as possible, because that is part of our job and, speaking in silver, last week we screwed up.
-On security. You had problems with the yellow flag that you did not see in Brno. Will you discuss it in the Safety Commission to make them bright and more visible?
-We have already talked about it many times. I also had another problem in FP4, I fell and my brother had just fallen in the same place, and there were no yellow flags. In other words, the Brno problem was repeated. I repeat what I said in the Safety Commission and in the press: if we want to apply this rule of canceling laps so as not to fall when there is another driver on the ground, the most important thing is that those yellow flags are seen; If we don't see them, this rule is useless. I fell right where Aleix had fallen and could have hit any marshal or my own brother. We talked about the panels, but we are still without them and it would be very good and positive for us.
-Favorable to change any point of the route?
-The more space we have to fall and not hit against walls, the better. We all love it, but it is not that simple. A circuit is surrounded by land and not all of them are owned by the same owner, it cannot be expanded if you want. There is a case in Brno where you cannot cut down a forest to make a longer escape… Solutions must be found. Dorna are the first to opt for air fences and new technologies that help us be safer, but in these types of curves, at these speeds, the responsibility has to fall a little on us. For example, we wouldn't be talking about this if what happened between Zarco and Morbidelli hadn't happened last weekend. So at these speeds I think we have to respect each other more and give ourselves more space to be able to make our lines and not collide.
Photos from as.com