Pol: "It's a big, big mistake that Ducati let Dovi escape"
On the race: "We are facing the possibility of making a good result, but we have already seen what the races are like, for example in Brno."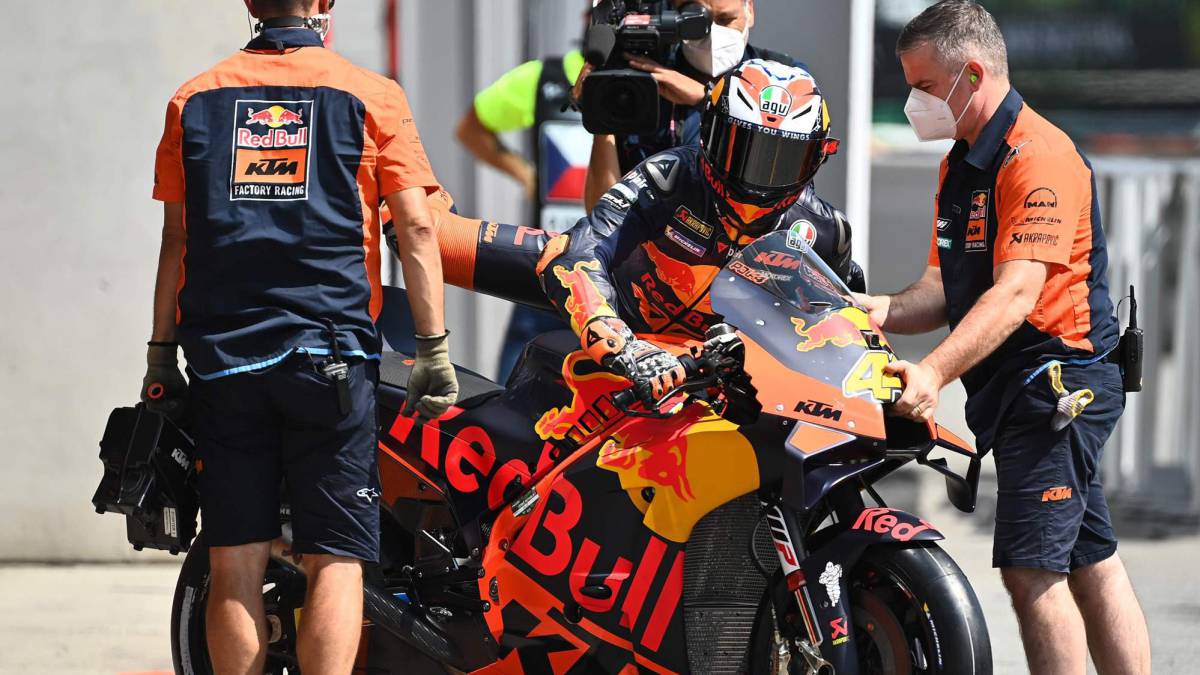 Pol Espargaró well knows that he could have fought for pole if he had not had a crash in FP4 that left him with only one bike for Q2 of the Austrian GP. Still, he is worth the fifth, because he has a good rhythm. And he got wet, as always, with the news of the breakdown of Ducati and Dovizioso.
Balance of Saturday: "It was a good day taking off the morning, when we did not start with good weather and we could not ride much. The rest has gone quite well. In FP4 we achieved the best pace of all, something super important for tomorrow, although unfortunately I made a mistake and crashed. I was going full on the bike and I was going faster and faster, even faster on that lap, and it was too much for the front tire. This obviously hasn't helped the officer much. I was 160 thousandths from pole, so imagine how tight everything is. With the crash I had to use the second bike and it didn't feel the same as the other one, so the result is very good, I could even have improved a bit on my last lap but I made some mistakes. I'm happy, fifth, second row and ready to fight. "
Lost chance of pole: "It might have been possible to get pole if I had not fallen, but you never know. A fall takes away some confidence and from one bike to another you usually notice a difference. And every little thing counts when distances They are so small. But for me it was important today to gain confidence in the race pace, to understand if tomorrow we can be able to fight for something important, more important almost than the official. The second row is fine, it is important to be there and I will have to have a good race. It was more important for me to have a good pace. "
The race: "I don't know what can happen. If there is no setback I think I can have a good race, we have a good pace, I am confident and the set-up of the bike is very good. I have to stay calm in the beginning, and as I usually try to hold on to push at the end. We are facing the possibility of making a good result, but we have already seen what the races are like, for example in the Czech Republic. I will try to do my best. "
The Yamaha: "We have seen in practice that they weren't very fast, so maybe that could mean that they reserved something, maybe less revs or simply try to conserve a little, also because they need to calculate the amount of fuel for the race… Simply These are ideas that occur to me, but I don't know either. They are fast. In any case, I will have to fight with the Yamahas, and especially with the Ducati, which seem the fastest here and which look like they are going to be the most difficult to overtake. But we are good, we have a good rhythm and we can go fast, even with the second bike, in positions where we normally don't usually be, 160 thousandths from pole. We will try to take advantage of this good situation. "
The KTM: "Engines like ours tend to do less cornering, it's more for vee bends, going to the apex and lifting the bike fast to accelerate as quickly as possible using the power. But lately we are also having a great feeling with the front tire that allows us to release the brakes a little earlier than we were used to, stopping the bike where we want and maintaining a little more cornering. This confidence up front is giving us a lot, especially it was seen in Brno, where we were better than the others. Many talked about the rear tire, but for me everything revolved around the front, and here exactly the same. "
Brno compared to Austria: "I feel quite prepared for the race, I think I already showed it in the Czech Republic, the performance was very good until the crash, and I still had some cards in my pocket for the end of the race. I also think that it will be very difficult for us to find ourselves in a situation like last weekend in Brno, when we had a great team and the others were suffering, and the track fit perfectly for our bike with that front tire. So for me to find a situation like that is going to be very complicated, that was unique and that is why I ended up so frustrated and angry, because I felt that this was the opportunity to win a race not comfortably, because that is impossible. , but yes, not having to risk much. Here I have the feeling that to fight against the Ducati, which will be in front, we will have to risk a lot when braking and that will complicate it, because they have the straights to put us in trouble. "
The championship: "With Marc out we will always have one more position, because he would always be ahead of us. If he had finished in the Czech Republic, maybe now he would be second, more or less, but it has not been like that. Without that we are not far, but it is not the issue. It is important to score, not to make mistakes in the last laps. In a hypothetical case that we got here fighting Dovi, a second place would be incredible, so I would hardly play it all or nothing, more after last week, it would be a bit stupid. At the end of the year we will see how we are doing, but it seems very complicated. "
He continues with anger: "Yes, I am driving quite angry because what happened last weekend left me touched. I have said many times that the worst thing that can happen to me is not being able to demonstrate what I am capable of, and falling or being taken out on lap 8 was very frustrating because I couldn't really demonstrate what I was capable of, and more when we had never seen each other in an equal. This is a weekend that is going well for us and I think we have the opportunity to at least fight with the riders in front, and I think that anger is helping me to risk a little more, to raise my level a little more and be less conformist. And sometimes you take more risks like in FP4, but also the pace is there. And that is important ".
Breaking Dovizioso and Ducati: "I'm not in there and I don't know what the Ducati bosses think. For me it is much better for next year, one less rival with a winning bike for the championship, because for me it is a big, big mistake that Ducati let Dovi escape, with what a good rider he is. And in the end he is a pilot who you know is going to bring you results at home and with the others you have no idea. So for me it is a big mistake. Besides that I have a lot of esteem for Dovi, he is a guy that I like very well and that he is very kind and that he deserved everything he asked for. "
Photos from as.com