Plans, the rise of a self-made sports director
The new head of the sports field began as a backpacker learning about football in Rio de Janeiro, he was Pitterman's man and is a close friend of Pochettino.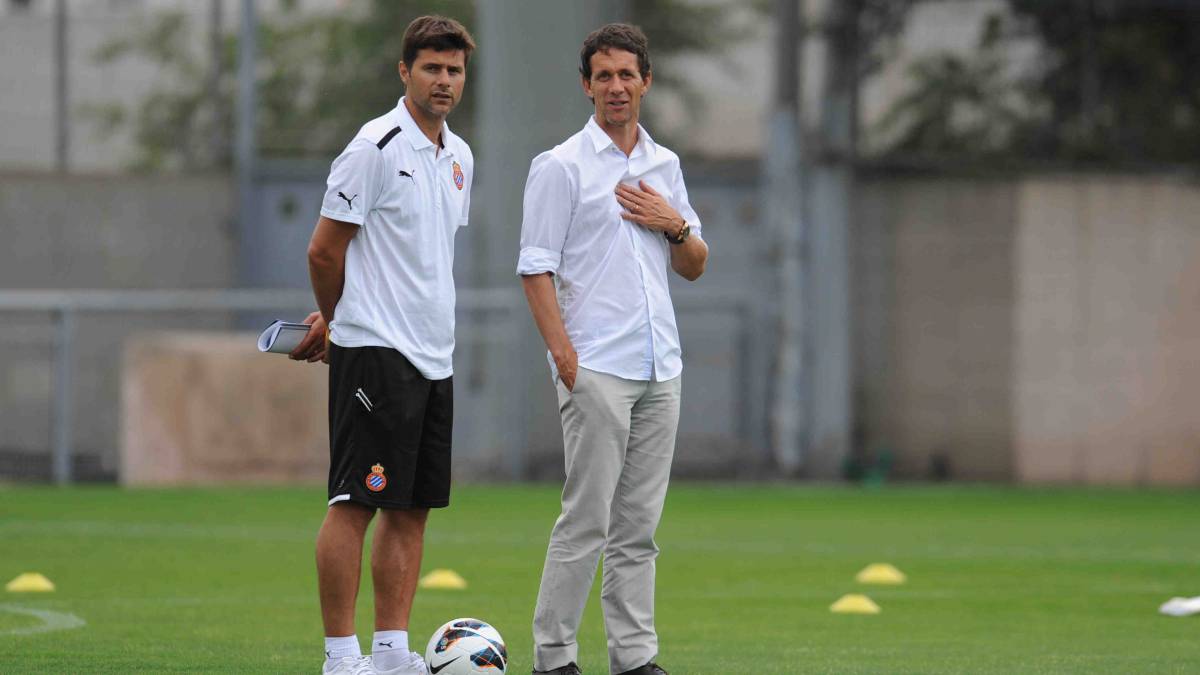 Ramon Planes (Lleida, 1967) took a backpack and went to Rio de Janeiro with one hand in front and one behind. At that time he had barely turned thirty, it was 1996, and the new head of the Barcelona sports field was already clear that he wanted to make a living from football. He came to play in the lower categories of Lleida and then began to train two teams in the province, in what would now be the First Catalan, such as Tremp and Balaguer, together with Juan Carlos Oliva, a coach who has been in the Quique Sánchez Flores' coaching staff and a classic of the benches in Second.
A self-taught person, with great personal balance and with healthy habits (every day he spends a few hours exercising, eating in an orderly manner and reading), Planes arrived in Rio to learn how football was lived there and what the country's culture was who had won the World Cup in the United States two years earlier. It did not take too long, also due to his ability to create links, to interfere in the formation of Vasco de Gama players. He stayed for a year, but he carried in that backpack a great life experience and a determining knowledge of South American football.
He began his career as technical secretary at L'Hospitalet
He left the benches, because he realized that what he was most passionate about was making teams: looking for players, creating squads, tracking the market ... And that's what he started doing a few kilometers away from the Camp Nou, in the Feixa Llarga de L'Hospitalet. There he stayed for four years (1999-2003). In 2002 he managed to qualify the team to the playoff for promotion to Second B, while the following year he left the club before relegation to Third.
In that underworld of semi-professional football he met Dimitri Pitterman, who at that time was already applying his curious and particular way of running a club in Palamós. And again, his way of connecting with people emerged. In February 2003 he was presented as the new technical secretary of Racing de Santander, with Pitterman, although the Ukrainian magnate's passage through the Cantabrian club was so convulsive that the Cantabrians lived two years of instability. Planes arrived at Alavés, again in the hands of Pitterman, in 2005, and configured the squad in the highest category after the promotion of the previous year. But he did not hold out long because of the changes of mind with the businessman himself. He decided to leave.
He returned to Lleida to be in the 2006-07 academic year and to lead the project of the club in his city from the offices that had just descended to Second B. But, again, those Planes ties helped him to return to First. In this case, Paco Herrera, Espanyol's sports director, offered him control of South American football at the perico club. It suited him like a glove. He grew up in the shadows and in 2009, when the club dismissed Paco Herrera, it appointed Planes as sports director, with Mauricio Pochettino already on the bench. Both would draw a friendship that united them in the parakeet club and, later, in Tottenham. It has even led him to be one of the candidates for the Barça bench in the last two markets.
Plans brought players like Philippe Coutinho or Dani Osvaldo to Espanyol. Some were more successful than others, but the general impression was that the sporting director had extensive knowledge of the market. After his time at Tottenham in 2014-15, the man from ilerdense returned to Spain. First, in Elche, then in Rayo and finally in Getafe. He is endorsed by the experience of 16 years in charge of sports departments, their relationships and their fruitful stages, such as Espanyol and Getafe.
At Barcelona, he has carried more the weight of the negotiations, more used than Eric Abidal to these tasks. He took advantage of the market opportunity, and his relations with Italian football, to sign Arturo Vidal and to exchange (although with economic transactions) Arthur for Pjanic, in a move that Barcelona needed to obtain immediate income. Planes reached an agreement with the player of the Italian club that was key. He did not get other bets such as Todibo and recently he rejected a strong 60 million from Leicester for Trincao.
Now, with the departure of Abidal, he assumes the command of one of the sporting directorates with the most resources in world football, unlike his years as a backpacker in Rio de Janeiro, where he had to find his life in any way. A self-made sports director
Photos from as.com