Pello Bilbao flies in the chrono and is the new champion of Spain
The Basque won the demanding race with a time of 1:03:32. Luis León was silver and Gorka Izagirre, bronze. García Leg, gold U23.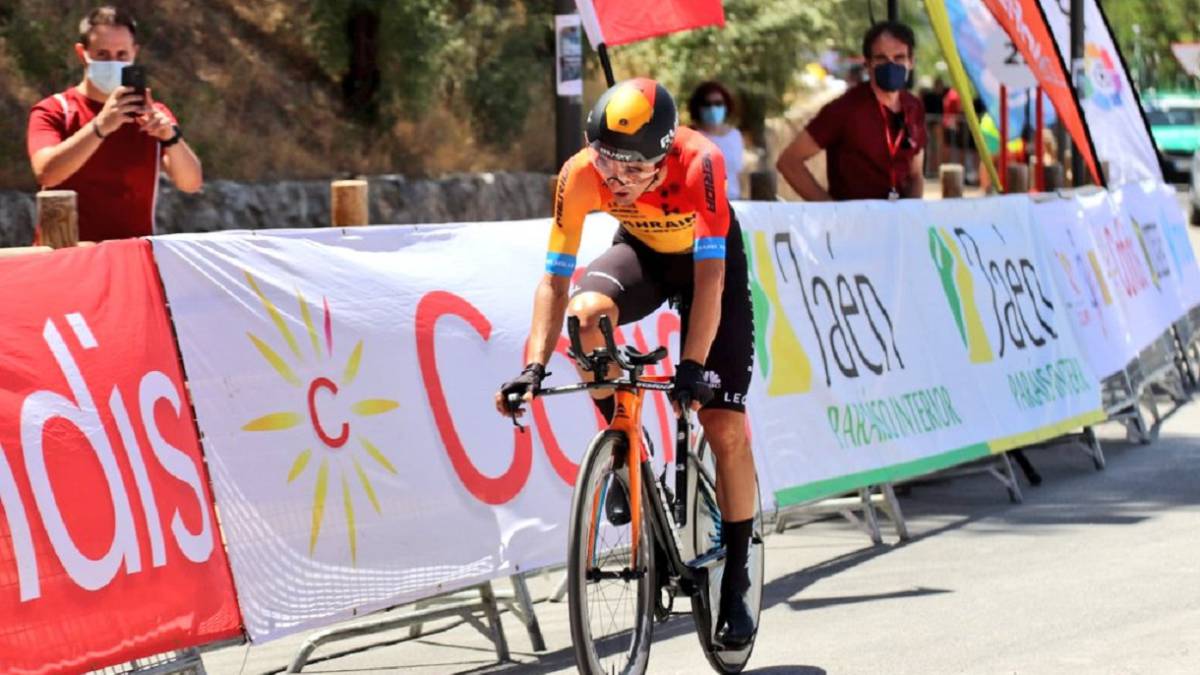 Pello Bilbao will wear the colors of the Spanish flag in the time trials next year after proclaiming itself this Friday champion of Spain in the modality at the National Championships held in Jaén. Bilbao, who started as the great favorite in the absence of Jonathan Castroviejo, did not fail and prevailed in the test ahead of Luis León Sánchez, who took the silver, and Gorka Izagirre, who was bronze.
The riders had to face a demanding 45.38 kilometer route between Cazorla and La Iruela with a favorable first part and a second section with numerous climbs. Ángel Lorenzo Sánchez was the first to start although Lluis Mas was the first reference to take into account at the intermediate point of kilometer 26 with his time of 31:28 although Vicente García de Mateos and Rubén Fernández improved their record. Luis León Sánchez was the first cyclist to drop below 30 minutes, although Pello Bilbao showed signs of his good rhythm, setting the best time in this kilometer with a record of 29: 29.
The second part of the route favored more those runners who, in addition to against the clock, also defend themselves well by climbing. Lluis Mas marked the first reference with 1:07:59, although Roger Adriá and later Óscar Rodríguez surpassed him in the first provisional place. The favorites were yet to arrive and it was then that Luis León Sánchez witnessed his credentials to the title with a record of 1:04:08, a time that his teammate in Astana Gorka Izagirre was not able to beat. But Pello Bilbao still had to arrive and the cyclist from Gernika did not slow down in this second part of the clock to stop the clock at 1:03:32 and, in this way, remove the thorn from last year's Spanish Championships , when he was second behind Jonathan Castroviejo.
Classification of the men's time trial of the Spanish Championships
1. Pello Bilbao (Bahrain-McLaren) 1: 03: 32
2. Luis León Sánchez (Astana) at 0: 36
. Gorka Izagirre (Astana) at 1: 36
4. Jaime Castrillo (Kern Pharma) at 3: 09
5. Óscar Rodríguez (Astana) at 3: 15
6. Rubén Fernández (Euskaltel-Euskadi) at 3: 28
7. Vicente García de Mateos (Aviludo-Louletano) at 3: 29
8. Roger Adriá (Kern Pharma) at 4: 11
9. Lluis Mas (Movistar) at 4: 27
Raúl García Pierna, new sub-time champion 2
In the men's sub-23 event, Raúl García Pierna from Madrid won the gold medal after a great second part of the time in which he managed to open distance with his pursuers after a start of test with very tight times among the favorites.
3,333,330 runners faced the same route as the women's absolute category with 26.3 kilometers between Cazorla and La Iruela. Jokin Murguialday and Javier Romo set the first outstanding times in the first intermediate point with 14:17 before Bennassar, García Pierna and Azparren improved their records with just one second difference between the three, which remained in times of 14:12 and 14: 13.In the second part of the route, Murgialday was stronger and remained the leader with a time of 39:19 until Raúl García Pierna arrived, who stopped the clock at 38:50, improving the Basque's record by 29 seconds while Bennassar and Azparren made this second part of the time longer. Finally the silver went to Murguialday and the bronze to Iván Cobo with a time of 39:41, beating Xabier Mikel Azparren by a second, who could not retain the fifth title in Murcia last year. Classification of the men's sub-23 time trial of the Spanish Championships
1. Raúl García Piernas (Madrid) 38: 50
2. Jokin Murguialday (Euskadi) at 0: 29
. Iván Cobo (Cantabria) at 0: 51
4. Xabier Mikel Azparren (Euskadi) at 0: 52
5, Pelayo Sánchez (Asturias) at 1: 09
6. Fernando Tercero (Castilla-La Mancha) at 1: 15
7. Javier Romo (Castilla-La Mancha) at 1: 21
8. Adrián Barros (Galicia) at 1: 29
9. Álex Jaime (Catalunya) at 2: 00
10. Eugenio Sánchez (Valencian Community) at 2: 01
Photos from as.com