Parejo says goodbye to Valencia and breaks into tears: "I'm hurt"
The former captain explained his departure in a telematic conference: "My son does not understand that I am leaving, if he has always been from Valencia. I wanted to retire here."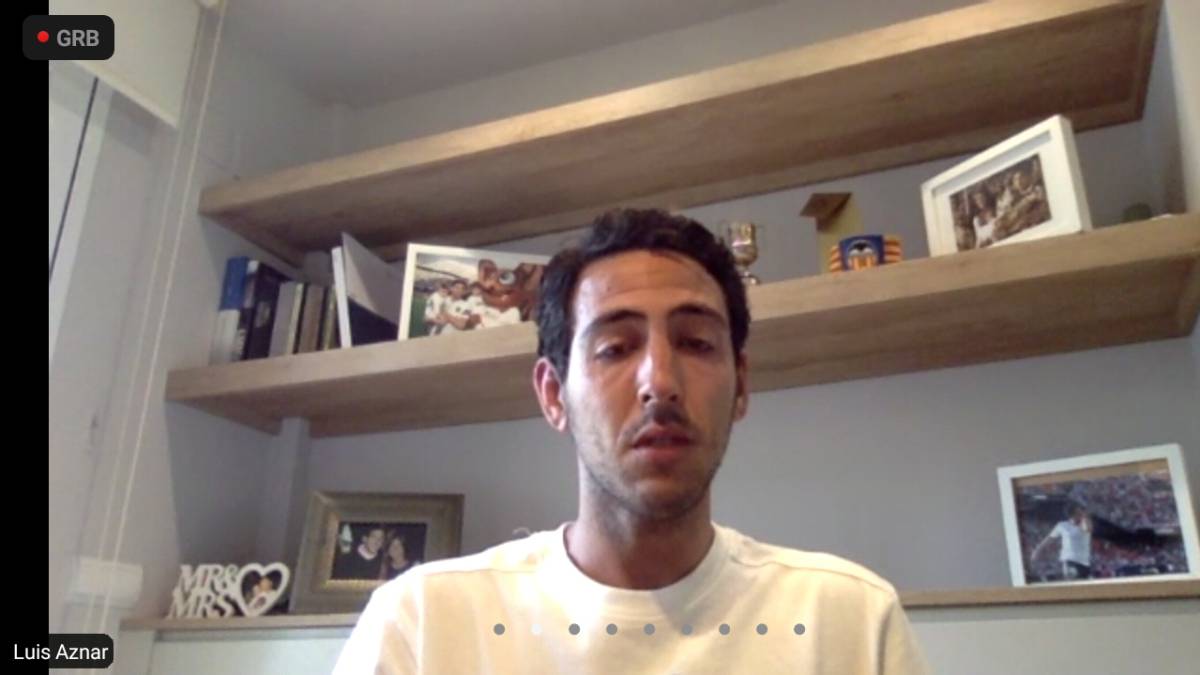 The telematic press conference of Dani Parejo began with an audio of his speech at Mestalla on the day of the celebration of the Copa del Rey won by Valencia, with Coslada as captain, just over a year ago in Seville. It was his way of starting his goodbye to Valencia and Valencianism, his club for the last 9 seasons.
Parejo would have wanted to fire at Mestalla, but the club refused to hold a regular press conference at its facilities. So he spoke from his home in Valencia, from a room where he could see memories of his time as a black and white, such as a replica of the Copa del Rey or a captain's armband and photographs.
Tears came to Parejo during his farewell, especially when he explained how his son Dani has felt that his father goes to play with another shirt. Parejo said goodbye with the same class he plays with, without wanting to add more fuel to a bonfire that is lit by Mestalla for his departure and that of Francis Coquelin, although stressing that his wish was none other than "to have been able to retire with Valencia ".
"Hello, good afternoon, before asking questions I want to say that I have two houses in Valencia, one is mine and the other is Mestalla. I would have liked to say goodbye at my other house, but it couldn't be" .
Did you always say that you were excited to finish your career at Valencia, but why has everything gone through the air?
My goal and my thinking has always been the same. I had been at the club for 9 years and my career is linked here. I would have liked to retire, but football is like that and it couldn't be. I leave satisfied and with my head held high.
Why do you think you are not a Valencia player?
Football is football and it is very changeable. I am sincere and they know how I think. I have said what I had to say at all times. I leave with a very clear conscience. I am sad and hurt because I have been here for 9 years and I have lived very beautiful situations. Another exciting project has been presented to me, in which I believe and football is like that. I will always carry Valencia
At what point does the club inform you that it does not have you?
After confinement, we were not in the best situation and the club contacted my agent and the competition was still there. I do not want to make an excuse that things were not the best way, but I do not see that they are the best ways to communicate this. I understand and respect that it can be the best for the club. But I do not agree that this is the time or the place to do it.
Why couldn't you say goodbye and what have your children told you?
I don't know why. I don't know if because of Covid. I have not been given any explanation.
My children are small. Diego knows little. Dani is true that he does not understand why I have changed teams, that he has always been from Valencia. I have told him that football is like that. It's sad (starts to cry). In the end children are children.
Do you feel betrayed?
I do not want to enter to value that. I have a very calm conscience. I keep the best moments and I am very proud of my career.
What's going on at the club?
I do not know who is in charge of making these kinds of decisions. But I can't tell much more. We don't really know what happens. They fire Camarasa, which hurt me; they fire the retrainer, a physio ... We don't know what happens. I know of my situation. They informed me with the competition at stake, that the intention was for me not to continue. Even so, I have always tried to find a formula to continue. It has not been. The issue was settled and I have looked for the best possible, an opportunity in a project in which I believe and in a family and stable club, of which everyone speaks very very well to me.
What's left?
I stay with the positive, with the good, I am extremely grateful to everyone for the messages. I have not experienced anything better than playing for Valencia.
What is your opinion of Anil Murthy and what is his relationship with Peter Lim? Why do you think he has been singled out?
My relationship with Lim is short. I only went to Singapore once, when they bought the club. I was with him only 24 hours. I have neither good nor bad. I also don't think we have to have a relationship with him. With Anil we do have more relationship, although it is also without more. I have always been sincere and have said things as I think them. To Anil, the coach or a partner. I go face and perhaps that could have hurt me. I go with my head up.
Do you have the feeling that you have been forced to leave?
My intention was to retire at Valencia.
How do you feel with the Villarreal shirt?
I have looked different. I've been wearing the same shirt for 9 years and you look different. But I am very excited. I am happy. I go to a great club, a great project, where I think I can enjoy.
Do you think your relationship with Marcelino has affected your departure?
I don't know. It is a situation that I do not control. What can I tell you about Marcelino? Only good things, like Valverde, Nuno or Unai.
To be specified, was it the day before Leganés when you were told that it did not count?
I already said it was before the competition ended. They transmitted it to my agent, to me… I think that these are not ways or moments in which that should be said for which we were playing, because there was a week and a half left to finish the competition. Still I tried to do my best.
Did you expect goodbye to be like this?
I leave in pain, yes. I would have liked to be in my other house, which is Mestalla. But that's the way it is.
How do you think you will be remembered by the Valencia fans? Do you think that one day you will have a canvas in Mestalla?
I think well, that people will remember me well. I don't know if they will put me on a canvas in Mestalla. For me today Valencia is the best. I have not been to another club like it. We will see the future.
How have these two days been when you already knew that you were going to Villarreal?
These two days have been difficult but at the same time exciting. I am proud of my colleagues. I have to go say goodbye to them, because I haven't done it yet. I've done it over the phone. I have to go say goodbye to everyone.
As Valencia's captain until yesterday, are you surprised by the departure of a player like Coquelin?
I am not surprised by all that I have commented. I can only say that now I am lucky to have him as companions again.
How did you try to stay? An economic issue?
I do not know the intention of the club in the economic issue. If you want to be a strong and powerful club and fight to enter the Champions League, I understand that you have to have great players. I do not know if the economic issue has been the reason. If so, I don't think this is my site. They have not explained the reason: if it is my salary or that I say how I think it. I told my agent that I wanted to retire at Valencia, that my life is here. I understand that they did not reach an agreement.
Did you want to go to Singapore?
If we raise it with the club. It wasn't just the captains. It was the entire squad. We didn't see exactly what was going to happen. We were convinced of the model and the style. We believed in the coach one hundred percent because of the results we had had.
Is it costly to be critical, would you advise the next captain not to be critical?
Not at all. I believe that everyone has to say what they believe at all times. I don't know if that was a reason. I am as I am. I mean things sincerely. If that's why, I'm going with my head held high.
How is the moment when you tell your family?
Difficult. I have been at Valencia for 9 years. My children are Valencian. I am captain. My professional life has been linked to this club. I've been screwed over by the situation. I'm leaving the club of my life. Happy and excited because I am going to a great team with a great project, great players and an excellent coach.
What is your vision of Valencia as a club?
I don't know. With the uncertainty that you see it. I personally wish him the best, because Valencia has made me enjoy myself a lot. I only have words of thanks. I wish him well. Today and always.
Photos from as.com