Parejo: "I couldn't have chosen a better place than Villarreal"
The midfielder assures that it is a "pride and a responsibility" to replace Bruno and to be compared with Marcos Senna.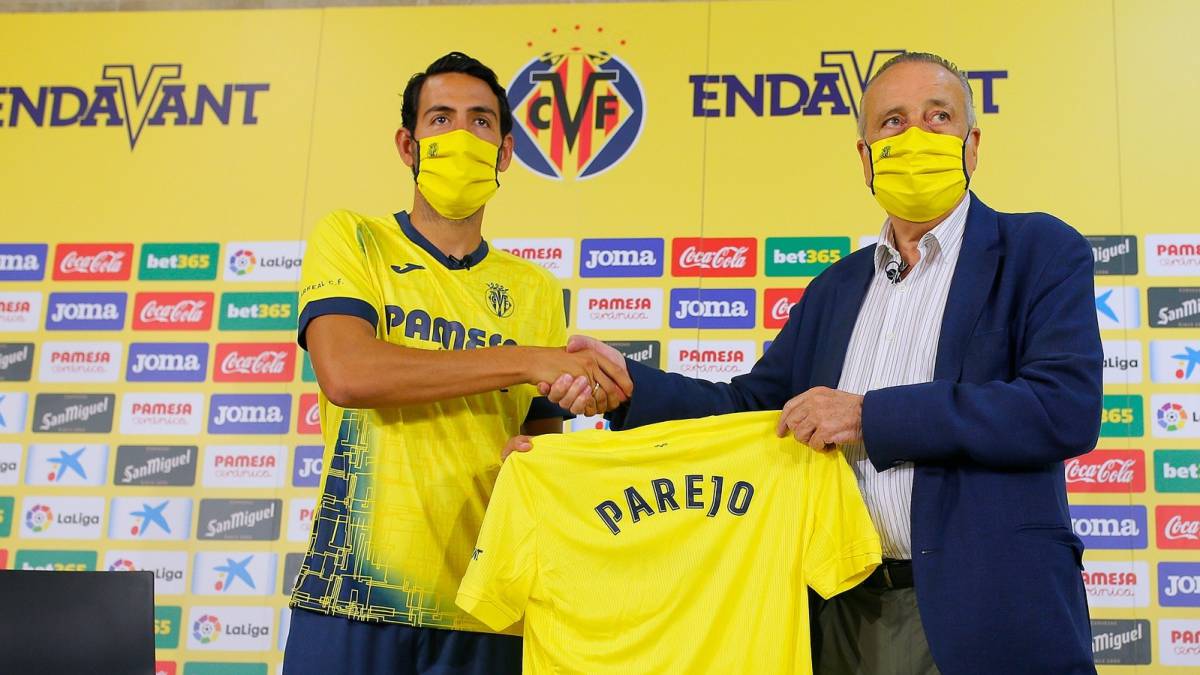 Dani Parejo was introduced as a new Villarreal player at the Estadio de la Cerámica. He spoke on the following topics:
Happy to arrive at Villarreal: "It is a pride to be here and to be part of the Villarreal family. Everyone, players who are no longer here and who are friends of mine, have told me about the treatment and how well things are done in this club. I know him from outside, but all of them have assured me that I will be comfortable ".
Great effort to make a great team: "The club is making a great effort, not only with me, but with everyone, it is doing a great project, with a coach who has won many titles. Every time I have seen this shirt and these colors I am going to give my all, both the club and my teammates have me at their disposal in any area. I am an open and sincere boy, who always looks forward. Something that I will continue to be. I am really looking forward to and excited about this new project, I think that we are going to have a great year ".
Coquelin: "Of course the presence of Coquelin makes things easier for me. I have also coincided in another stage in my life and in another club with several of the players of this team. I know many more players with whom I have played and that I have a lot of friendship, having even coincided in the National Team ".
Valencia: "I'm here to talk about Villarreal. I'm proud of my past, but it would be disrespectful for me to talk about other things, I'm worried about the present and the future, I'm worried about preparing for an exciting season, and I'm focused only on that. "
Replacing Bruno: "It is a responsibility and pride that one can think that I can replace Bruno. If so, it is something that must be faced. I never hide, I am participatory, I like to keep the game tempo and I have always I asked for the ball. It has brought me this cheekiness and that way of playing, so it is something that I am not going to change. If you compare me with Bruno and Senna, it is a pride and a challenge, they are not just any footballers ".
Winning titles: "Football is more difficult every day. If you have a good squad and we are capable of being a truly team, you have more options, that is what makes you win titles, not individualities. Villarreal has always shown that it is a great player. Spain, it is no coincidence that many of its players are international. I come to fight for titles and to play the Champions League, hopefully this year we can win the first title ".
Game idea: "When I have played against them, with Getafe and Valencia, I have suffered their way of playing. That style of having the ball and the way of playing games. The way I see football, think and execute It suits me very well, because I understand football that way. The club is making a great effort, I have chosen well, it is the best place I could be, in a great project ".
What convinced you of Villarreal's offer ?: "Closeness, not changing home and environment for the family is important, in the end what I'm looking for is the best for me. Talk to my agents and the first option was Villarreal because of what I have said before. I think I can fit in perfectly. The club and I agree, I am very happy and excited. I have always thought at a sporting level, not if I live in Valencia or nearby. I know where I come from and I know what There is. Cazorla, Soldier ... they have spoken to me very well, about the tranquility at the time of work. It has been a very, very good reception ".
A yellow title: "Hopefully we will try to reach a final this year, win a title. And I really want to play the European Championship, which would be another goal in my career, representing your country is the greatest thing on a personal level . There are many incentives ".
Roig: "Dani gives me very good vibes"
Happy to have Dani Parejo: "We are going to be enjoying the four years of the contract that we have signed with Dani Parejo. I wish you the best stay and that through collective success the individual arrives in this project that we have put together with great enthusiasm ".
We are no longer here to talk about the player's past: "The utmost respect for all the clubs in the Community, but this is not the place or the time to talk about something other than Villarreal. This is not the time and place to talk about others things, but for me this is the future and we must talk about Dani's future with Villarreal. You have to have respect for the past, you never have to renounce history, I also have a past similar to him, but I only think in yellow. the utmost respect for him, for the new club that has signed him ".
We are looking forward to four great years with Dani: "We are going to have a very good four years, I have very good vibes, but we have to show it later in the field. This is a place of peace, backwater and tranquility, to enjoy this moment, which is to present a great player. We are going to demand that the four years be very very good for Villarreal ".
Photos from as.com