Palou: "The car is very good and I can win the Indy 500"
The 23-year-old from Barcelona aspires to the maximum in Sunday's legendary race in which he will start seventh: "Our starting position shows potential."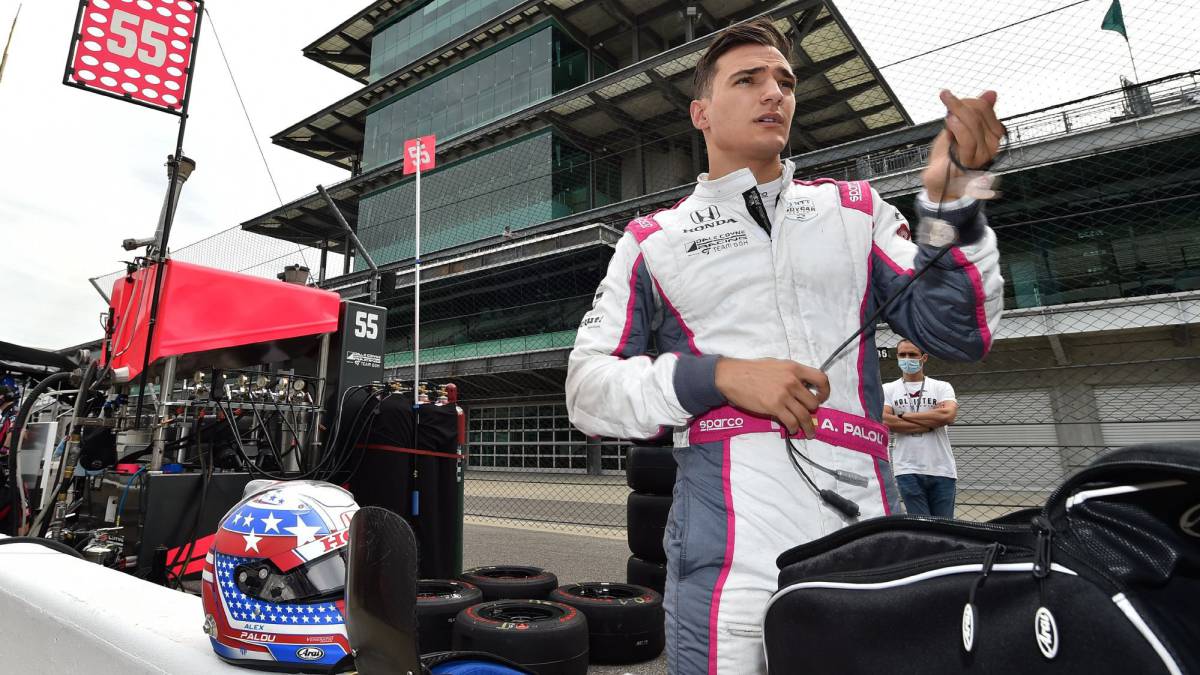 Álex Palou is completing an exceptional IndyCar debut season. The 23-year-old from Barcelona already knows what it's like to get on the podium and fight for pole position in the Indy 500. This Sunday he optimistically faces his debut in the 'Great American Race', a legendary motorsport event that has never registered the name of a Spanish driver in the trophy. The Dale Coyne Racing driver wants to be the first and will face the 32 rivals, among whom will be Fernando Alonso, without fear and with ambition. Before the battle he attended AS.
-For his Indy 500 debut he almost made pole position ...
-Yes, (laughs). I already had the 'feeling' of having been in an oval in Texas and Iowa and in this way I arrived in Indianapolis having taken off my rookie suit a bit. I knew we had a pretty good car, although I didn't expect it to be that good as it has been seen that the level of the car here is much higher than we have had so far. That shows the enormous work that the whole team has done. From the first practice I was super comfortable and also riding in traffic. We saw that we were going to fight for pole position and although we didn't get it, we were fighting for it until the end.
-In the end he will start seventh for something external, but despite the disappointment of not achieving success I suppose he will be excited for the race.
-We had a problem and yes, I was annoyed because we just lost an opportunity to get pole position in the Indy 500 that you don't know if you will have it again in the future. It makes you angry, especially at first, but the other seven who, like me, were left without her will think the same. Of course, two minutes after taking off your helmet you realize that you come out seventh and that is something that ten days ago I would have signed with my eyes closed and it would have been hard for me to believe. We also saw that the car was going very fast and in fact we achieved the best lap of the whole qualifying and that makes me happy for the race.
-Bluntly, does Álex Palou aspire to victory?
-Of course it is possible, as for the other 32 participants. There are 200 laps in which a lot happens. Apparently, the riders in the first three lines have more chances than the rest in qualifying and there I am, so it is clear that it is possible to win. The car is very good and our starting position shows the potential, we did not get to the end of the rebound because of a spectacular lap. We have proven to be super competitive in all the sessions, although you also have to see how it goes in the race against all the rivals and into traffic although there is nothing that indicates that it should be worse. Also, it cannot be forgotten that I am still a rookie in the category and I will be fighting with very experienced drivers who have already won the Indy 500. It will be tough, but also being such a long race allows me to be learning and trying things during both. first 'pit stop' to be full at the end.
-The Indy 500 is a very long race where a lot happens and success and abandonment always hang by a thin thread. It gives the feeling that before thinking of being able to win, you have to survive for a good part of the race.
-Yes, it is a bit like that. With cars so close in an oval to the minimum you go out against the wall. You could say that they are 150 laps of the 200 survival. In addition, this year overtaking is very complicated by the 'aeroscreen', by the track conditions with 60 degrees of temperature instead of the usual May 30 ... The first five laps after the 'pit stop' will be key when with tires new ones try things that cannot be done with old tires such as going outside or overtaking the limit. That will surely cause errors that will result in dropouts. My strategy is to learn at the beginning, survive 75% of the laps and the last 50 go to war where all 33 drivers will want to do the same: win. It will be very entertaining for the fans, who unfortunately cannot attend live, because we are all going to go to the limit. Despite the lack of live fans, I think it is important that the organization has continued because it is necessary for small teams like ours that live off the sponsors and the prizes you get with the Indy 500. I hope it's just this year and in 2021 the stands will be crowded again.
-Did you hope as a rookie to have such a successful year?
-You never expect anything because as soon as there is something that doesn't fit, things go from bad to worse, but I was in mind. I have a one-year contract at the moment I wake up or they send you home. It may not be expected but it is what I wanted and intended. It is a special season, very small, with no test or almost any practice ... In this difficult situation I have been a bit surprised by how we are doing it and the results we are getting.
-32 rivals for glory and one more special than the rest: Fernando Alonso. They have spoken? How do you see him?
-Here we see each other continuously and we have spoken. He is eager. Chevrolet has had some problems in qualifying compared to Honda, but is convinced that this will not happen in the race and it will go much better. It is special that Fernando is here, not only for me, but for all the drivers and teams, it is very good for the championship. Obviously for me it would be very special to be ahead of Alonso and I think I am lucky to have, at least so far, a car that is superior to his.

Photos from as.com