Oliveira: "I knew I could benefit from his fight"
"Nothing has come easy for me in my career. My path has been marked by very hard work. I've always had to fight very hard ", remembers the Portuguese from the top.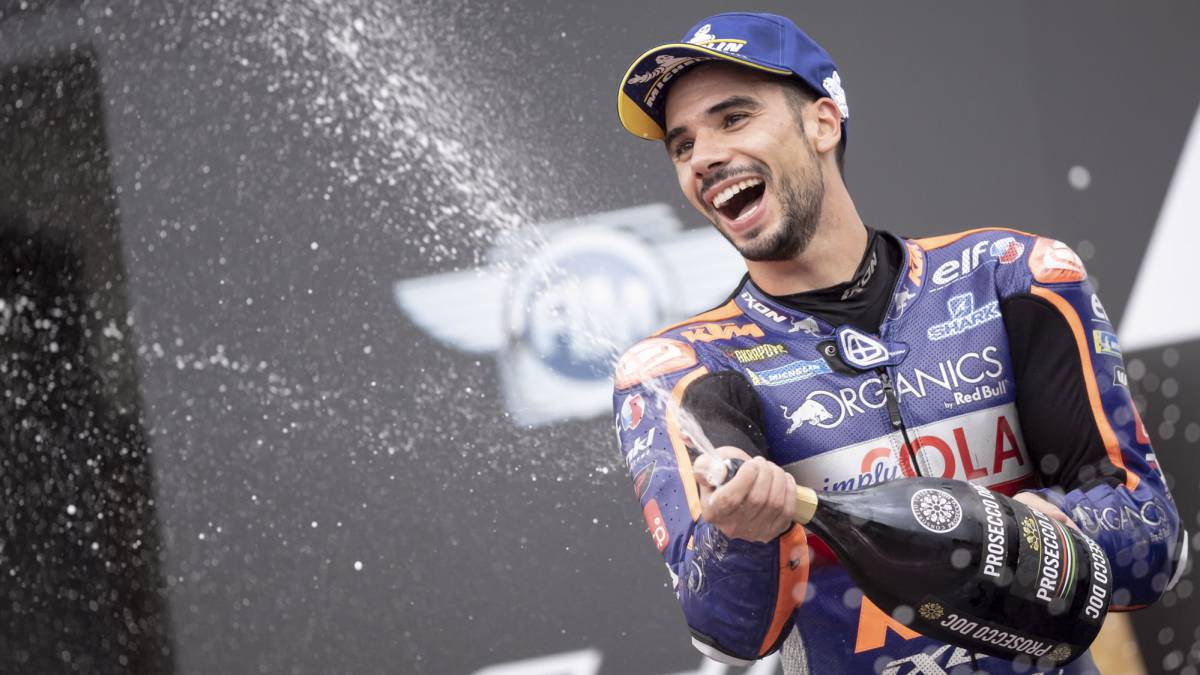 Miguel Oliveira was exuberant of speed after the MotoGP race of the Styrian GP, his first MotoGP victory, the first by a Portuguese.
First victory: "I feel happy and proud. There are many reasons to be happy with how the day has gone. It was a home win for KTM and Red Bull, which makes it even more special, and it's also the first MotoGP win for me. Throughout the weekend we worked very well. I was lucky that there was a second race, because I was able to change the front tire and that is what allowed me to be more competitive in the second race. I am very happy, with my feet on the ground, but with my mind in the clouds. I am happy for myself, for my family and for the Portuguese fans, we are the best ".
The last lap: "You can't predict much in a 12-lap race either. I have gone forward and did not have to worry about managing gasoline or tires. It was an easier race in this regard. He already knew that Jack and Pol were very strong. He didn't imagine he could pass them cleanly, so to speak. Pol started to close the door on Jack a bit more, and Jack was trying to go for the win in the last corners. I knew he was going to go like this and that I could benefit from his fight. I played it safe and cleverly got inside to finish first. "
Your career: "Nothing has come easy for me in my career. My path has been marked by very hard work. I've always had to fight really hard. Last year I had an important learning experience, and with the shoulder injury driving in the second part of the season, it was hard for me. Mentally, he was not in the right mode either. Getting back from there to here is a big step. I have not done it alone. I have a great team behind me, KTM has given me a lot of support and I want to thank all of them. They have placed their trust in me and have given me the strength to continue working. "
Sensations in the lap of honor: "The emotions are similar to those of any person who wins a race. It's special because it's the first in MotoGP, and the truth is that it was a complete satisfaction. In addition, there was also a Portuguese steward at Turn 6. I stopped there, he gave me the Portuguese flag and also a card with his phone number, which I think went flying. I don't know what the man expected, for her to stay stuck! "
Fine riding with the KTM and Pedrosa's work: "We will have to see in the following circuits. I'm trying to ride in a smoother way, or at the very least it works out that way. I would not dare to say that he is such a fine pilot. We have fixed bugs from the season before this one. Dani has done a good part of the work and is giving us very good information to make this bike easier to ride. You can see that in the results. Now we can feel that the bike is easier to ride, that we can be finer. It's a bit the result of Dani's work, who drives that fine. We don't have much reason to worry about the upcoming circuits. In Misano we did a test, but until we arrive, everything will be screenings. "
Photos from as.com