"Let no one wait for an old man, Alonso knows that he is very fast"
Ricciardo and Ocon talk to AS about the future of Renault and the return of Fernando: "He has the talent, a very experienced and very fast driver will come."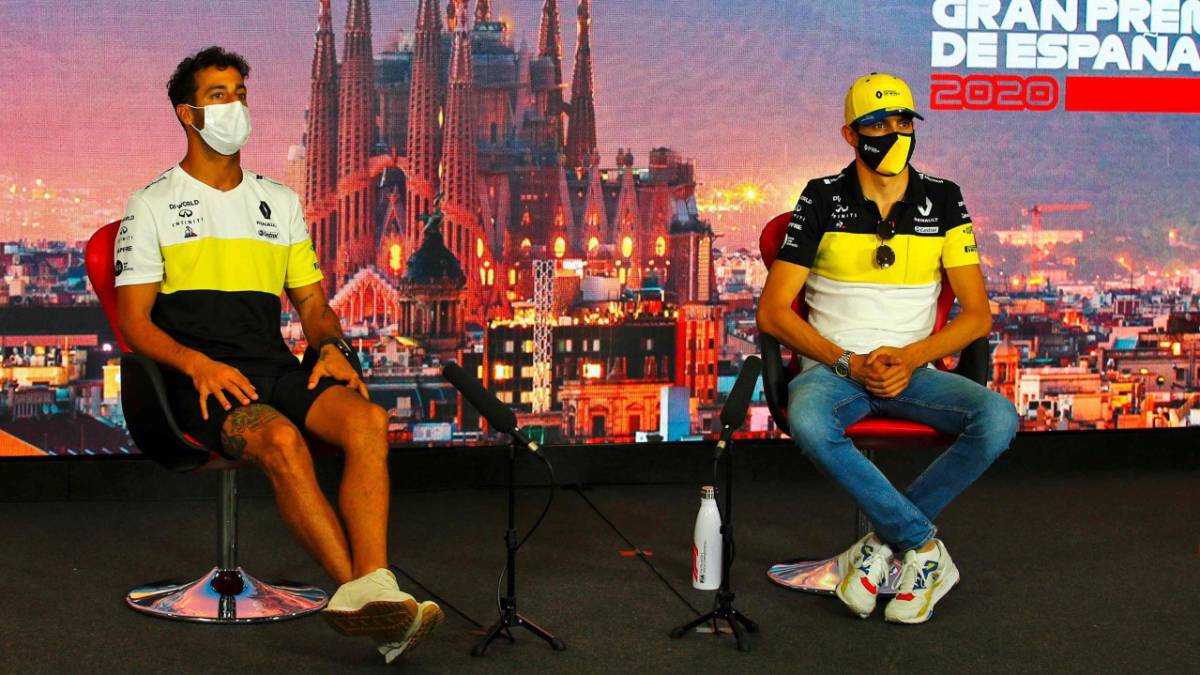 The Renault RS20 is a good car, better than its predecessor, and that is already a good sign for the Enstone factory. The engine works, the technical clarifications of the FIA consolidate it as the second in question behind Mercedes, with more reliability than Honda and more performance than Ferrari. It remains to be seen how the removal of 'party mode' would affect qualifying. But the outlook is good for 2021, with slight aerodynamic changes, and then they can focus on the regulatory revolution of 2022.
As of December, Esteban Ocon will say goodbye to Daniel Ricciardo and will face Fernando Alonso. AS talks to the 23-year-old Frenchman and 31-year-old Australian about the prospects for the garage and their impressions for the future. And what awaits the two-time Asturian champion, seasoned in the Resistance, present in Indianapolis and the Dakar, but, from now on, back in Formula 1 that made him great. To begin with, Ricciardo warns: "Don't let anyone wait for an old man, I'll wait for a very fast Fernando" .
"I wasn't really sure what he would do. I know he's been very busy in a lot of different categories since he left Formula 1. I wasn't sure if he kept wanting to go back to Formula 1, but it seems he does. He has. His last year here he left with a perfect qualifying record (21-0), he was still driving amazingly and Stoffel Vandoorne is not just anybody. He has the talent to push the car to the max, he knows it. I don't expect it. an old Fernando, I wait for a prepared and very fast Fernando ", reasons the future McLaren driver.
"Renault signs someone very, very, very experienced"
Despite his departure, Ricciardo believes, he says, in the project he is abandoning: "Next year, and in the years to come, I think they will continue to improve and progress. Esteban has experience and confidence, but also someone very, very, very experienced like Fernando is coming. I am looking forward to racing against him again and I think Renault will progress strongly in the coming years. 2022 is the most interesting goal for the team with the rule change We will see who takes the biggest step then, but we will have good battles against Renault in the years to come. They have been very professional with me, even after announcing that I would be leaving. "
As for Esteban, French of Spanish origin, how does he handle himself in the language of Cervantes? Serie. "Half of my family lives in Spain, but it's a shame that it's the language I speak the worst. I could speak face to face, but not in an interview. I speak Italian, French and English well and I understand everything in Spanish, but I It's hard to think in Spanish, it's reality. " Better to reinforce it for 2021. "The goal for us, as a team, is to improve the car, develop it and get closer to those in front as the season progresses. The step that has been taken since 2019 and 2020 is going in that direction because it has been great , there are important improvements. It is what we want to maintain, the progression, so that better results can be achieved. It is easy to say it, not to do it, "says the young man.
"We don't have to hide, the engine is very strong"
As for pure mechanics, the engine becomes a strong point when it was just the opposite before. According to Ocon: "We don't have to hide, the engine is quite strong especially in the race. Our top speed is important, there are advantages and that means that the engine is fast, good and reliable. There are only good things there. I don't know who is there. in front, who has the best power unit today, but I can say that it is one of the strengths of the car. " They are at the height of McLaren and are "faster on Sundays". Ricciardo feels closer to the podium: "It is one of the goals a little more feasible this year. We are more competitive and the door opens with Ferrari losing some level. It is possible, but we need the perfect race to make it like that." At least it doesn't seem like a chimera to imagine Alonso with a bottle of champagne during the 2020 season.
Photos from as.com