Mouriño: "It is almost impossible to do worse than last year"
The president makes self-criticism about the last year. He admits that they are looking for four signings and has Murillo. He defended the management of Javier Tebas.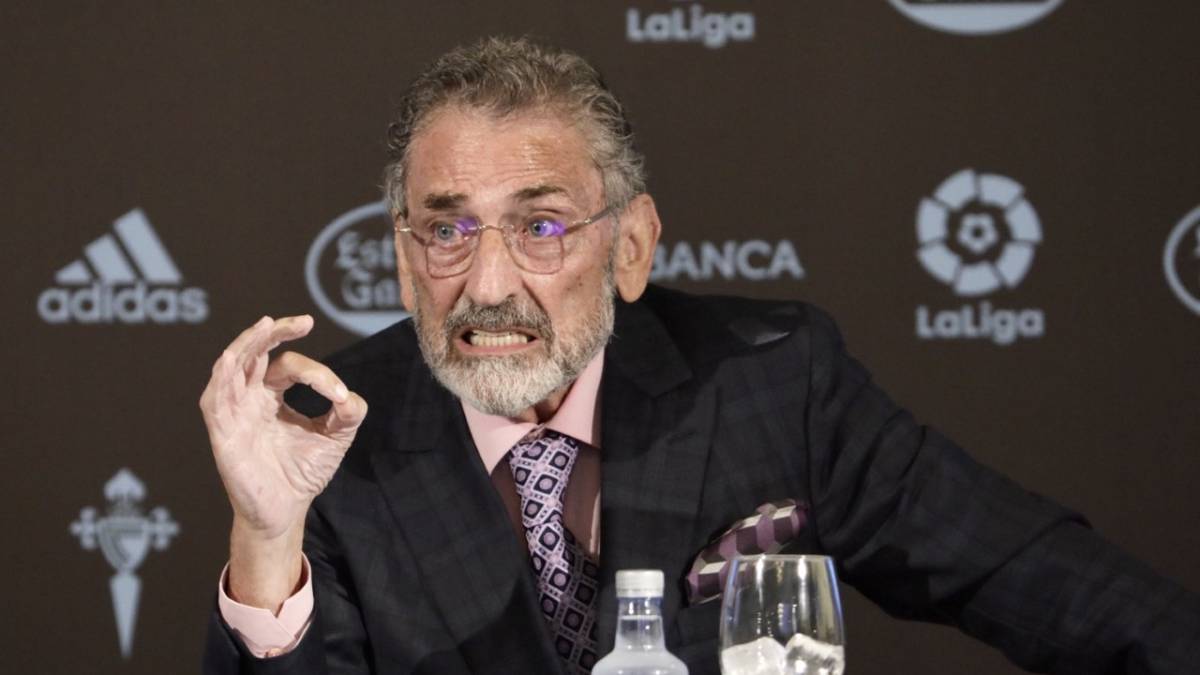 Analysis: "We have had a very bad season, we are all aware of that. It is almost impossible to make it worse, but that does not mean that we are going to be whipping ourselves every day. We are going to try to redo the mistakes of the previous season and work looking to the future" .
Economy: "We have entered 106 million last year and this year we have expected 70 million of income. There is a benefit of 10 million at the end of the year."
Balaídos: "The reform is a real botch, it is not worthy of a stadium that is being built, it is not worthy of the city or the Celta fans. There are seats with reduced visibility that I do not dare to charge the fans and they are 600 tickets. We cannot put them on sale because they will say that we are scamming them. They are scamming us all. The investment for the reform of the stadium will be 50 million. The city of Vigo does not deserve to spend that money to leave so many botches, It is a real outrage. We have submitted a complaint of resolution of the work agreement to the City Council of Vigo for non-compliance with the dates. It is a complaint that the City Council will not answer and we will have to turn to the authorities to terminate the agreement " .
Filial: "We are forming a competitive team, which already has players a little more veteran, not so much of age, but of experience because our base of the B is the youth and it is difficult for them to take that step" .
First team: "We need an eight, a nine, a winger and a winger. We are aware of the goalkeepers and the start of LaLiga, because if it does not start until January we will not sign a goalkeeper. If it starts much earlier, we will have to consider the signing of a goalkeeper. It is a very difficult year because we do not know what is going to happen with television and surely we do not have income from fans. We have the great advantage that our previous management has allowed us to maintain numbers that make us dream of a player. We are in a waiting period to see if the situation clears up ".
Murillo: "We are looking for players who can fill us two positions, that would be optimal for us, then the market tells you where you can go. We would love to sign Murillo and as long as we do not have the definitive no, we will have him. If he finally does not come, yes we would have to sign a central ".
League of 24: "We have a rule. We do not go to the boards of directors or to the assemblies because we consider that we do not have any representation. We do not go because our voice is not taken into account. We are not with any group, we do what we believe that It is better for Celta. I have played it many times defending Deportivo in front of our fans. I want a Deportivo in the First Division, but I don't get involved in judging cases ".
Rafinha: "He is a player we want to have, but he belongs to Barcelona and now they are the ones who must move. Today it does not depend on us and as it is, it is very difficult for there to be movements in the next few days" .
Bookmaker sponsorship: "Spain has a regulation, my fans cannot ask me to compete under other conditions. It cannot be that other teams charge a lump for carrying that advertising and we do not. Ethically I can reject it and I do not bet and also I understand that there are people who reject it, but I ask you to put yourself in our place. Besides understanding it, I share it ".
Tebas: "I am not going to judge Thebes. I am not a supporter and we were the only team that did not vote for it, but we are not going to judge it. What has Tebas done wrong? I cannot find an answer. I have no element to tell me that Thebes have done it wrong. On the other hand, they have all the support of the federated clubs, except one or two, so they will have done something right ".
Emre Mor: "It is a case that we would like to decide quickly. He has made a great effort personally to show that he can be useful to Celta. He is convinced that he has changed and that he will change. The doubt is that It is not the first time that he says it. He will start training, but we will study all the offers that are available on him. Then it will depend on the coach ".
Sisto: "It is a very special case, it depends a bit on him. At the moment there is an offer that seems small, but we are going to continue fighting. He had millionaire offers to go to play in other countries, which paid him five times more, and He did not want to go. There was even a team that brought the shirt with his name on it and he did not want to go ".
Sports city: "We said that we would be training there in September and we continue to maintain it. For what we are doing now, we do not need the permission of the Promotion Department. Sometimes things are said to damage the project, but they are not real, otherwise the works would have stopped us ".
Unified schedule: "There is a rule that says that due to force majeure, the unified schedule can be changed. But I tell you more, it was not Thebes, it was the CSD, LaLiga and the Federation, so I cannot question it. If I were Deportivo, I was still protesting like them, but I don't think Tebas was wrong ".
Name Ciudad Deportiva: "We excluded proper names because there are too many that could be there and in a few years no one will recognize that proper name. We want something more sentimental, more generic",
Covid positives: "We are very rigorous and we do not want to give names, neither can we, because it is a question that the laboratory gives to LaLiga and it is LaLiga who gives instructions to the players. We had another player who tested positive a long time ago and then after Four days it has already been negative. Those two players took the tests again today and hopefully they are negative ".
Hugo Mallo: "We would do the best for him and if he wanted to leave, we would not hit him at all. It is something that has to start from him, it will never start from us" .
Jorge Sáenz: "He has one more year on his contract and at the moment nothing has reached us. We do not know if there are journalists in Valencia who have more information about the team itself, but for now they have not told us anything" .
Photos from as.com