Mourinho, in the documentary, to Dele Alli: "You're a fucking bum"
Amazon's Tottenham documentary opens on August 31, but the preview features the highlights from the beginning.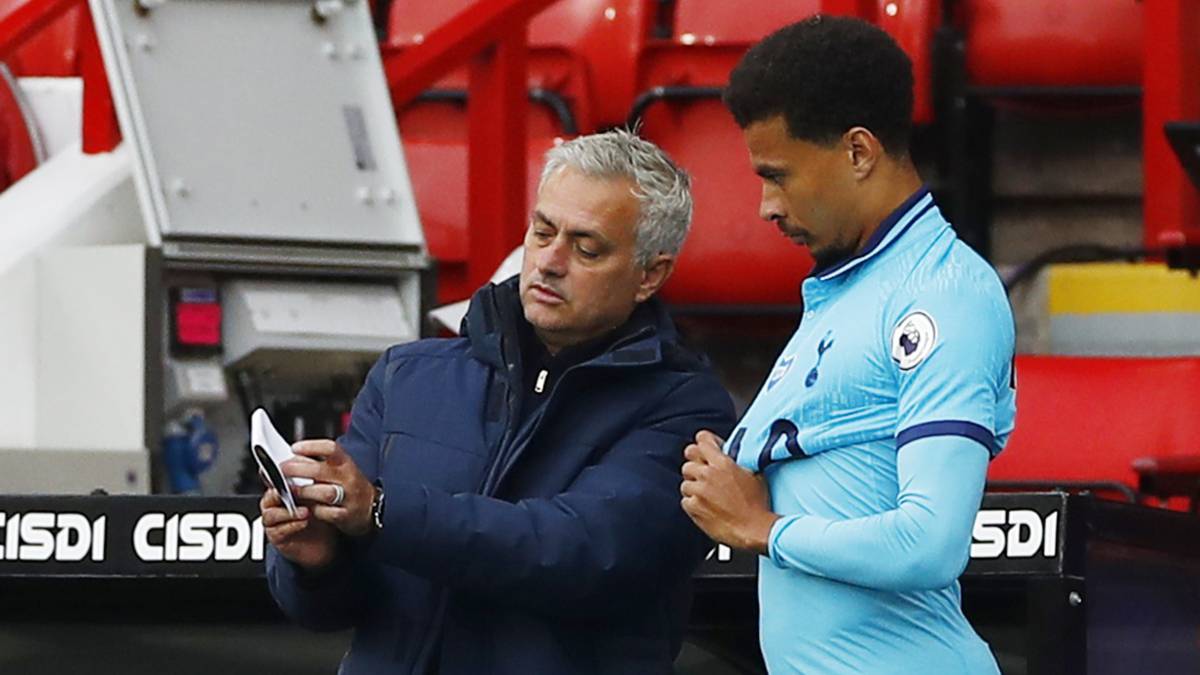 Lights, camera, action! All or Nothing: Tottenham Hotspur will be officially released on August 31, but Amazon has shared an appetizer from which the Daily Mail has extracted all the juice. When Daniel Levy signed the agreement with the American giant, his mind was surely waiting for a documentary loaded with celebrations and heroic moments. However, the spur season has been far from what happened in previous years and the leading role in the play passed to José Mourinho, who did not belong to the initial cast, after the firing of Mauricio Pochettino in the first acts. The first three chapters show the Portuguese as the piece around which all the action revolves and Dele Alli, Harry Kane, Serge Aurier and Eriksen are its main plot threads, in addition to the dismissal of Pochettino, narrated by Levy himself.
Dele Alli
The English midfielder receives instructions from Mou both in training and in his first talk in the coach's office. In addition, you can see how the Portuguese talks to Daniel Levy about Dele and confesses that Ferguson, in his time at United, recommended signing him. The relationship between coach and player marks the beginning of the documentary: "You are a bloody lazy. I'm going to be a pain in the ass for you and you are lucky for it. When I am a pain in the ass, it is a good thing," he says in his first contact. "Where's Dele? I realize you're a fucking lazy in training. I don't need any more time for it. Lazy," he continues in the office.
However, he appreciates the player's actions on the pitch: "I don't want to be your father, you already have a father. I just want to be your coach, but with a good connection. I must always tell you what I think and you can send me to shit. I have no doubts about your potential, I have seen you do great things, but I have always seen you have ups and downs. There is a big difference between a constant player and a player of specific moments. That is what makes the difference between a top player, top player, and one with the potential to be one (...) I think you should demand more of yourself. Not me, you should do it ".Harry Kane
Another of the great talks that the Mail lights up is that of Harry Kane and Mou in his office. A face-to-face in which the forward learned to deal with his new coach: "The world looks at English football with tremendous respect, but thinks that the stars of that movie play elsewhere. I think we must build your status in that address. My profile ... I am a bit like a coach. The reality is that my dimension is universal and being with me can help you too ".
Kane got on the boat at first: "That's my goal. When you're in a team like Tottenham, of course we've done well, but I want to be like Ronaldo and Messi." "It's not enough," Mou responds. "What I don't accept, because it's my fucking nature, is to be here without winning anything, damn, I don't accept it. I feel like we can do it. Thanks to you. I have better players than I had at United. This team is about to explode I'm here, okay? "
Dismissal of Pochettino
Daniel Levy is in charge of capturing one of the most bitter moments of the documentary. Mauricio Pochettino's goodbye: "A heart attack, that's the most honest answer. My heart told me no, my head told me I had to. It is the most difficult decision I have ever had to make. It was much more than a relationship between employer and employee. We went out together, we had great moments outside the club. I am sure that, in time, we will do it again (...) It is not a beautiful experience for either of us ".
Doubts about Serge Aurier's defensive ability
At halftime in the Champions League match against Olympiakos, Mourinho turns to Serge Aurier and blurts out calmly: "Serge, you are a marker. Do you speak English?" After which he explodes: "I'm afraid of you as a marker, because you're capable of taking a shitty penalty with the VAR. From what I'm telling you, I'm afraid of you." Interestingly, Aurier scored the third goal of the spur comeback after losing 2-0 (he ended 4-2) .
In addition, the continuity of Christian Eriksen stars in another part of the preview. "It's very complicated with him," explains Daniel Levy. "The problem we have with Christian is that none of us really knows what is going on. His agent controls everything and there is no dialogue between him and the club. If he has six months left on his contract, he has signed (for another team) or no, he's going to be (injured) unconsciously, he's going to be in his head. " Levy ends up convincing Mourinho that they must try to make the Dane change his mind. The end of this story is already known and Eriksen ends up at Inter Milan.
Photos from as.com