Monchi: "On May 8 we looked almost like plagued"
The sports director returns to a final just 17 months after returning to Sevilla: "Making Sevilla happy is not a job, it's my passion."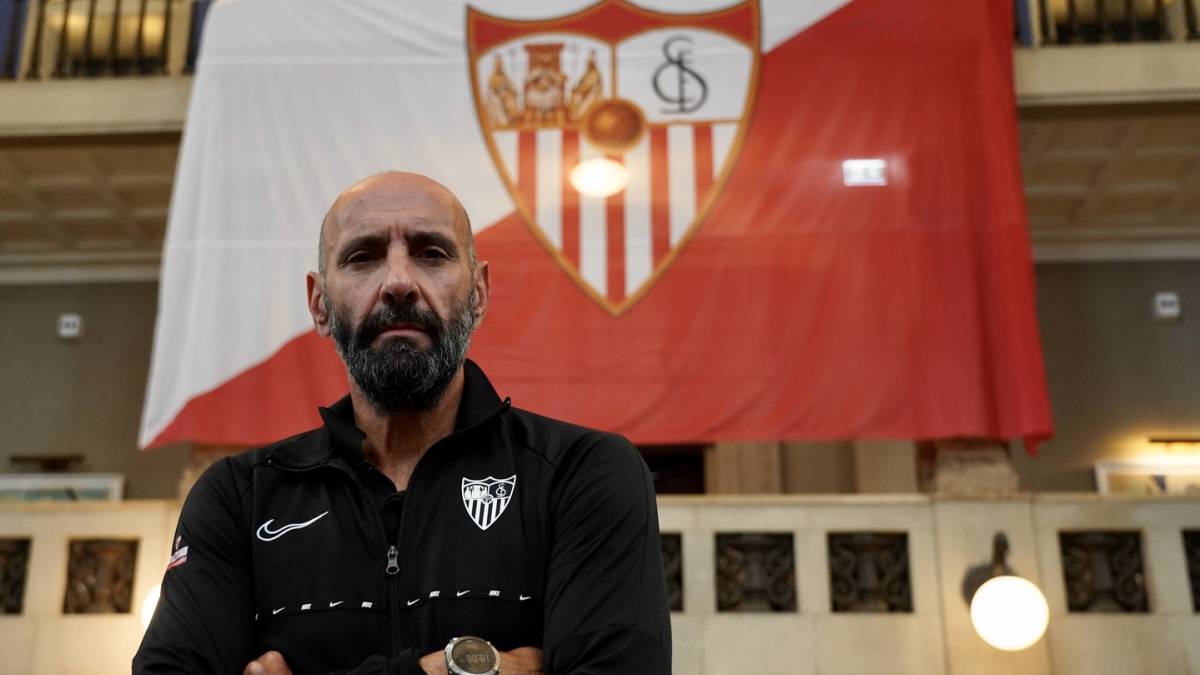 Another ending, Monchi. Little more than a year after his return to Sevilla. Did you expect this in your best dreams?
When I returned in March of last year I drew many scenarios and tried to set much shorter goals for myself. I wasn't thinking about whether or not we were going to play another final. I knew that the level of self-demand and that of this club was going to be great, as it has always been in recent years. I tried to prepare myself mentally. Being in the day-to-day of the squad that was then, although it was going to change a lot, helped me to improve and I tried to form a coaching staff and a team that could respond to those demands.
Does this year's success change your plans at all?
This is a club where the line between success and failure is getting thinner. And I have many defects, but I am not egotistical. If there is someone demanding with me, it is myself, more than anyone. I don't know what will happen on Friday in the final but I do know what will happen on Saturday already. That day I will be focused on trying to build the best possible squad for next season. What happens against Inter is not going to influence me at all.
Are you not over demanding, sometimes?
When you are in his club, and I am in the one that Seville is my club, you think of him as if he were your son, or your daughter or your wife or your brothers ... Everything I can give Sevilla is little . This is my home, my people, I never want to be separated from this team. I appreciate how happy we can make the fans and I think that this is not a job, it is a passion. And there is usually no limit in passions.
What feeling did Inter Milan give you?
When the draw came out we took a tour: Wolves, United and Inter. And it has been fulfilled one hundred percent. I was not impressed by the semi-final against Shakhtar because I know Inter, Conte and their players perfectly. I still follow Serie A a lot, I still have a lot of sentimental ties with Italy. They got 5-0 to a good team, the Ukrainian, who came as an outsider. And he confirmed what I think, that Inter is made to win any tournament in which it competes, be it Serie A, Europa League or even Champions. In many facets it is far superior to us: history, budget ...
Are Lukaku and Lautaro Martínez scary?
They are possibly the most important pair of strikers in world football right now, and they are also perfectly matched. But let's not think that Inter are just their attackers. It is a very Conte team, tailor-made for their coach. Where Conte goes that stamp is recognizable. They have many different arguments than their forwards, such as being a very tight-knit team, grouped around important center-backs, players of tremendous quality and working people like Barella.
Did United give Sevilla a master's degree in suffering?
Our semifinal has many readings that will serve us for the final against Inter. In 90 minutes against teams of that level you have to know how to suffer, and that's how it was done against United. The same thing will happen against Inter. We must know how to survive those bad moments, there is no perfect match. It will be a duel similar to that of United in certain aspects, both against very powerful teams in the physical although they seek their objectives in a different way.
How can you hurt this Inter?
The main thing will be that we have the ball, that we also know how to do it. And then play quietly. The finals are usually always long matches.
You are a supporter and in love with Banega. Sorry it's your last game?
I want to take the drama out of that. I prefer to think that the quality of Éver can give us another title, in enjoying his football. Banega is a wild card that we have to achieve something positive on Friday. I do not hide when I recognize what I esteem on a professional and personal level, but we are so motivated that no one has thought about his departure. Not even himself.
What did Monchi think when he saw Navas cry to go to the final?
I did not see him live, because we were all beside ourselves in the stands, celebrating the classification. But I have seen photos and videos. Of Jesus nothing surprises me because I have known him since he was a child. He deserves to live this moment with Sevilla. He is probably the most important player in the history of the club, any award that lives in rojiblanco is little for what he deserves. He expressed it with his naturalness, without posing, being human. Because sometimes we think that Navas is not human.
The rivals hallucinate: they cheer non-stop players, managers, technicians ... there are no fans but the fields look like Sánchez Pizjuán.
When planning a squad you do it from a sporting point of view, and then you may find surprises, sometimes positive and negative. In that sense, we have a team in which the symbiosis is total and the issue of the pandemic has a lot to do with this. Now everything is seen with more perspective, but on May 8, when we returned from the long confinement, we trained with gloves and a mask, we could not touch anything ... At that time we looked almost like plagued, but we are the same. Like the Gudelj issue, which tested positive and brought us even closer together. You wonder: what else is going to happen? When they come up badly, you put on your shell, make a pineapple and that is reflected in the games, also with the substitutes, who do not stop supporting. The important thing is that Bono stops them and that De Jong scores them, yes, but it all adds up. I have had good changing rooms but the degree of union of this one is maximum.
Talk about Bono. Was this level expected, perhaps it comes from that general state of euphoria?
Bono's thing goes well because he's a good goalkeeper. If they have to play Lito or Pichón (utilleros) they don't stop them. Perhaps those of us who were calmer are those who knew him. Vaclik has won many points, Bono has had doubts but the coach and the coaches did not lose confidence in him. Today you also have to be next to Tomas.
No names, but you have to talk about that 'after' the final. Of what will happen from Saturday.
It's going to be a difficult market, very complicated. In these cases the uncertainty weighs a lot, which is total. The French League will not start this Friday, we do not know what will happen to the other competitions. Prudence has to be the greatest element when planning. Not being standing still, no, but also not doing operations that you may regret. 15 important days are coming to see where the virus is going and the advantage we have at Sevilla is that the block is already done.
You are at least relatively optimistic.
Last year would have been more difficult, but now the squad can start competing at the end of September with guarantees. It is not a conservative message: I will have the chip changed and attentive, but decisions must be made in accordance with reality, we must go in parallel with the economic and social situation that the world is experiencing at this time.
Does Monchi already have work done?
There is a marked strategy. As far as I can talk to the coach during these days of non-stop matches, I am feeling his idea, but of course there is always some work done. It is not a summer of too many signings, but of much less movement and the market is moving in a little exaggerated way. The Sevilla brand gives you peace of mind because we are expected, not until the end of the world, but quite a bit.
Photos from as.com