Miller: "I was totally taken by surprise by the arrival of Oliveira"
"I wanted to slow down Pol as much as possible and cut him off. We were on the descent and suddenly I heard a motorcycle noise and it was Miguel," he sums up about the exciting finale.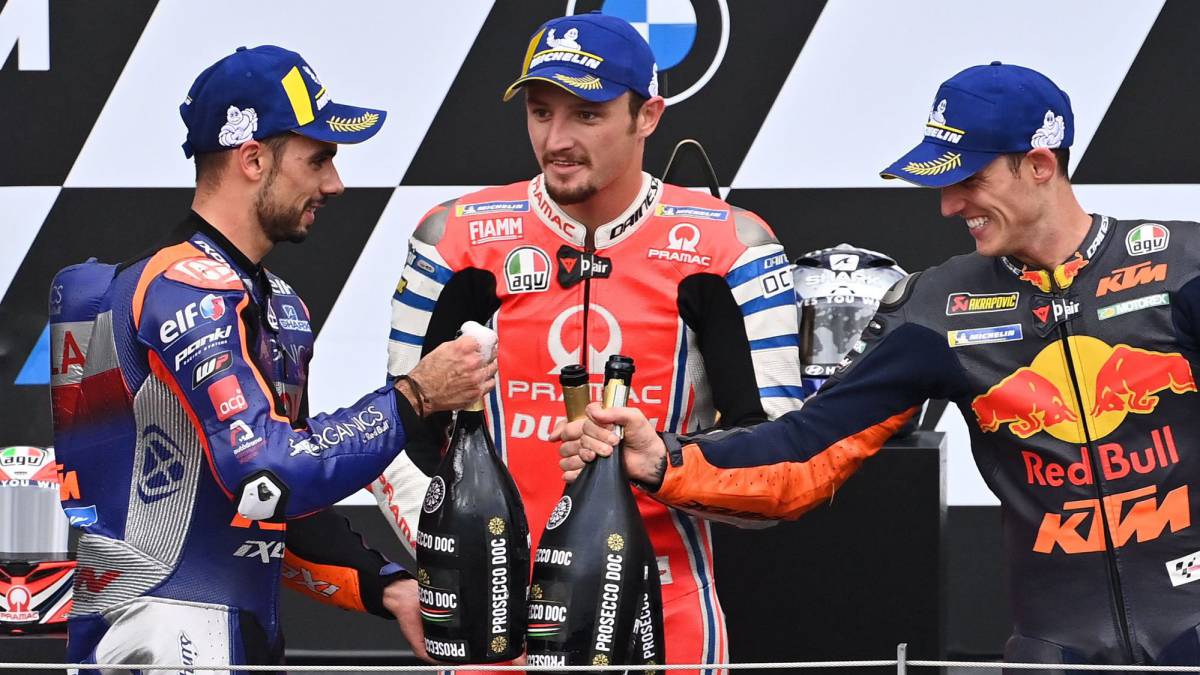 Jack Miller was taken with good humor to be defeated at the same finish line by Miguel Oliveira. The Australian won the battle against Pol, but not against the Portuguese at the Styrian GP in which he finished second despite having a shoulder hit by a fall yesterday.
Analysis: "This morning I did not feel too bad and the fall was not that great either. I've had worse, but I hit the gravel and it affected me more. I was noticing something strange at the time, but I didn't take it seriously and when I got on the bike in FP4, I noticed that something was not right. I rushed to the pit lane and felt like a knife was being stabbed into my back. In Q2 I knew I needed to do a good lap and I did the best I could because I was in pain. Then I was in a recovery machine until eleven at night, so thank you very much to the people at the clinic and the doctors, because they have helped me a lot. They got an MRI for me at seven in the morning. I did it and got back on track quickly. It has been a very intense 24 hours for me. We changed the saddle a bit, because with the elbow more bent I had to pull less on the shoulder muscles. I put a stop behind the saddle to get ahead and that helped me with the position. I'm sorry for Mir, but I was happy to see the red flag. It was good for me, because I tried to follow it nine laps and that's the most I could achieve. Perhaps if the tires had fallen, I would have been able to get closer. "
Shoulder: "I used some painkillers, the ones that are prescribed in the clinic. Many of us are used to running injured. I have a minor ligament injury, although I can't remember the name of the ligament because three doctors have already told me in three different languages and none of them in English, so I don't know exactly what it is called. It's at the top and when I pull my shoulder down, I have full power, but when I try to push forward or backward and change direction with my arm outstretched, then I do have a lot of pain in the back of my shoulder . I put on a lot of ice and there's not much else I can do. It takes time. What I felt yesterday was that I needed to sleep to feel better and now there are two weeks of break that will be good for me. "
The last lap: "Miguel's arrival took me totally by surprise, because I thought that victory was between Pol and me. I tried to fight him. I want to see the times, because I was going faster in sector 3 during the weekend. We entered quite strong and Pol went long. We were in parallel and I tried to pass and block him, but I felt him next to him and I knew he was going to play it. I wanted to slow him down as much as possible and cut him off. We were on the descent and suddenly I heard a motorcycle noise and it was Miguel Oliveira. I'm used to Moto3 because when they overtake you in the last corner, three more riders can overtake you, but only he passed by and I'm happy for him, for KTM and the Tech 3 that they are pushing and have been working for many years. "
The title: "The last time I spoke those words I fell, so I'm going to leave it there and face things as they come. We had difficulties in Brno and we were able to recover points little by little. Austria has been good for us, but last year we suffered in Misano so I don't want to get too high. What I do want is to maintain this inertia and then there will be circuits that I like a lot, like Aragón and Valencia. Let's see Portimao, which seems to be a motocross-type track. We will try to follow Miguel there. "
About the circuit: "Today's red flag, from what I have been told, it seems that Maverick has run out of brakes and it is something that can happen at Motegi, here or on any circuit where the brakes are pushed to the limit. Honestly, we could have continued running, but the rules say that if the airfence breaks you have to stop to fix it. "
Shoulder: "I used some painkillers, the ones that are prescribed in the clinic. Many of us are used to running injured. I have a minor ligament injury, although I can't remember the name of the ligament because three doctors have already told me in three different languages and none of them in English, so I don't know exactly what it is called. It's at the top and when I pull my shoulder down, I have full power, but when I try to push forward or backward and change direction with my arm outstretched, then I do have a lot of pain in the back of my shoulder . I put on a lot of ice and there's not much else I can do. It takes time. What I felt yesterday was that I needed to sleep to feel better and now there are two weeks of break that will be good for me. "
Photos from as.com